The Content Of The Article:
Anyone who had to say goodbye to a loved one does not have many opportunities to give the deceased a final acknowledgment. Many therefore design a beautifully planted place of last rest. In addition, the gardening of the soul is good and so helps the planting of the grave to process the loss.
There are many possibilities for grave planting: In order to prevent unsightly weed growth, densely growing, evergreen ground coverters such as cotoneaster (Cotoneaster dammeri), ysander (Pachysandra terminalis), ivy (Hedera helix), evergreen honeysuckle (Lonicera nitida) mill pelvis (Muehlenbeckia axillaris ), Haselwurz (Asarum europaeum), Dickmännchen (Pachysandra terminalis), Evergreen honeysuckle (Lonicera nitida), Spindelstrauch or also Sternmoos (Sagina subulata) as basis. These (semi-) shady soil coverers are particularly suitable because graves are usually shaded by tall trees.
In sunny locations you will find ground cover roses, sand thyme (Thymus serpyllum), feather pad (Leptinella squalida), creeping juniper (Juniperus horizontalis), barbelwort (Acaena buchananii), and woolly zest (Stachys). Make sure that the planting in full sun is drought-tolerant, because the gravel is usually rather sandy and dry. An even easier-to-care alternative to ground covers are ground coverings made of gravel or colored bark mulch.
Red-brown pine mulch is a beautiful and very easy-care alternative to ground cover
Seasonal, uncomplicated flowering plants, such as pansies (Viola wittrockiana), marigolds (Tagetes), Elatior begonia (Begonia Elatior hybrids), cyclamen (Cyclamen persicum), chrysanthemums (Chrysanthemum hybrids) or snow heath (Erica carnea ).
As a grave plant plants with symbolic character are very popular, for example, forget-me-not (Myosotis sylvatica), memorial (Omphalodes verna), bleeding heart (Dicentra spectabilis), cowslip (Primula veris) and the lily (Lilium), which for centuries as a symbol of faith stands. This way you can express your own feelings, but also describe the character of the deceased. Shrubs and trees also have their own special symbolism, such as the Tree of Life (Thuja) and the Hanging Kitten Willow (Salix caprea 'Pendula').
Other beautiful trees and shrubs for the grave plantation are Japanese azaleas (Rhododendron japonicum), fan maple (Acer palmatum), boxwood (Buxus sempervirens), blue-gray cypress (Chamaecyparis lawsoniana 'Minima glauca'), blue dwarf juniper (Juniperus squamata 'Blue Star ') or Column yew (Taxus baccata' Fastigiata '). Tip: When selecting the plants for the grave, you should always consider the taste of the deceased.
In the following picture gallery you will find examples of successful grave designs.
Start photo gallery
9
Show all
Ideas for grave planting (9)
A special design idea for an urn grave is a mini pond. This pond was planted with Mouth of Liar (Mazus reptans 'Minimus'), Frog Spoon (Alisma plantago-aquatica), Colorful Water Fennel (Oenanthe fistulosa 'Flamingo') and Meadowfoam (Cardamine pratensis).
The basis for this grave design is a green carpet of small-leaved cotoneaster (Cotoneaster microphyllus). Planted as a bow, creeping spindle (Euonymus fortunei) and pansy (Viola wittrockiana) alternate. The tombstone is flanked by a red-leaved fan maple (Acer palmatum 'Atropurpureum'). On the back, the tomb is protected by yew trees (Taxus baccata).
An extraordinary stone with a symbolic planting adorns this grave. The broken-off sphere is optically reassembled by the entwined plantation of Elatior Begonia (Begonia Elatior hybrids). The green base of the grave consists of dwarf medlars (Cotoneaster dammeri). The shape of the stone ball is resumed by the globular dwarf yew trees (Taxus baccata) in the background.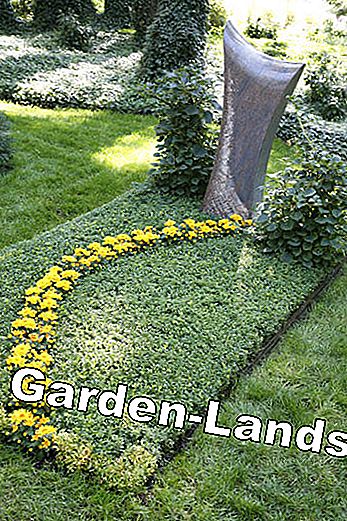 Like a small river, the chrysanthemum hybrids snake through the box trees (Buxus sempervirens 'Suffruticosa'). The flowering plants can be exchanged well depending on the season. In spring, for example, they can be replaced by pansies.
In the foreground, the group of pansies (Viola wittrockinia) and ranunculus (Ranunculus) is a beautiful eye-catcher, which can be replaced depending on the season - in the fall, for example, by peat myrtle with pink berries. A carpet of different shades of green is made up of cotoneaster (Cotoneaster microphylla) and creeping spindle (Euonymus fortunei var. Radicans). Gentle "hills" are created by the round-cut box trees. A nice accent is the fan maple (Acer palmatum)
The wedge in the stone symbolizes a break in life. Visually, this break is rejoined by the orange-colored begonia hybrids and boxwoods. The rest of the tomb is decorated with a carpet-forming creeping spindle (Euonymus fortunei 'Minimus'). A box tree cut in shape (Buxus microphylla 'Herrenhausen') is reminiscent of a figure
The ring is a symbol of eternity and connectedness. The theme has been taken in three colors: the outer ring is made of boxwood (Buxus), the middle of heather and the inner ring is the Silbergreiskraut (Senecio cineraria)
A slightly different idea is the "urn garden". Every stone represents a grave. It is graced by the evergreen golden strawberry, which flowers yellow in April and May. Who cuts them after flowering, promotes a dense growth. In between grow ostrich ferns (Matteuccia struthiopteris). A semicircle forming begonias, purple bells (Heuchera) and silver-leaved Caucasus forget-me-not (Brunnera macrophylla 'Jack Frost')
This large tomb is covered by a carpet of cotoneaster (Cotoneaster dammeri). Colored accents are set by a pink river of hard-wearing Lieschen (Impatiens walleriana). A special eye-catcher is the forest pine (Pinus sylvestris) cut as garden bonsai.
Video Board: Grave gardening.