The Content Of The Article:
Good gloves are essential in gardening activities. But what criteria do you have to fulfill in order to protect our hands optimally? Here you can find out.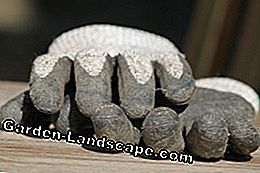 Winter is over and we hobby gardeners are back in the starting blocks. As soon as the weather permits it will work hard again outside. Digging, planting, cutting - these works can leave traces on our hands. That is why it is so important to wear gloves in all gardening. They not only protect against cold and wet, but also from abrasions and nasty thorns.
In the first years of my gardening I only used cheap products from the discounter. In retrospect, I spent more money on these things than if I had given myself something sensible. As people always say: "Who buys cheap, buys twice". That may not always be the case, but in my case it was unfortunately true.
How do you recognize good gardening gloves? - 7 important criteria
1. Protection against cold and wet
Good gardening gloves must of course protect against cold and wet. This point was just with my cheap gloves often the KO criterion. At least I think that hands should not be wet and damp after a repot, because they were unfortunately. Instead of draining moisture, it was pulled straight on.
You can not rule out completely that moisture in the gloves, because then they would have to be made of a material that is water repellent. But that would mean that your hands sweat underneath. Most manufacturers therefore use breathable textile fabric. Gloves made of this material keep relatively long-lasting moisture.
2. fingertip feeling
Another important criterion is the feeling in the gloves. When plucking weeds, we notice whether the gloves are good or not. Those who only have earth in their hands instead of the wild growth know that these are not the right ones.
Impractical gloves are recognizable by thick chunky seams at the fingertips. These make precise work almost impossible. Be sure to pay attention when buying.
Gardening gloves should still have a reinforcement at the fingertips, but which is processed so that it does not interfere with the work. The reinforcement serves to protect against moisture and dirt.
3. The perfect fit
If the gloves do not fit properly, working with them is not only completely impossible, it can also bring a diligent gardener to white heat. The feeling of the gloves slipping almost off the hand is simply impractical. When working with a chainsaw or other equipment, this could ever be dangerous.
Therefore always pay attention to the size information. Every good manufacturer always offers different sizes, there is always something from S to L. Other providers offer only the size F for women and M for men.
4. Safe stop
Very important in many jobs is also the secure grip. Many manufacturers use special knobs on their inner surfaces to keep their gloves from slipping off and injuring themselves. Other gloves have a water-resistant latex coating. Both options are good and give extra security when working.
There are also padded gardening gloves that are specially designed for working with rake, spade and grave fork to avoid blisters and calluses. This extra padding is not bad in this work, but the feeling in the gloves is lost quickly because some models are really very thick.
5. Robustness
Plucking from the weeds to cut roses - if you do not want to change your gloves all the time, you should make sure that your garden gloves are sufficiently robust. Who likes to pull all the thorns out of his hand one after the other?
Since gardening gloves are nothing more than working or protective gloves, they are classified according to the degree of stress in different performance levels. The basis is DIN EN 420 or the specific form of DIN EN 388 (protective gloves against mechanical risks).
If gloves meet the minimum requirements of DIN EN 388, they are often marked with a hammer (pictogram). Below this is a 4-digit number that represents the achieved performance levels.
1st number: abrasion resistance
2nd number: cut resistance
3rd number: tear propagation resistance
4th number: puncture resistance
In the table you can see how the gloves are divided into the specific performance levels or what requirements they have to meet.
If you would like to know more about the individual performance levels and their determination, you will find the appropriate information at the Bundesverband Handschutz e.V.
6. Strength of the seams
Many of my cheap products did not last long.Just when they got wet, I had the feeling that even the seams have dissolved in the air. That should not be natural. It does not help, if funny motives decorate the gloves. But for a few cent contributions you can not expect perfect quality.
7. Pollutant content
Gloves are important to protect your own hands from injury and dirt - it is not without reason that they are also called protective gloves. However, it is even worse that especially in many gloves harmful substances are found that irritate the skin and can lead to skin diseases.
The problem is that gloves usually can not be produced without these components, therefore the DIN EN 420 allows the use indirectly. But with the demand to specify the substances. Thus, everyone can decide for themselves whether he uses the gloves or not.
The professional association of the construction industry provides for a detailed allergen list, to which everyone has access.
I also found a very interesting article on pollutants in gardening gloves at the Bremen Environmental Consultancy. Here, you will learn, among other things, that an investigation of 13 gloves according to Öko test has shown that seven of these gloves are contaminated with plasticizers and contained another five questionable heavy metals. Only with nitrile gloves could no pollutants be detected.
My favorites:
My most used gloves in the garden area are the PU-Microhandschuhe and the nitrile gloves Monza by engelbert-strauss. They just fit perfectly and it can be done as well as any gardening without problems.
" My advice: Take a look at the recommendations for protective gloves by engelbert strauss.
The score table shows the empirical values. The more points are marked dark, the better the glove is suitable for this area.
»Reading tip: Gardening Gloves: Models and their applications presented
Video Board: HOW TO ANALYZE PEOPLE ON SIGHT - FULL AudioBook - Human Analysis, Psychology, Body Language.