The Content Of The Article:
Hedgehogs are actually nocturnal, but in autumn they often show up during the day. The reason for this are the vital fat reserves that they have to eat for hibernation. In particular, the young animals born in late summer are now looking for food to reach a required minimum weight of 500 grams. Helpful for the sting knights is in addition to a natural garden, the establishment of a feeding station.
However, if you offer them food unprotected, the hedgehogs have numerous blackheads. Cats, foxes and other larger animals also appreciate the feast. Unfavorable is also wet feed. Especially swollen cereals such as oatmeal saturates very fast, but provides comparatively few calories. With this hedgehog feeding place you keep the hungry barbels larger food competitor of the body and the foil roof protects the food from precipitation.
Required materials and tools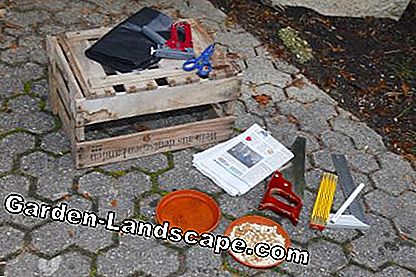 The materials and tools at a glance
Weinkiste
foil
Newsprint as underlay
Cutting ruler, meter and pencil
handsaw
Scissors or cutter
stapler
Clay dishes with suitable food
Step by step: Building a feeding house for hedgehogs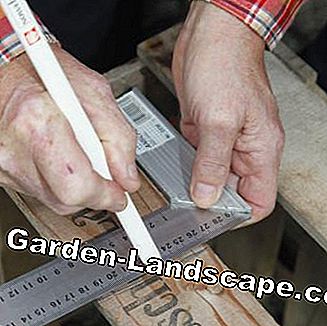 Mark mark (left) and saw off the crossbar (right)
Mark a ten-centimeter-wide mark on one of the long sides of the lower batten. This is then sawed out and later forms the entrance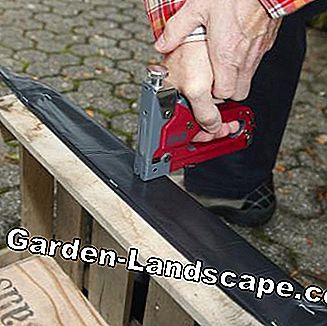 The rain protection is a foil (left), which is attached with a tacker (right)
Cut the rain protection film so that it is slightly larger than the floor plan of the box. Then hang up and secure the protruding edges with a tacker.
The finished feed house best on an easy-to-clean ground, such as stones or plates, provide
The water and food bowl and the newspaper underlay should be cleaned or changed daily. In addition to special hedgehog food, unseasoned scrambled eggs, boiled minced meat and cat food can be mixed with oatmeal. Announce snow and permafrost, the feed is set so as not to keep the animals artificially awake.
A tip at the end: The best place to set up the feed station in a building corner or complain the roof with a few stones. Cats and foxes can not simply push away or knock over the box to get at the food.
Video Board: How to make a hedgehog house.