The Content Of The Article:
Whether large or small, one or more colors, with or without drawing - the huge Beard Iris range has the right plant for every taste. Thanks to their large color spectrum, they can be combined with many other perennials in the bed. So that the Bearded Iris feels good in the bed and thrives well, but some care tips should be considered. Anne Rostek, specialist consultant for plants and design in the Zeppelin perennial nursery, reveals the most important.
Where do Beard Iris feel most comfortable?
Anna Rostek, specialist consultant for plants and design
These perennials are children of the south. This is why Bearded Iris (Iris barbata) loves a sunny spot with a permeable surface. Waterlogging quickly leads to rot on the rhizomes. If you have a heavy soil, you can still plant irises, as long as a quick drainage is guaranteed. Well suited here are, for example, slopes. Dwarf bearded iris (Iris barbata-nana) can be used beautifully in rock gardens and also look good in shallow bowls and pots.
When is the best planting time?
Goods purchased in the pot can be set consistently from spring to autumn. However, in midsummer you should make sure that the young plants are sufficiently watered so that they are not stressed too much in hot and dry weather. The ideal time to plant freshly divided, root-bare bearded irises is generally from August to October. In these months, the perennial roots are new and growing accordingly well.
What can I do if the irises no longer want to flower properly?
If older specimens become dehydrated after several years, take the entire nest carefully in late summer with the grave fork and divide the plant. This is done with a pruning shears or a knife, the rhizome pieces, including a strong leaf fan, cuts off this roof-shaped and cuts the roots hand back wide. The cuts can be put back into the prepared bed immediately. Bearded Iris can also be planted back to the same spot. However, first remove all old rhizome pieces to avoid mixing of varieties.
Picture gallery: Beautiful iris varieties
Start photo gallery
9
Show all
The iris assortment has a lot to offer
'Bembes' (35 centimeters), convinced by their extraordinary color
At 40 centimeters, the violet-flowering 'Kolksee' remains quite low
'Arctic Fancy' reaches about 50 centimeters and belongs to the medium-high bearded iris (Iris barbata-media)
The dwarf bearded iris (Iris barbata-nana) remains lower, for example 'Brassie' (25 centimeters)
The about 80 to 100 centimeters large varieties of the high bearded iris (Iris barabata elatior) present particularly variegated flowers. Here the bright blue 'Harbor Blue'
The two-tone 'Noctambule' is about 110 centimeters high
Also, the about 90 centimeters high 'Color Splash' has bright dome and dark colored, velvety hanging leaves
'Second Wind' is a white breed with sulfur yellow beard in the middle of the flower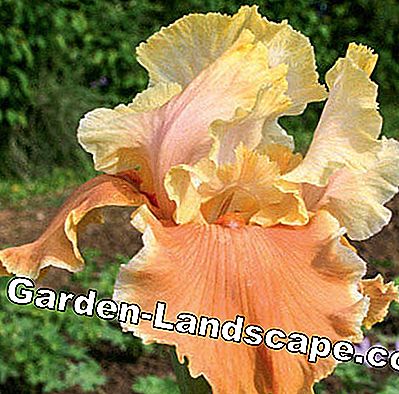 'English Charm' is one of the so-called Rebloomern. The variety shows its apricot-colored, delicately fragrant flowers from May to June and a second time in autumn
Do irises have to be fertilized regularly?
Especially large-flowered Iris varieties are true prima dynas, as far as the nutritional requirements are concerned. For a rich flowering, they need a sufficient amount of fertilizer every spring. Here we recommend a mineral special fertilizer with depot effect, which releases the nutrients slowly. Those who plant irises again should enrich the soil with deposited compost. This ensures a good start fertilization and promotes the soil life at the same time.
Video Board: Gardening Tips : How to Grow Irises.