The Content Of The Article:
Over walls, fences or whole trees - without regular cutting ivy grows rapidly. You do not think that at first, because after planting, ivy leaves a few years before it starts. Actually, you have to worry about the care of the plant little. An exception is the cut: Because ivy sets with time so a growth rate that regular cutting may be necessary. This is made possible by the climbing roots, which cling to ivy and even climb up the walls of buildings. If ivy becomes too bulky, you have to put it in its place.
In addition to regulating growth, you should also cut ivy to remove diseased shoots or remove frost damage after winter.
Practical tips for cutting ivy
Only courage, you can not go wrong with cutting ivy, you do not have to consider any cutting techniques or cutting times. Cut away what is in the way or affects the appearance. The plants drift easily and willingly again and are already in shape for a short time after cutting. The cut surfaces hide under the new expulsions.
Cutting cuttings of ivy: Whether green-leaved or variegated varieties with yellow and white spots: Ivy can be easily multiplied by cuttings. To do this, in June or early July cut a good 15 centimeters of engine bits and place them in moist soil. The new shoots will not be long in coming.
The right equipment for the cut
If you have an ivy corner, cut off the shooters in the spring and in August with a hedge trimmer. If you want to cut ivy on the wall of the house and also want to remove thicker branches or branches, you will need a pruning shears, pruning shears and, for thicker branches, a saw.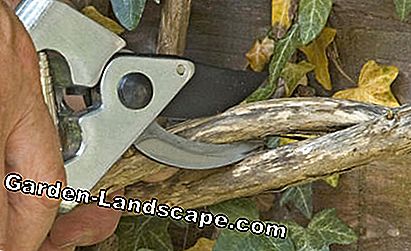 Smaller branches are best removed with pruning shears
Attention: Ivy is poisonous in all parts, especially the berries. Wear gloves when cutting. The juice can cause skin irritation in sensitive people. It is annoying that ivy when cutting releases small pieces of plants that can be inhaled. This is especially true if you want to remove the whole ivy or completely cut off large parts of plants. This is not a problem with normal hedge trimming. Therefore, wearing a respirator mask is recommended for larger cutting measures.
When should I cut ivy?
In principle, you can cut ivy all year round, except in frosty conditions. This can lead to damage even with the vigorous Efeutrieben. Ideal dates are in April and May and end of August. But make sure that no birds nest in the ivy. As with all evergreens you should not cut in blazing sun. The deeper branches are not used to the bright light and quickly get sunburned.
Although you usually plant ivy as an evergreen sight, the plants also bloom naturally. The age forms after 10 to 15 years, the new shoots then no longer climb, but grow like compact shrubs that form greenish-yellow flowers and autumn toxic berries. A regular cut then stimulates the flower formation.
Video Board: How To Remove Ivy.