The Content Of The Article:
There is hardly a German plant name that can cause so much confusion as the name "Jasmine". As a jasmine hobby gardeners are called completely different plant species or even whole genera.
fragrant jasmine
The most common pseudo-jasmine is the scented jasmine or pipe shrub (Philadelphus). There are several types and varieties, all of which are hardy, flowering and very robust. The shrubs grow on each garden soil, form relatively narrow, upright crowns and depending on the species and variety between two and four feet high. The flowers open in May or June. The name jasmine is probably due to the fact that the striking white flowers of most species exude an intense jasmine fragrance. Nevertheless, they are not even remotely related to the real jasmine. However, some types and varieties of scented jasmine look confusingly similar to the Deutzians. A sure sign: The shoots of scented jasmine have white piths inside, while the dice jellies are hollow inside.
star jasmine
The second jasmine doppelganger is the star jasmine (Trachelospermum jasminoides). The frost-sensitive container plant climbs and smells like a true jasmine, but is still none. The Asian climbing shrub is two to four meters high and survives in very mild regions in Germany outdoors - but only with a thick foliage layer in the root area and a fleece as a shade for the delicate leaves. The whole-bordered glossy leaves are evergreen and turn bronzerot in the shoot and in autumn and in the cool winter quarters. The snow-white flower stars open from June and appear throughout the summer again and again. Her jasmine-like scent is intense, but not intrusive.
Star Jasmine (Trachelospermum jasminoides)
Jasmine Nightshade
Another container plant, which likes to adorn itself with the noble name of jasmine, is the Jasmine Nightshade (Solanum jasminoides). He is and remains a nightshade, comes from Brazil and counts, for example, the gentian bush (Solanum rantonnetii) among his close relatives. The Jasmine Nightshade is very sensitive to frost, so you should definitely overwinter it in the cool and bright winter quarters or in the winter garden. In bright winter and at least 10 degrees ambient temperature, it blooms almost the entire year. Its rather large white flowers are reminiscent of potato flowers, which is why it is also known as potato bush. The shoots climb and become after a strong pruning in the spring to the end of the season well over a meter long - a trellis is therefore mandatory, if you do not want to lose track. The location should be warm and full sun to partial shade.
Jasmine Nightshade (Solanum jasminoides)
Chilean jasmine
The name Chilenischer Jasmine is nothing else than a white-flowered Mandevillen species (Mandevilla laxa). It does not actually come from Chile, but is native to Argentina and Bolivia. It has very similar claims as the popular Dipladenie (Mandevilla sanderi), which usually bears depending on the breeding red or pink flowers. The vigorous shrubs can be kept well in the bucket with a man-high trellis of bamboo or wood. They easily reach heights of growth over two meters and must therefore be trimmed regularly. Chilean jasmine has white flowers with yellow center. They exude a sweetish jasmine scent and appear in sunny locations in large numbers from spring to autumn. The summer-green plants are best wintered in a cool and dark. During winter hibernation they must be watered just enough so that the root ball does not dry out. Cut off shoots but a poisonous, sticky milk juice.
Chilean Jasmine (Mandevilla laxa)
Carolina Jasmine
The Carolina jasmine (Gelsemium sempervirens) is also not closely related to the right jasmine, but forms its own plant family. The wintergreen climbing shrub is native to Central America and the southern United States. In this country it is usually kept as a container plant, but in mild regions of England it grows in the field as well. Although the Carolina jasmine is very robust and easy to care for, it is still considered an insider tip in this country. Incidentally, the name Gelsemia is the Latin name for Italian jasmine (gelsomino). The showy primrose yellow flowers of Carolina Jasmine open from spring to early summer. It blooms very intensively in bright places and is also attractive outside of flowering with its reddish shoots and the glossy green leaves. Its vigor is also suitable for buckling - it reaches about two to three meters in height over time. The hibernation should be bright and very cool.Important is a very low water intake in winter, as the Carolina jasmine does not like "cold, wet feet" has.
Carolina jasmine (Gelsemium sempervirens)
Real jasmine
Finally, we come to the right jasmine. The genus is botanically called jasmine and consists of several species that are not reliably hardy except for one - the yellow-flowering winter jasmine (Jasminum nudiflorum). Their common feature is the thin, climbing shoots, the three-parted to unpaired feathered leaves and of course the unmistakable fragrance. The most well-known representative is the genuine Jasmine (Jasminum officinale), which - originating from Asia - in the Mediterranean meanwhile as naturalized and there in hardly a garden is missing. It grows quite strong and holds like the Sternjasmin (Trachelospermum jasminoides) with appropriate winter protection in very mild regions of Germany in the field. In southern Europe, jasmine is also cultivated as a crop in order to extract the jasmine oil needed for perfumery from the characteristic white flowers.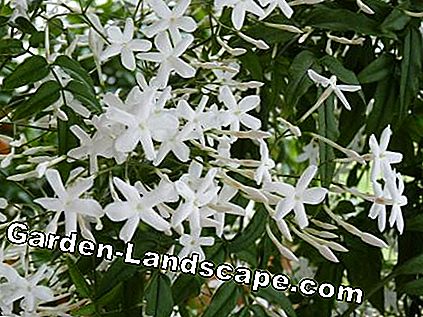 Real jasmine (Jasminum officinale)
As you can see, there are sometimes good reasons to know one or the other botanical name as a hobby gardener - especially if you want to buy a jasmine.
Video Board: Learn Colors Wrong Faces With Disney Princess Jasmine Belle Ariel Merida Finger Family Nursery Kids.