The Content Of The Article:
If you like to grow medicinal plants yourself, then you should also plant juniper in your garden. How to do it and what you have to take into account during care, read here.
A so-called alpine juniper (common juniper) is ideal for landscaping our latitudes. For one thing, juniper is quite robust and hardy, and on the other hand, Mediterranean flair can be created in the garden as well as rustic romance. Juniper columns are suitable e.g. very good for hedge planting, even offer a year-round, evergreen screen! But they are also good as a garden room divider.
Other species of juniper are now also imported from the Mediterranean, from Asia (Chinese juniper) and America, etc. After all, today more than 60 species of this cypress family are known.
There are male and female plants
Did you know that Juniper has a male and a female plant? Yes that's true. These can usually be distinguished by the flower shape:
The male juniper flower consists of stamens that stand together.
The female juniper flower consists of three adjacent seed buds. Even in the first year, berries form on the female trunk, but they do not ripen (remain green). Only from the second, sometimes until after the third year of planting can you then harvest the black juniper berries (harvest time - early autumn).
No matter which plants you decide on: how you should plant this in the garden and what you need to consider when cultivating the cypress family, we now tell you here.
Planting and cultivating juniper - this is how it is done
cultivation:
The juniper growing up to 10 meters high is usually offered as a bale plant. These plants can be planted either individually or as a row of hedges in a sunny to moderately half-shady location. But you should always keep a distance of about 70 to 100 centimeters. The best season for planting the conifers is the spring, but juniper can also be planted in early autumn.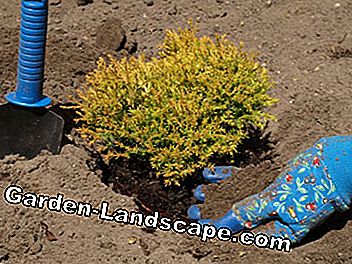 " Tip:
You can of course also multiply juniper by cuttings yourself. But you have to be very patient, because juniper grows very slowly.
As far as the soil conditions are concerned, the juniper has few claims, but clearly prefers dry soils. The soil should be enriched before planting but best with compost and pour well.
Maintenance:
Fertilize juniper:
From time to time you should also fertilize the juniper, whereby the incorporation of compost around the trunk is often sufficient. Specialist retailers even offer special juniper fertilizer, which you are welcome to use when needed. Incidentally, juniper fertilizer is often used in bonsai juniper plants.
Rear section:
In spring or autumn, you can cut back the juniper or cut into shape. It is advisable to first remove the dead wood carefully before you start with the actual pruning. As far as possible, only cut off the juniper at the branch forks and cut back only the green branches, which at the same time avoids pest infestation at the juniper.
"Tip:
Juniper cutbacks are a very spiny thing, so you should work with tight clothing and gloves!
Fight pests:
Juniper is rarely attacked by pests. Only the pear grid (fungal disease) occurs in many places increasingly, but can be quickly get back to grips with various sprays (fungicides).
"Tip:
Only small infestations on the juniper can be cut off generously and disposed of in the household waste (not on the compost!) To avoid spreading to pear trees.
usage tips
Juniper - especially the juniper berry - is one of the medicinal plants and can be used in many ways. Among other things, for respiratory problems, digestive problems and women's complaints, but also for infections and joint pain, etc. Where you can make from the juniper syrup, tea, tinctures and essential oils.
Furthermore, you can use the juniper berry, which you can harvest in early autumn, in the kitchen, for example in sauces of game dishes and for seasoning sauerkraut. But the spirits manufacturers also like to use juniper berries for the production of various types of schnapps.
Important:
The dosage of juniper berries in the food should be kept as low as possible. In kidney diseases, you should even refrain from the use of juniper.
Video Board: Flower Gardening Tips : How to Grow Juniper (Juniperus).