The Content Of The Article:
How to find the right location for the cap basket. Also, tips for hibernating and fertilizing. Read now.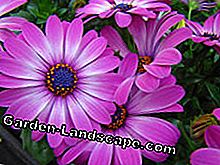 The Kapkörbchen, which closely resembles the daisies, is now offered in the garden trade in many bright flower colors - from pupurrot, pink to violet, but also in white and yellow.

The colorful flowers develop the easy-care, although not frost-resistant plant from the beginning of June to October. Although it develops well in the vicinity of lupins and larkspur, it can also be used as a specimen plant in the perennial flowerbed.

tip: Kapkörbchen always after the Eisheiligen - from mid-May - plant in the field.

Incidentally, little capsules always close their flowers when it's raining. Why they can be used excellently for weather forecasts!
The right location for the cap basket
The Kapkörbchen, which in principle also blooms for several years, should be planted in a sunny, wind-protected location. For the plant, which originally comes from Africa, always needs a high amount of heat and as little wind as possible, especially during the flowering phase.
tip: Kapkörbchen are also ideal for the planting of balconies and terraces (as potted plants) and for cemetery beds.
Fertilize the capsule and overwinter
Capsules must be watered regularly - ideally in the morning and / or in the evening. When watering but waterlogging should be avoided. The administration of liquid fertilizer takes place especially in potted plants as needed, usually about once a month. Free-range plants, on the other hand, rarely require any additional fertilizer.

tip: In October, transplant outdoor Kapkörbchen in tubs and hibernate free of frost.

Furthermore, after the first flowering, the cap basket should be cut back immediately so that it can produce a re-flowering. At the same time this pruning promotes the bush formation of about 15 to 50 cm tall plantlets.

tipIf the plants are attacked by aphids from time to time, they must be treated as quickly as possible. z. B. by a chemical spray or you try it once with these 2 home remedies for aphids...
Cultivation of the Kapkörbchen
Kapkörbchen can also be bred in the spring (around March). Common are two methods:
Propagation by cuttings, which are planted in potting soil from March and cultured in pots for about 8 weeks. It should be noted here that as strong shoots as possible are cut on the existing plants, the leaves of which are plucked from below. Cut the cuttings about 6 cm long and pots in half!
By sowing seeds (also from March), which can be purchased from specialist retailers. Seeds then germinate in about 2 weeks in the potty and then have to be separated again.
Video Board: .