The Content Of The Article:
A good knife is indispensable for every DIY enthusiast and hobby gardener today and a constant companion - so that you can work well with it, but you have to grind it regularly. Who handles a lot with his knife, knows how tedious the work can be with a blunt blade.
While expert sanding may require some practice, your patience will pay off. Of course, even in your kitchen drawer, one or the other old blade will die off its dull existence! Here's an example of a pocket knife showing you how to sharpen your blades with a waterstone.
Step by step: how to sharpen a pocket knife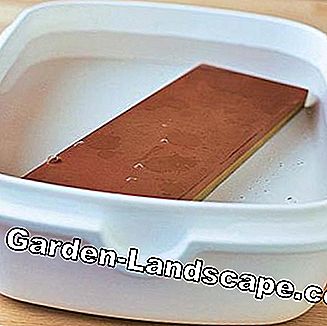 First thoroughly water the whetstone (left) and place on a damp cloth (right)
We use a two-sided Japanese waterstone in the grain 1,000 and 3,000. For bladed blades, a coarser surface (approx. 240 to 400) is recommended for rough grinding before starting with the 1.000 grit. First, the stone is watered for about 15 minutes - we put it in a container with tap water. The wet stone is now placed with the coarse side up on a damp cloth. So he does not slip away while grinding.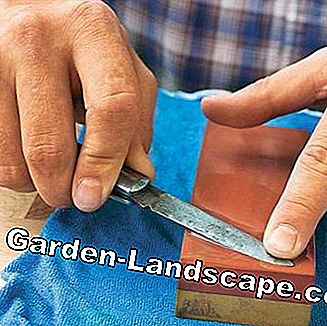 The knife is pushed over the stone in the direction of the cutting edge (left). With rounded blade ends turn the knife slightly (right)
Now slide the pocket knife with one side towards the cutting edge 10 to 20 times over the stone. You should keep an angle of about 10 to 15° between the stone and the middle of the blade back. If the end of the blade is slightly rounded, the knife is slightly rotated just before the end of the grinding surface.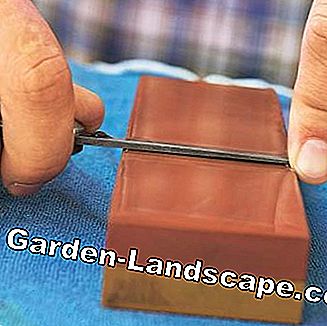 Repeat the procedure with the other side of the blade (left). If the knife is sharp enough, turn the stone over so that the finer grain is up (right)
Repeat this with the other side of the blade. Then switch back to the first page until the edge feels sharp when you stroke it with your thumb. Now turn the stone to the side with the finer grain for the so-called polishing cut.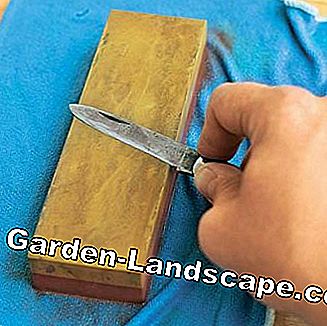 In between, sprinkle the grindstone with water (left) and apply the polishing grind (right)
The sanding surfaces must always be moist - so dribble with water occasionally if necessary. The knife is again pulled over the stone in the manner already described, but only 10 times per side. In doing so, the metal burr created during pre-grinding becomes so thin that the blade can become razor-sharp with a little practice.
Finally, wipe the blade dry (left) and drizzle the joint with a little oil (right)
Wipe the finished ground blade dry with an old rag. Tip: The right sharpness is achieved when the knife without pressure cuts through the skin of a tomato. A drop of oil makes the joint smooth again.
Video Board: How to sharpen a knife on a belt grinder.