The Content Of The Article:
Waldrandbewohner among the LippenblütengewächsenThe creeping Günsel and the Gundermann are to be cited as examples of forest edge inhabitants among the labiates, as both species offer a decorative image even in the home garden. Incidentally, the crawling Günsel is very much loved by bees. He loves sun to partial shade and needs nutrient-rich or acidic soils, but he does not like waterlogging, because he enters quickly there. If the creeping Günsel should grow as upholstery, it should be planted very densely in the plant. The planting distance is about 10 to 20 cm. You can use the plants both in spring and autumn. To grow it needs enough water. Later enough for the care of conventional liquid fertilizer. Lilies of the valley, funerals, primroses or ferns provide a nice contrast in the thickly growing carpet of the creeping Günsels.
The Gundermann also makes dense carpets and is well suited as a flowering groundcover. He prefers locations with shade or partial shade and likes heavy, moist and calcareous soils. The Gundermann can also be planted both in autumn and in spring. Except enough water to grow, he later no longer needs any care. He harmonizes well with ferns.

Mint family as a decorative spice plants
Those who use mint family as spice plants have a double benefit in the garden. All typical spice-lip bloom plants also look very decorative in the perennial garden and thus fulfill a dual purpose. Quickly some fresh spices are brought in from the garden, but at the same time these spice plants also adorn the flowerbed. Lemon balm, sage, thyme and peppermint are mentioned here as examples of labiates, which can serve as spice plants and flowering perennials at the same time:

The lemon balm likes it sunny and sheltered from the wind. She needs enough water and a soil with plenty of humus, then she comes back year after year and reproduces well. Even the herb is very decorative. When the delicate flowers are added, this perennial is even more decorative. As a spice lemon balm is particularly well suited to fresh salads, sauces and fish.
Also sage needs a sunny and sheltered place. The soil should be permeable and contain enough lime. Sage needs enough water, but does not like waterlogging. Sufficient potassium is important to keep the plant frost hardy. He is quite high, which should be considered when setting the perennials. Sage also grows well in large plant pots and can stand so well on the terrace. There are both types of sage that are not suitable as a spice plant and others. Anyone who would like to have sage in the garden except for its decorative appearance as a spice should pay attention to it. Sage goes very well with roast lamb or fish.
thyme needs loose soil and a sunny place and in winter enough protection by piled up, because he is not completely hardy. It is best to sow the seeds under glass and then later transplant the young plants at a distance of 25 cm from May to the outside. Thyme is half-height and also flowers very well. As a spice, it goes well with Italian cuisine, but also with stews and pork.
The real peppermint is very popular for making tea. It also looks very decorative. When planting, care should be taken to make the peppermint its own bed or put it in a large pot on the terrace, because it spreads very quickly and can overgrow other plants. It is quite undemanding in terms of the ground, but needs enough water and should be protected from frost.
Labiatae as pure garden perennials
As an example of Lipblütengewächse, which are planted purely for decorative purposes in the garden, here are the stinging nettles and lavender stand.
Buntnesses are decorative even by their beautiful foliage, even if they do not bloom. It is important to note that stinging nettles are not hardy. But you can hibernate well in the greenhouse. In summer, the cuttings, which are always removed from the mother and put into pots for rooting, can be planted outdoors. Stinging nettles need lots of sun, a sheltered place, enough compost and well drained soil to develop well. If the irrigation water is occasionally enriched with a conventional liquid fertilizer, that is enough for the care.
Lavender is hardy and harmonizes beautifully with different-colored roses, because it offers a nice contrast. Gypsophila also looks very pretty on a lavender bed. The scent of lavender is unmistakable. The bees, bumblebees and butterflies love lavender and will find it in large numbers.The plant loves sun and calcareous soil. It is important to know that the perennials should not be severely cut back, because then they often come in. It is enough to slightly shorten only the flowered inflorescences.

Worth knowing about lip bloom plants in the near future
Selected species
The individual subfamilies in turn include different species and genera. These include, for example Lamiodeae Harley with about 63 genera and 1,210 plant species. This subfamily includes primarily unflavored smaller trees or shrubs. The Nepetoideae Kostel belong with their more than 3,600 species and about 130 genera to another subfamily, to which alone the sage is represented with over 900 species. This is followed by five other subfamilies, such as Ajugoideae Kostel, Scutellarioiseae Caruel, Prostantheroideae Luerss, Symphorematoideae Briq and Viticoideae Briq.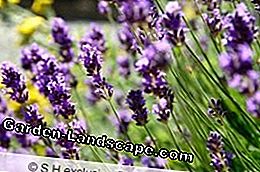 Known mint family
Lavender: This species is mainly distributed in Italy and Greece. The plant itself is about 30 to 60 cm high and finds its use in the cosmetics industry or in natural medicine.
Thyme: This is about 30 cm high species, is mainly distributed in Asia and Africa and is used for example for tea.
Basil: This is up to 60 cm high and is often used as seasoning. Originally this species originates from India and is widespread today.
characteristics
Most plants of more than 7,000 species contain essential oils, such as rosemary, basil or lavender.
The herbaceous plants are found mainly in warm and sunny places.
They have four-edged stems, two coalesced petals of the upper lip and three overgrown petals of the lower lip.
use
Due to their aromatic effect, most lip bloom plants are used as spice plants. At least two types - Japanese patchouli and Indian patchouli are used as the raw material for perfumery. Otherwise, lip flower plants are also cultivated as ornamental plants because of their appearance and decorate roadsides, meadows or gardens.
Conclusion
Most labiates are hardy perennials, but not all. Each species needs their individual care, because not all lip bloom plants have the same claims. Therefore, you should always first inform yourself about the claims of a particular species before planting labiates.
Video Board: .