The Content Of The Article:
From a design and practical point of view, gabions are true all-rounders. For a long time, natural stone filled wire baskets, also called stone baskets or baskets, were used only for sight and partition walls or to secure slopes. But with a little bit of creativity, gabions can do a lot more and are therefore becoming increasingly popular among hobby gardeners.
Origin of gabions and uses
Originally from the Italian name "gabbia" (in English: "basket") refers to the wire mesh, which gives the gabions their shape. The wire baskets are available from an edge length of 50 centimeters in the building materials trade. The standard format for gabions is 101 x 26.2 centimeters, the height is variable. To guarantee a long service life, the wire is galvanized or galvanized. The mesh size is between 6 x 8 centimeters and 10 x 10 centimeters. However, many suppliers also have the option to order special sizes on request.
This allows you to fill gabions
As filling various materials are suitable. Especially attractive is a filling with natural stone, for example granite or sandstone. Even a combination of different types of natural stone can have an exciting and decorative effect. It is also conceivable, however, the use of clinker, broken glass, wood or pebbles - even a steel filling is possible. In order to reduce costs, the viewing pages can be made of high quality and the interior filling of inexpensive materials. If it is small-scale filler, the wire baskets must first be designed with fleece or Kokosmatten, so that the material does not trickle through the grid.
Whether square or round ground natural stones, clay pots or as shown in the picture on the left large-sized glass breakage: You can be creative when selecting the filling material
Install gabions properly in the garden
When building gabions in the garden, first place the empty mesh baskets in the designated place and then fill them with the desired material, which is delivered separately. For broad, flat gabions, which serve as a mount for a raised bed, for example, you can usually do without a foundation. Who wants to build a higher wall of gabions, should first create a minimum of 60 centimeters deep foundation of well-compacted gravel, so that no bagging occur. Especially tall, narrow gabion walls need metal pillars cast in as supports, otherwise they would tip too easily.
Anyone who would like to conjure up more life and color into his gabions, should be greeted by a greening of the gabions. Suitable for this purpose are heat-loving deciduous shrubs such as the summer lilac (Buddleja), the finger shrub (Potentilla fruticosa), the garden marshmallow (hibiscus) or various roses. A direct greening is possible with climbing plants such as clematis or wild wine (Parthenocissus). Ivy (Hedera) wraps the gabion in a year-round green coat. Tip: If you use normal potting soil as a filling, you can also plant a gabion wall directly. Cut the fleece or the coco mat at the desired places and use small rock garden perennials, for example.
With a pond in the foreground or taller plants, gabion walls can be beautifully embellished
Architects love gabions
Gabions are especially popular with architects, as the stone walls, with their clear forms and interesting surface textures, go well with modern designed houses. In addition, they can be individually combined and can be dismantled and relocated at any time. The application areas are almost unlimited. Thus, gabions can be used as screens, screens for raised beds, for supporting terraces in the slope garden or simply as extravagant garden benches. Upon request, even luminaires can be integrated into the stone baskets.
As acoustic walls gabions with stone filling are particularly effective: They achieve a sound insulation of at least 25 decibels and take up much less space than, for example, a mound wall due to the large surface area. For this reason, stone gabions are also frequently used as noise control elements on motorways. In addition, the stone baskets also have a high ecological value. The many gaps in the riprap serve lizards and numerous insects as habitat or winter quarters and thus support biodiversity.
Gallery: Uses of gabions.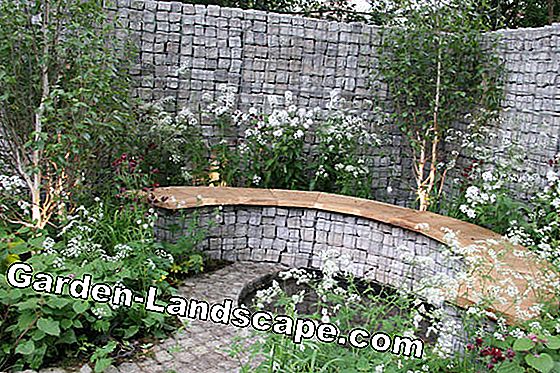 Start photo gallery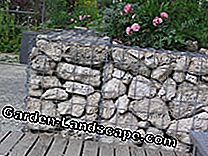 4
Show all
Garden design with gabions (10)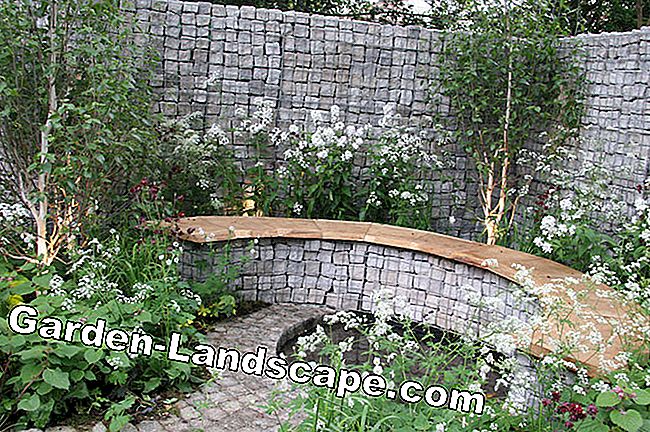 The small paving stones of the path can also be found here in the gabion wall and the bank gabions
Smart idea: a low gabion wall as a screen for dustbins
Even so, benches can look: simple, stable and functional
Eye-catcher: With little effort, beautiful raised beds can be conjured up in no time at all
Video Board: Incredible Stylish Gabion Walls Garden Design Ideas.