The Content Of The Article:
As beautiful as the bright yellow and red-colored leaves say goodbye to summer, the autumn leaves are annoying once they are on the ground. On terraces, in driveways and on sidewalks, the rotting leaves not only look ugly, they are also a slippery source of danger. On the lawn, the leaf layer can cause damage through the decomposition process and its light-shielding effect. Quick remedy creates because a leaf blower. Here you will find our buying guide, results of current tests and tips for the correct use of the new leaf blowers with lithium-ion batteries.
Leaf Blower: Loud roar and fuel tank?
No more! The old, heavy, loud, but admittedly very powerful gasoline appliances have now gotten competition by much quieter devices with battery. Lithium-ion batteries in the performance classes 18 and 36 volts not only make the new leaf blowers much lighter, but also provide them with more power. In addition, the batteries are charged much faster. New technology is also noticeable on the subject of airspeed depending on the volume. For example, according to current tests, leaf blowers such as the Bosch ALB 18 Li with its 60 dB are not only pleasantly quiet, but also produce a considerable workload at an airspeed of 210 km / h.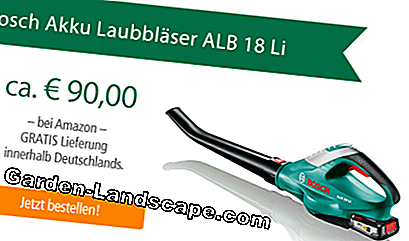 According to current tests, the Bosch battery leaf blower ALB 18 Li is very quiet, light and has sufficient power for the terrace, driveway and small gardens
Leaf blower fresh from the test lab
At the end of 2017, some platforms such as Vergleich.org or the Scandinavian consumer magazine Råd & Rön again tested and considered leaf blowers, which we would like to introduce to you for purchase advice. The given values ​​for air speed and volume (dB) are taken from the tests:
Makita DUB361Z

With 335 km / h very high airspeed
Unfortunately not quite as quiet with 82 dB
Requires two batteries (2 x 18 volts) - mostly not included

Bosch Professional GBL 18V-120

Airspeed: 270 km / h
Also not very quiet at 82 dB
Requires a 18 volt battery - available with or without battery

Bosch ALB 36 Li

Airspeed: 250 km / h
Somewhat quieter at 78 dB
Requires a 36 volt battery - available with or without battery

Bosch ALB 18 Li

Airspeed: 210 km / h
With 60 dB a very quiet device - comparable to a TV set at room volume
Requires a 18 volt battery - available with or without battery

Gardena Accujet 18-Li 9335-20

With 190 km / h a comparatively low airspeed
A relatively quiet device with only 68 dB
Requires a 18 volt battery - included
Use of cordless leaf blowers
Unlike wired leaf blowers or gasoline appliances, you should work with battery-powered leaf blowers with targeted air blasts, rather than consistently produce a single air flow. This keeps the battery charge much longer.
After the fall, the leaf blower must be prepared for the coming winter. Many of the new lithium-ion batteries have a charging indicator, which can be queried by pressing a button. Make sure that the battery is about two-thirds charged before the winter break. The discharge is relatively low in leaf blowers with battery at rest - they should survive with this partial charge the winter so without discharge damage. If you do not use the leaf blower or the rechargeable battery (for example, for other devices) during the summer months, check the battery charge at regular intervals. Basically, a complete discharge should never take place because the battery could be damaged!
Video Board: Leaf Blower Buying Guide (Interactive Video) | Consumer Reports.