The Content Of The Article: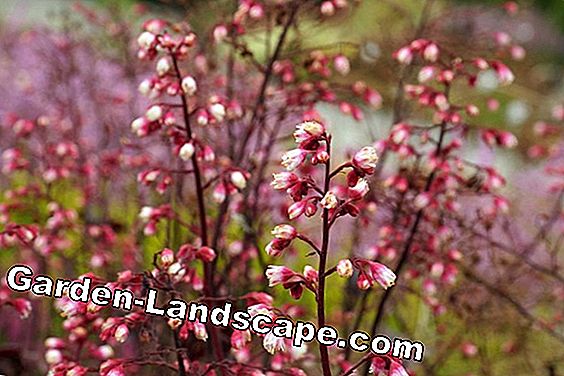 He has long since discovered the versatile leaf perennials that bring all the other colors of the palette into the garden, set interesting accents, can be used as harmonious mediators or as a decorative bedding border. Leaf perennials are available for every location, usually even within a plant family. And like all perennials, they are also extremely easy to maintain, they grow for several years and usually need not much more than a little water and nutrients.
Leaf perennials for each location
Blattschmuckstauden for sun and shade, there are z. B. among the funcios (Hosta). Here you will really find the right perennial for each location. The funerals are pleasingly versatile, there are tiny perennials and huge, they are monochrome, striped or spotted (variegated). They are available with narrow or broad leaves, textured or smooth. They are also known to be robust and undemanding - no wonder that this universally applicable plant was voted the Perennial of 2009.
The perennial of the year 2011 was then again a Blattschmuckstaude, the Fetthenne (Sedum), which adorns the garden with green or blue or dark red leaves, also numerous variegated forms are offered. There are about 400 species of the mostly smaller chickweed plants, as will find the right fat hen for each location, even any desired splash of color can probably be introduced with this leaf jewelry plant.
If this diversity is not enough for you, make use of the house sausages (sempervivum), of which more than 7000 varieties have been bred so far. The Hauswurz or Dachwurz grows usually only a few centimeters in the height and developed in addition to very decorative flowers very interesting rosette forms. Most house shrubs like dry, warm and rather rocky locations, but there are also houseleeks for humus-rich soils and for damp locations.
The Latin name Sempervivum says everything about the need for care of the mini perennials: semper means always and vivus means alive, and this is how everlasting this indestructible plant is. It can withstand heat and cold and dryness, with this plant you have to really make an effort, so they do not thrive in the garden.
Leaf perennials for sunny locations
More and more popular and popular are the purple bells (Heuchera), these Blattschmuckstauden are not only considerably larger than the small roots, but are also on this entire length decorative. In the summer they show beautiful little filigree flowers, the rest of the year the colored leaves decorate the garden. They do so in many colors, of these interesting perennials, there are constantly new varieties, now it is no longer a problem if you want in your garden a purple bells in caramel with silver leaf drawing. Or a cinnamon, purple, or purple, or red leaf drawing. Purple bells are for sunny and partially shaded locations, they are often evergreen and very robust and persistent.
A rather small Blattschmuckstaude for full sun locations is the Wollziest (Stachys byzantina), which with its silvery leaves and purple small flower candles fits well into any Mediterranean-inspired garden. He gives the gardener with his soft hairy leaves also a very special haptic experience, as it will feel, lets the nickname Hasenohr divine.
Quite the opposite offers the poppy (Macleaya) at each location of the sun: It grows up to 2 meters in dense, feathery, slightly leafy stems, which in late summer begin many small white-pink flowers in upright panicles. A nutrient-rich soil helps with numerous flower formation.
Leaf jewels for the shade
A Blattschmuckstaude with double benefit is the lady's mantle (Alchemilla). The lady's mantle impresses with its large, almost round and slightly wavy leaves at the edge, on which every drop of water becomes a spectacle. From the lady's mantle, you can also make a tea with a beneficial effect, which is recommended for many applications. The green leaf ornamental shrub with the light yellow flowers is about 60 cm high and loves moist, shady locations (but it also holds out in a location with a little more sun).
A rarely attractive Blattschmuckstaude for shady locations is the Geißbart (aruncus), because it forms a really picturesque and very large inflorescence with countless spikes, which are densely covered with tiny cream-colored flowers. He needs a fairly humus-rich soil, but otherwise is completely undemanding.
Ferns can also delight as foliage shrubs, in the majority they like shady places.Among the approximately 12,000 species you will find your favorite fern, and it is not just the typical forest dwellers who like it moist and shady. There are ferns in various heights of growth, with a variety of leaf shapes, in many different colors and for every soil. There are even ferns that tolerate a lot of dryness.
Video Board: 19 Colorful Plants for Shade Gardens.