The Content Of The Article: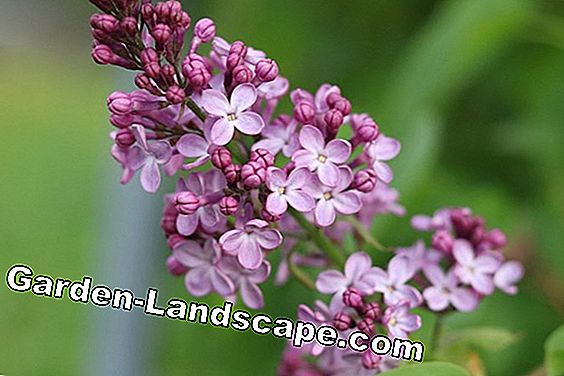 The first rays of sunshine in April and May make the beautiful flower spikes of the lilac sprout and give off their unmistakable scent. There are unfilled and filled flowers, which open in pink, white to dark purple color. If you want some exclusivity in the garden you can plant a two-colored lilac.

The right location
The lilac loves the sun and feels extremely well in it. Although it thrives in the shade, but then convinced not so overflowing flowers and lush crown. The blazing sun and a strong heat are the companions of the lilac. The lilac is an ornamental shrub that is very wind resistant and can be optimally planted as a hedge. After a few years, a fragrant and gorgeous-looking privacy screen is created. If the lilac has its sunny location and sufficient soil moisture, it grows quite fast. If the site conditions are correct, the lilac can grow up to 50 cm per year. If it is planted as a hedge, it should be given enough space, one expects a meter between the bushes.

The location should be sunny,
Lilac tolerates good heat,
a sheltered place prevents the path of his scent.
maintenance
At the bottom of the lilac provides no special conditions. However, there should be no compacted soil and no waterlogging. Lilac, which is already a few years old, does not need a regular water supply even in hot summers.

It thrives particularly well on moderately dry, nutrient-rich, sandy / humus-rich soil,
Also good growth on loamy soils that are pervious and summery,
Lilac wants a soil that is calcareous.
If the soil is sandy, a fertilizer is useful. As manure, horn shavings or organic fertilizer are best. If the lilac has its perfect soil, it is sufficient to apply mature compost in the spring. If the flower panicles turn brown, they should be removed on a warm day with pruning shears. You can mitentfernen disturbing branches immediately. A light pruning can be done all year round.

Plants and multiply
When the flowering time of the lilac is over, you can see saplings around it. These saplings are easy to multiply. They should be made out in late summer. (However, early autumn is enough.) Once they have formed enough roots, they can be planted directly. The hole for the sapling should be poured well with water. Also the following days the little sapling needs water. If the lilac sapling has not formed enough roots, it can be placed in a bucket and allowed to roast there. So that roots can form on the branch, you pull a branch down to the ground and cover it with soil. After a few months, roots have formed. The planting season for the lilac bush is in autumn or spring.

Fertilize and water
Lilac tolerates a dry, warm season better than too much moisture. The watering is quite low, except when it is planted. But at the latest when the leaves become limp, must be poured. Otherwise is...

Watering only necessary in case of long drought.
In order to create a rich sea of ​​flowers, you should fertilize the phosphor.
Organic fertilizer and compost are just as good
Also suitable is a mulch layer - this ensures an optimal temperature of the roots.
Cut lilac
The lilac does not necessarily have to be cut. Especially the uncut lilac will be in bloom in May. Because the cut-compatible lilac shows great flowers on two-year wood. The withered and brown inflorescences, but also the small twigs can be cut with a sharp secateurs. But there are good reasons to cut the lilac when it's too big. It does not matter if in width or in height.
The pruning should be even and the growth pattern of the wood should be maintained. To get into shape, you can easily lighten it. If one cuts the lilac annually and gently, then the lilac thanks it with strong bloom, at the same time the cut provides for a dense growth. A caring cut should happen after flowering. To prevent sprouting, the brown flowers should be cut off. The cutting time should be on warm days, as the interfaces dry faster, which in turn prevents a pest infestation. A strong pruning can be done once a year. However, you have to expect next year with little or no flowers.
After a radical cut that you have to perform because it has become too big or too bushy, the lilac grows fast again. However, it takes two to three years to bushy again and gets a large flower splendor. A Radikalschnitt the lilac should get only in winter.
Since lilac is hardy, it needs no special winter protection.

Pests and too small flowers
The lilac is not particularly susceptible to pests or diseases. The lilac moth, which is recognized by brown, dried spots, can attack it. Likewise, a fungal disease can weaken the lilac tree. By contrast, only a change of location or chemical products help.
If you have planted a lilac, there are usually no flowers in the coming year. He has to settle in his new location. If it does not bloom at all, it may be due to a wrong pruning, too wet summer or over-fertilization.


There are beautiful varieties of lilac and always come new varieties on the market. For example, there are:

Noble lilac with purple filled flowers, very lush flowering, a popular hybrid.
Also attractive is lilac with purple flowers and white border.
Worth knowing soon
The lilac is one of the olive trees. It will be about 2-5 meters high, depending on the variety and location.
He loves a full sun in humus rich, permeable, loamy soil, which may also be a bit calcareous.
Partial shade is also well tolerated, although there must be expected with a weaker flowering.
Waterlogging is not tolerated by Lilac at all.
The lilac blossom starts in May and lasts until the middle of June. Flower colors are blue, white, reddish pink and new varieties also have yellow flowers.
Lilac blossoms are very beautiful in the vase, but unfortunately do not last very long. Never put lilies of the valley together in the vase.
The wild form smells very strong, and thus serves as a base for new varieties.
The propagation is done by cuttings (sticks) which is best cut in June after flowering.
Lilac can be planted in spring and autumn. After flowering, you should immediately cut off blooms (just below the flower). The tree disc or base can be mulched, which is well tolerated. Lilac is best fertilized with a potassium and phosphorus fertilizer.
Attention should also continue to be that the lilac is planted deep enough so that you do not damage the root in weeding, or Harken. If the roots are damaged, saplings grow in the wounded areas and soon only lilacs are left in the garden. (Similar to the vinegar tree). Better to plant the lilac individually than to plant only bulbs like tulips, daffodils, crocus, if possible together with the lilac when planted in the fall. After a few years, it has developed a dense root system because it is worth sowing only a few plants, such as Judassilberling or Nachtviole.
Bushy lilacs are often found as part of a flowering hedge. Since lilac is particularly frost-resistant, low-growing species are also suitable for cultivation in the tub. (at least you are safe from its foothills). In the bucket, some winter protection is required so that the roots can not freeze. Above ground, the lilac is quite insensitive to frost.
Video Board: Rooting Foraged Lilac Cuttings - Part II.