The Content Of The Article:
From the beginning of May, the lilac presents itself again with its impressive and fragrant Blütenrispen. If you would like to fulfill your living space with this intense fragrance experience, you can cut a few flowering branches and place them in a vase.
The most beautiful combinations for the vase
Whether as a bouquet or a wreath - with lilac you can set magical accents. In our gallery we show you the most beautiful examples of how lilac can be arranged tastefully in a vase.
Start photo gallery
7
Show all
Lilac flower bouquets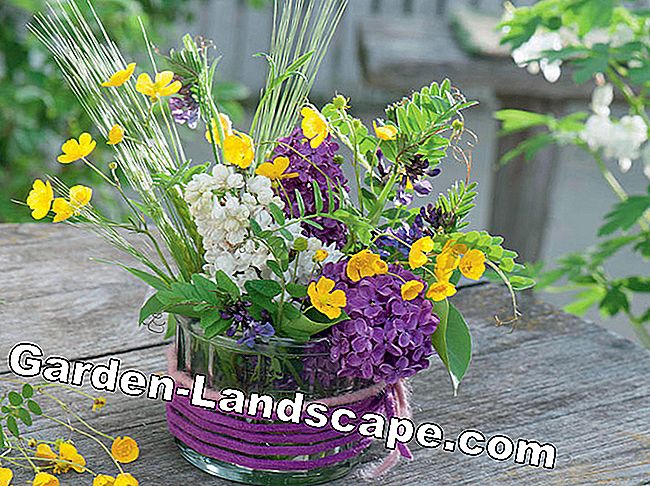 Buttercups, bird's vetch and barley from the Sunday stroll are combined with lilac blossoms casually in a glass vase. Felt cords complete the picture
Watering cans are a pretty decoration on the fence fence. The vase replacement is filled with a bouquet of different flieder varieties, combined with the garlic mustard (Alliaria)
Yearning for a day in the country awakens this luminous bouquet, in which the lilac is illuminated by the rich yellow of the buttercups. With grasses you can set exciting accents
Setting the tone for this light, summery composition is the color blue. Columbine, lilac, ornaments and 'Purple Sensation', cranesbill and woolly Ziest show a harmony of different nuances
At the May festival, lovingly bound, fragrant wreaths of lilac and leaves from the lady's mantle welcome guests to the table. This fits the nicely described name card
Built from a flower bowl and an antique vase, this idea is reminiscent of a fountain. Out of the water, lilac blossoms "bubble out"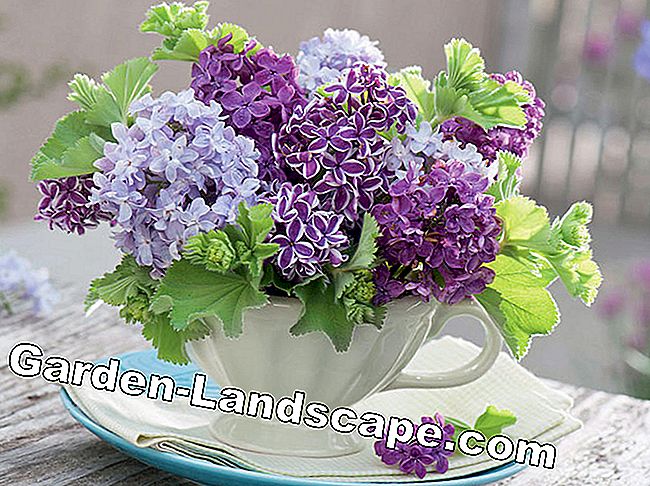 Finds from the flea market are given new life by a lilac bouquet in different shades and leaves of the women's coat. The variety 'Sensation' stands out particularly with its white edges
To be able to enjoy the lilac as long as possible, you should first remove the foliage. Cut the stems diagonally. For very woody branches, the stems can also be carefully split with a sharp knife. This allows the branch to absorb more water. So that the lilac can survive as long as possible in the vase, the water must be changed regularly. On this occasion, re-cut the branches and place them in fresh water as soon as possible.
The variety 'Katharine Havemeyer' (Syringa vulgaris) is well suited for cutting with its lush flower spikes. Although the splendor lasts only a few days, the scent experience is unforgettable
By the way: flapping the stems flat is a common misconception. Knocking destroys important cells and allows the branch to absorb less water.
Video Board: The Care and Handling of Lilacs.