The Content Of The Article:
In the original version lime paint consists of so-called slaked lime, which is called lime lime. Mix this with water and, if necessary, other ingredients such as color. However, the lime coating is not suitable for any surface or a special pre-treatment must be carried out before application. In the following you will learn everything worth knowing from the home improvement professional.
Advantages and disadvantages
The chalky paint is smudge-proof when properly processed and does not "chalk". After a fresh coat of paint, a little bit of "chalk" dissolves when you wipe your hand with the paint, which gets worse with every passing hour, and the older the paint, the harder it hardens, and it "petrifies" the air This is called carbonization.
It can be painted with many paints. Above all, it is advantageous that it acts as a fungicide and disinfectant. Mold damage reliably prevents them, regulates moisture in the walls and absorbs odors. It is a pure mineral-containing color at the BIO level. Disadvantages of lime painting are the color selection and its highly corrosive properties. The latter makes it imperative that you wear protective goggles and gloves during processing.
Especially if you make the paint yourself, splashes can fly around. In the event of skin or eye contact, rinse immediately with water. Since no more than a 5 percent color pigmentation must occur, the result is a maximum of pastel shades from a color mixture. Strong colors are impossible to realize.
Suitable substrates
Substrates must have a load bearing capacity and stability that can hold the lime. Optimal limescale, clay and cement plasters are ideal. Stone substrates made of calcareous sand, cement, aerated concrete and clay and bricks can be easily painted with lime paint. More problematic are simple stones and gypsum and wood substrates. Here, a lime paint is more optimal when special additives are added.
The production of lime paints is especially recommended for painting house facades. The condition is that these are not exposed to strong weather conditions such as driving rain. House entrances, bathrooms, kitchens, as well as ceilings and walls in the living area are also suitable for a Kalkanstrich. Cellars have been whitewashed in recent centuries with this color.
Material and costs
The material required and the resulting costs depend primarily on personal needs and the area to be painted. To go out is of a higher consumption than you are probably used to from conventional acrylic paint on woodchip wallpaper since lime paint covers worse and multiple paintings are necessary. Overall, however, the price is far below the cost of traditional paint when you make the paint yourself. The following material and price details give an overview of what you need and the approximate costs.
paint Roller
If white lime is applied, this can be done simply with the paint roller.

Big paint roller (not new wool) - For example short scooter including handle about 8 Euro
If necessary, telescopic pole for high walls or a ceiling painting - about 8 euros
Replacement roll about 4 euros
Small paint roller for border and Eckstreichungen including handle about 5 euros
Paint tray circa 2.50 Euro or alternatively paint-scraper for about 2 Euro
paints
For colored lime paints you should use a puff, brush or brush. Here should be taken to ensure that it is real hair.

Quast: depending on the quality between 3 and 8 euros
Brush: between 2 and 6 euros
Brushes such as petticoats: from about 4 euros
lime
Wood-burned lime lime, which is sold in buckets or sacks, is most suitable. This is one of the highest quality, as it is "swamped" for months or years and with each day becomes finer. It has an almost chemical-free purity and contains no sulfur.
For the production of the lime paint you can expect the following costs:

25 kilos of white lime: between 2 and 3 euros
High quality woodburned lime: 11 kilograms from about 20 Euro (2.5 years old)
if necessary pigment color: 500 grams about 10 Euro
Depending on the material and size: between 1 and 15 Euro
Buckets depending on the volume: between 2 and 5 euros
Total cost: between 15 euros and 40 euros for the color production


additional demand
In addition, when using lime paint, you should provide sufficient protection to prevent splashes of paint on the floor and surrounding furniture, or irritation of the skin or eyes when in contact.

Protective film - for example 4x5 meter - medium strong - around 2.50 Euro
goggles: from 2 euros
Gloves: from 2 euros
manufacturing
When making the lime-based paint, mix five parts of lime with six parts of water in a bucket.It must be a spreadable paste. If a colored paint is desired, only a lime-fast pigment paint is suitable whose pigment content should not exceed five percent. It should be mixed evenly with the lime paint and allowed to stand for at least 24 hours afterwards. In between stirring is advisable because lime can settle on the pail floor, there hardened slightly and the color pigments can not store evenly here. Basically, the longer the color "pulls", the higher its quality in quality.
TIP: It is best if you mark and paint the color in the last stroke. In this way, you ensure that the color looks more real and is not influenced by possibly shimmering backgrounds or create shadow effects.
Casein additional
Casein increases the binding ability of the lime paint and ensures an increased wipe resistance. It is available as a finished product and you can make it yourself. To do this, proceed as follows:

Mix 250 lager quark with about 100 grams of pasty lime lime
Stir well until a jelly-like, glassy mass is formed
Add mass to the already prepared lime paint (maximum of 5 percent)
Mix well with the color
Use relatively quickly, since casein shortens the shelf life of the color
Linseed oil additive
Adding lime oil to lime paint improves the spreadability and minimizes the absorbency of substrates. It "sapons" when mixed with the paint and binds additionally, so that the new wall paint can be wiped off for a long time, without lime being removed. Add two to three percent linseed oil directly to the prepared color and mix it vigorously.
Difficult substrates
If wood or a stone wall should be painted with lime paints, they will not last. To solve this problem, follow these steps when making the color:

Use hot instead of cold water
Add 40 grams of lime to about 500 grams of zinc sulfate
Submerge 250 grams of cooking salt
Mix the mixture well and use immediately
preparation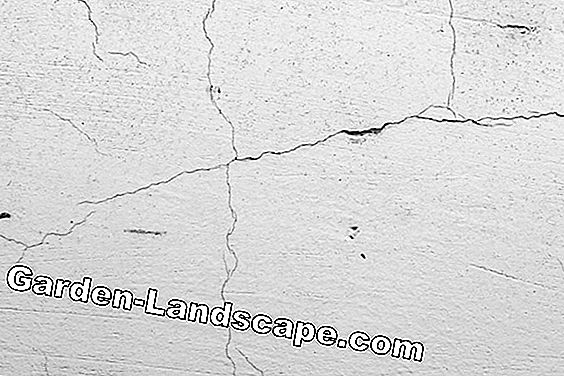 If the substrate is plasterboard or Fermacell, a pretreatment with a universal putty is required, since these are strongly absorbent substrates and would not hold a lime paint coating. If materials are used as substrates, as described in the section "suitable substrates", a pretreatment is not necessary. All other smooth and well-adhering surfaces as well as paints on old emulsion paint should be pretreated with a mineral primer. The manufacturer HAGA offers these as finished products, for example.
Preliminary work
If wallpaper and latex paints or the like are present on the substrate, these are to be removed, provided that no primer or a mineral plaster is used. It is important that the surface is free of dust and grease. If an old lime paint is to be replaced by a new one, the old wall covering is only scratched off or scoured if it is classified as unsustainable. Otherwise, the old Kalkanstrich can remain and the new done on this. Minor damage, cracks and holes are to be repaired with a painter's spatula before painting and / or leveled with Kalkglätte. Immediately before painting, moisten the substrate.
To brush
With the role of regular white lime is used as usual with conventional paint applied. When using a brush or a wide brush, the color is crossed across. As a rule, the lime paint is applied in two to four layers. This should be taken into account, especially when painting on the facade. From the second coat, a conventional paint roller can be used if the lime has been well deposited.
Do not forget that the color pigments should not be added until the last coat. In the last layer, the walls are painted from top to bottom. For the ceilings, the rollers or brushes / brushes are to be guided vertically in the direction of the windows. This coating technique prevents shadow effects, such as those caused by grooves or the like.
TIP: Do not be irritated by any discrepancies in the color. Moist color is translucent and the correct color usually comes only when drying is complete. Therefore, wait until more color is used again.
dry
An important factor is drying. During the drying process, a chemical process takes place. This should not be interrupted and strictly the lime paint the time to be dried well. For this reason, there is a 24-hour waiting period between the different layers of paint, although it is "hand-dry" after three to four hours. The ambient temperature should be between seven degrees Celsius and 18 degrees Celsius. Temperatures above or below could be detrimental to the drying process and the end result.
distance
If old lime paints are to be removed, this is usually associated with a great effort and great dust development. Especially when applied to freshly plastered surfaces lime, this has hardened extremely. Only a grinder helps here, with which you can remove layer by layer. Heavy impact with a hard object and a spatula also caused the lime coating to dissolve, but larger areas would require several days of work. In addition, the substrate could be damaged and create an uneven surface, which additionally requires a preparatory action to install the new wall cladding. It is better to brush off the paint as well as to re-smooth. On this you can then wallpaper or give a new color to the wall with an emulsion paint.
TIP: It gets less dusty if you hold a vacuum cleaner close to the working surfaces when brushing and smoothing. Most of the dust is absorbed directly in this way.
Video Board: Homemade Lime Plaster for Earthbag/Superadobe House | Painting & Sponging Walls.