The Content Of The Article:
Perennials naturally have a longer life than summer flowers and biennials. By definition, they have to survive at least three years to call themselves a perennial. Among the permanent plants, there are especially long-lived species.
Front runners are regular funkies and lilac roses. You will easily be twenty years old and more without rejuvenating sharing. A striking number of spring flowers such as elven flowers and Waldsteinie keep it in the same place for decades. Such permanent ground cover are ideal for easy care of larger areas. May lilies, cyclamen and hazel are even suitable for wilderness. Loyal species are also found for sunny flower beds. Peonies can be in the same place for generations. Their secret is that they are developing slowly.
The hazel is a long-lasting native groundcover with shiny, kidney-shaped foliage
Short-lived perennials degrade after four or five years - they become lazy and barely grow. For rejuvenation and revitalization, you must share these perennials in good time. Durable perennials, on the other hand, become more and more beautiful as the years go by. For example, long-lived goatee blooms twice as abundantly in the eighth year as in the fourth. Conversely, before planting, think about the place where the Methuselahs under the perennials feel comfortable and where they can develop undisturbed, since transplants may not like them.
The right location
Long-lasting perennials thrive in one place in the garden for ten years or much longer without having to be split and transplanted. For the average age of perennials, unfortunately, there are no reliable statistics - too many factors that affect the life of the plants, such as the climate and soil conditions. However, you can easily determine the most important factor yourself: the right location! Although some perennials tolerate different soil and light conditions.
Thus, Eisenhut, meadow cranesbill and daylily bloom in a moderately dry bed in the light shade of large shrubs as well as in a slightly humid place in full sun. However, if you want to achieve maximum flowering over as many years as possible, you should give the long-lived perennials a location that comes as close as possible to their natural habitat. Very helpful is the system of areas of life, which describes the natural sites of different species, each with a short combination of letters and numbers.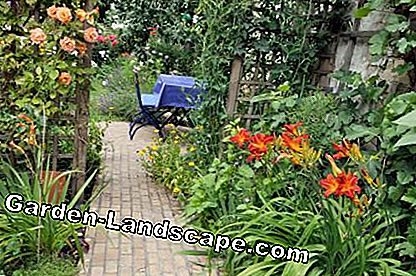 The daylily grows in dry and partially shady as well as moist and sunny locations
Always divide perennials when transplanting
If you need to transplant a peony or other long-lived perennial, you should always crush them into at least four pieces. This measure is essential to stimulate root growth of the plant. Put the shrub around "in a hurry", taking care of it, as it does not grow properly due to its poor growth. You can also rectify this mistake retrospectively by removing the caring shrubs from the ground, then dividing them and planting them again.
Video Board: 21 Plants That Bloom All Summer Long.