The Content Of The Article:
Magnolia trees are a very ancient genus of plants. The first species originated over 100 million years ago and are therefore probably the ancestors of all flowering plants living today. The flowers of today's magnolias, despite their beauty botanically still very simple structure and allow conclusions about the appearance of the first flowering shrubs. One reason for the high age of the plant genus is certainly its resistance to diseases and pests. Neither leaf fungi nor pest insects touch the plants, so that hobby gardeners can dispense with their magnolia trees on pesticides.
The growth height of magnolia trees varies greatly depending on the variety. Some varieties, such as the star magnolia (Magnolia stellata), are barely two meters high, the cucumber magnolia (Magnolia acuminata), however, reaches dimensions of up to 20 meters. All, however, they grow very restrained. The numerous small-growing varieties make magnolia trees especially interesting for small gardens, because they can be found in every city garden or front yard - and draw with their flowers all glances on itself.
The star magnolia (Magnolia stellata) grows very compact and is therefore suitable for smaller gardens
The right location
Give your magnolia tree a box seat in individual position in your garden. He will thank you for his beautiful flowers in spring. Calculate enough floor space, because the crowns of almost all types and varieties go a bit wider in old age - even with the smallest varieties it should be at least four square meters.
In Germany, late frosts of the magnolia tree blooms unfortunately sometimes come to a sudden end - the petals turn brown within a few days and fall off. Therefore, if possible, the location should be protected from cold east winds and have a favorable microclimate. Ideal are places in front of a house wall or in a building corner. The soil should be evenly moist, rich in humus and as slightly acidic as possible. On sandy soils, the frost hardiness is higher than on moist, nutrient-rich loamy soil. The latter should therefore be improved with sand and deciduous humus.
Special care instructions for magnolia trees
Once planted, magnolia trees provide abundant flowering for many decades. They become more beautiful year by year and manage with a minimum of care.
Danger: The root system of magnolia trees runs very flat through the topsoil and is sensitive to any kind of soil tillage. Therefore, you should not work the tree slice with the hoe, but simply cover it with a layer of bark mulch or plant with compatible ground cover. Suitable species are for example the foam bloom (Tiarella) or the small periwinkle (Vinca). In the spring Magnolia trees are grateful for a few nutrients in the form of organic whole fertilizer (for example Oscorna) or horn shavings. If the soil dries out despite the mulch layer in dry summers, additional watering is recommended.
Cutting magnolia trees
Although magnolia trees are generally cut compatible, if possible you should let them grow freely. In contrast to forsythia and many other spring flowers, the shrubs do not grow old, but grow more and more flowers over the years. If necessary, you can use the pruning shears to magnify magnolia trees or make the crowns smaller by removing very large branches. But do not just cut down the stronger branches. This will permanently destroy the picturesque form of growth, because the bushes at the interfaces form many weak neutrals. The best time to cut magnolia trees is the late summer.
Compact new magnolia varieties
The petals of 'Satisfaction' are creamy white inside and pink outside
The most famous and magnificent magnolia tree is the tulip magnolia (Magnolia soulangeana). It is also one of the oldest magnolia breeds ever and was created around 1820 in the Royal Garden Institute Fromont near Paris. Her light pink, tulip-shaped flowers appear in April before the foliage shoot in incredible abundance. The tulip magnolia can reach impressive proportions over the years: Crowns that are eight to ten meters wide are not uncommon in plants that are around 50 years old - and unfortunately also an exclusion criterion for most of today's garden sizes.
Due to intensive breeding - mainly in New Zealand and the USA - there is now a huge variety of varieties of new varieties of magnolia, which only slowly finds its way into nurseries.They were not only bred for beautiful flowers, but also on compact growth, so they have the right format for today garden sizes. Undoubtedly, among the most exotic varieties are the yellow magnolia trees, from which more and more varieties are gradually coming onto the market. But also uniform purple varieties such as the genus 'Genie' there is only a few years.
While the tulip magnolia is particularly late frosty and immediately drops their petals, many newer varieties also tolerate a few degrees. The Star Magnolia (Magnolia stellata), especially the variety 'Royal Star', is considered to be particularly hardy. Their flowers show the highest frost tolerance, although they often open at the beginning of March. Basically, however, all magnolia trees prefer a warm location, sheltered from easterly winds.
Image gallery: Colorful magnolia variety
Start photo gallery
8
Show all
Colorful Magnolia Tree Variety (9)
'Galaxy' is the name of this new magnolia hybrid from the USA. It grows upright and opens around the middle of April with the leaf shoot their rich pink flowers. Because of the late flowering period the flowering flora is rarely destroyed by late frost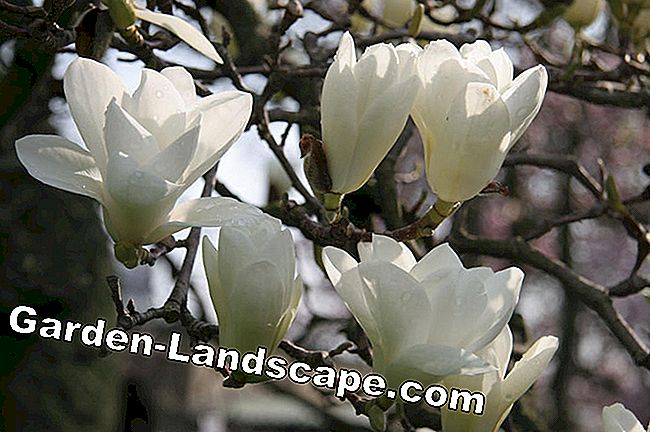 The lily magnolia (Magnolia denudata) is a magnolia wild form from China with white, initially cup-shaped, later cup-shaped flowers. It bears large, glossy leaves and becomes eight meters high and wide over the years. The flowers open from mid-March long before the foliage and therefore are unfortunately often carried off by late frosts. They exude a light lemon fragrance
The new genius Magnolia hybrid was bred in New Zealand and stands out with its dark purple flowers from afar. It forms an unusually narrow crown for magnolia trees and grows four to five meters high. That makes them attractive for small gardens. The tulip-like flowers open from the middle of April before the foliage emergence and last for several weeks. Because of the relatively late flowering time, they are hardly endangered by late frost
'Sun Spire' is a peculiarity among the numerous yellow magnolia hybrids that have come on the market in recent years. It is perfect for small gardens as it only gets three meters high and its 1.5 meter wide crown remains very narrow. The yellow petals are interspersed at the base with a light pink line pattern. Since the flowers open only in early May, the variety is ideal for cold conditions
Magnolia x loebneri 'Leonard Messel' was created around 1960 in England from a cross of Magnolia kobus with Magnolia stellata 'Rosea'. The star-shaped flowers appear in early April before the foliage. They are white inside and light pink outside. From their crossing mother, the star magnolia, they have inherited the relatively high frost tolerance. With a stature height and width of up to five meters, 'Leonard Messel' is also suitable for smaller gardens
Not all magnolias bloom in the spring. The elegant summer magnolia (Magnolia sieboldii) opens its blooms only in June and is a maximum of four feet high and wide
'Sentinel' is also a young hybrid magnolia with an extremely narrow, columnar crown and light pink lily-like flowers. The plant is five to seven feet high and their flower buds open with the leaves from the middle of April
The purple magnolia (Magnolia liliflora 'Nigra') is one of the standard varieties on the German market and is especially recommended for small gardens in late frost-prone locations. It blooms only at the end of April and forms a relatively dense, compact crown with four meters height and width. The purple petals are light pink to white colored inside
Video Board: Simple uses for the Magnolia tree.