The Content Of The Article:
Watermelon, cantaloupe, melon pear - the selection of melon varieties is great, but not all thrive with us. We tell you which varieties are suitable for gardening.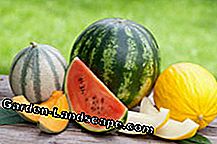 A fresh watermelon is probably the most refreshing thing in the summer. And the great thing about it: we can eat as much as we want, because the watermelon has only a few calories. That is probably a reason why it has been cultivated in recent years by many gardeners.
However, such a watermelon is quite big and we do not always manage to eat it before it rots. And at some point you have over-eaten the watermelon. So next year you just have to grow a new melon variety. But which ones are actually suitable for home gardening? We would like to tell you something in this post. In addition, a few small information about the cultivation of melons.
Important information about growing melons
Cultivating melons yourself is not difficult at all. At least not if you grow them right. You must pay attention to the right time of cultivation, location and the right soil.
➥ growing time:
It is best to cultivate melons on the windowsill and then put them in the bed at the end of May, so that no frost can affect them. The prepared bed should ideally be covered with a black foil (garden fleece), because the floor is preheated and weeds are suppressed.
In addition, it is recommended to stretch over the bed until July / August a film tunnel. At the time of flowering, you must then remove it again so that insects can pollinate.
Location:
Melons are among the fruits that need a lot of heat to thrive. Important is therefore a place in the blazing sun, which is also protected from wind. A place in a corner of the garden or next to a wall would be an advantage.
When growing melons always keep in mind that they need enough space, because the plants can spread very much. You should therefore calculate an area of ​​one square meter per plant.
➥ floor:
Melons prefer a soil that is rich in nutrients and humus. It is therefore best to work mature compost or manure into the ground some time before planting the melons.
Suitable melon varieties for gardening
➤ 1. Sugar melons:
Of course, not all melon varieties are equally suitable for growing in the garden, but you can always opt for the sugar melon. Suitable cultivars of the sugar melon include Charentais, Accent F1, Fastoso F1, Delada F1 and Honey Pot F1.

From Hungary comes the variety pineapple, which belongs to the cantaloup melons (variety of the sugar melon). The round, up to 20 centimeters large melons are very sweet and have red pulp. In the field, this variety thrives only in mild weather and in protected locations. Otherwise you should rather prefer the cold frame for cultivation.
➤ 2. Watermelons:
Of course, the watermelon should not be missing among the varieties that grow well in our gardens. After all, the cultivation of this type of melon always works.

Among the watermelons, the Sugar Belle F1 variety is especially recommended for the garden. In addition, the variety Sweet Siberian convinced more and more gardeners with their sweet aroma and yellow-orange pulp. Furthermore, the sugar melon Sugar Baby is suitable for European gardens. It can also be stored wonderfully.
➤ 3. Honeydew melons:
The fruits of the honeydew melon smell very strong Blenheim Orange. The sweet fruits of this melon variety can weigh up to 1000 grams. Even in not too sunny years this variety reliably produces fruits.

Particularly profitable is the honey melon Petit Gris de Rennes, whose fruits can weigh up to 800 grams and mature well under less warm conditions. This honey melon has a sweet, orange pulp that really tastes very aromatic.
➤ 4. Melon bulbs:
In addition to the sugar, honey and watermelons, there are of course a few other types of melon, where you can even venture once a cultivation. For example, the melon pear produces smaller fruits. The approximately 700 gram fruits have a sweetish-fruity taste.

By the way, melon pears have received their Germanized name because of their appearance. Their size and basic color make them look like a pear. The purple stripes, on the other hand, are far more reminiscent of a melon. My Reading Tip: Melon pear: Tips from cultivation to harvest.
➤ 5. Wild or bagel melons: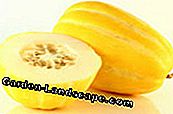 Very sweet are the white-fleshed fruits of the wild or pocket melon, which are on average about eight inches tall. They also smell very strong, which is why they in the 19.Century were happily carried by wealthier ladies in a bag. Hence the name Taschenmelone.

If you want to dare to grow the bag melon, then you should know that this type of melon is best for growing under foil or in the cold frame.
Video Board: 6 of the best tips on Growing Cucumbers - Gardening Tips.