The Content Of The Article:
When there is not much going on in most flowerbeds in the spring, the beauty of the rock garden unfolds: blue cushions, ribbon flowers, red cabbage and gooseberry are all in bloom in April. However, this does not mean that there is a lull in the rock garden after a short flower fireworks. Quite the contrary: In the late spring blooming upholstery phlox and whitetail carnation, in summer Dalmatian bellflower and sunflower. For the end of the season fall gentian and toad lily provide. The best thing is: Such an eclectic mix of small, perennial flowering plants is possible in the rock garden on a few square meters!
Ideal: a sunny hillside garden
The easiest way to create a rock garden in a sunny slope garden with loose, well-drained soil, as there are already optimal conditions for the pretty flower dwarfs. Those who do not find such a location in the garden, must first make some preparations: Choose a sunny place where you spend more time, such as an area near the terrace. Then raise the soil about two spades deep and thoroughly remove all root weeds. In the hole you fill first about 20 centimeters thick layer of rubble, gravel or other coarse rock material. In addition, the excavated soil is poured up to a shallow hill and stamped. Heavy, loamy soil should first be mixed with coarse sand or gravel.

Natural stone walls can be integrated very well in stone plants. Mat-forming perennials soon cover the mural crown with a colorful flower carpet
Immediately install large stones
It is best to install large stones and boulders so that they are later half sunk into the ground. Distribute the stones unevenly on the mound and use only one type of rock to give the mini-mountain as natural a charm as possible. On the water-permeable ground you can now apply the potting soil between the stones. A layer of 10 to 15 centimeters is usually sufficient. A loose mixture of garden soil, sand and bark compost has proved its worth. Between the stones there are many different niches in which alpine flowering plants feel at home. Here you can create a small-scale mosaic of different plants - because even strong-growing upholstery plants such as Dalmatian bellflower and stonecrop can be easily limited to their niche, without intruding delicate beauties such as dwarf Columbine or edelweiss. Also small ornamental grasses such as shiver grass, Schillergras and blue-Schwingel get along well with the dry location. Their airy-loose stalks are a nice complement to the flowers in the rock garden.
Dwarf forms of mountain pine (Pinus mugo) remain compact and handle well with the barren soil in the rock garden
Woods for the rock garden
To a perfect mountain landscape in the mini format also small coniferous trees belong. For rockeries with a dry underground, dwarfing of pine and juniper are especially suitable. Mountain pine 'Humpy' (Pinus mugo) forms an approximately 80 centimeters high hemisphere, Juniper 'Nana' (Juniperus procumbens) spreads flat. In slightly wetter places in the rock garden also makes the maximally 150 centimeters high Zuckerhut spruce (Picea glauca) a good figure.
Flowering perennials for the rock garden
Start photo gallery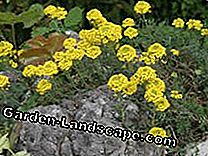 11
Show all
Flowering perennials for the rock garden
The gold star (Hymenoxys grandiflora) is about 20 centimeters high and enchanted from May to June with its aromatic scents. For the rock garden it is well suited, since its tap root finds support and water even with very barren and rocky underground
The five to ten centimeter high padded phlox (Phlox douglasii) is doing particularly well in the rock garden. After the first flowering period from May to June, it can be cut back to promote its compact growth and to induce a second flowering in late summer. It blooms depending on the variety in white, red, pink or purple
The blossoming in May, about ten centimeters high Tibetan orchid (Pleione limprichtii) prefers sheltered, partially shaded places. In the rock garden you can place the filigree plant well. However, it is considered weak and should be protected in winter from cold and wet
From April to May, Alyssum repens (Alyssum repens) impresses with its bright, honey-scented flowers. The 10 to 20 centimeters tall plant is extremely easy to care for. In order to promote a compact growth form, a pruning in autumn is recommended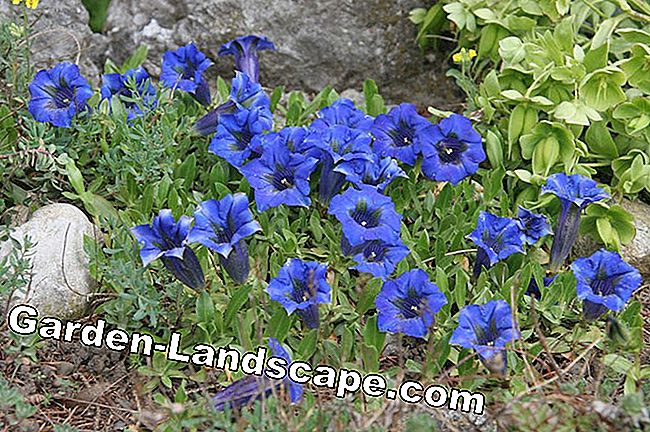 The stemless gentian (Gentiana acaulis 'Grandiflora') impresses with bright blue flowers from May to July.In a partially shaded spot and in a slightly moist, lime-poor soil, it prefers to show its lush blossoms and grows five to ten centimeters high
With its bloom time from June to August shows the Zwerg-Gerschnschnabel (Geranium subcaulescens) long its colored splendor. He is about 15 centimeters high and is easy to care for on loose, well drained soils
The evergreen sunflower (Helianthemum x cultorum) also blooms from June to August. Then you should cut it back the compact subshrub and protect it with fleece in snow-poor winters. With its stature height of five centimeters and a variety of flower colors, it sets in every rock garden accents
The blue cushion 'Tauricola' (Aubrieta hybrid) is up to ten inches high and shows its beautiful violet-blue flowers in April and May. It is also a beautiful structure in the rock garden with a distinctive growth habit. After flowering, a gentle pruning is recommended
The Peony Peony (Paeonia tenuifolia) is a filigree species with blood-red flowers that open like most peonies in May. The filigree foliage is a beautiful eye-catcher even after flowering. Important is a full sun with loose, very well-drained soil, because the species is extremely susceptible to Stunning
The Red Garden-Kuhschelle (Pulsatilla vulgaris 'Rubra') is a garden form of the native in the Alps Wild Kuhschelle. The buttercup plant flowers already in March and April and is a valuable, early bee pasture. The perennial prefers calcareous, humus soils
One of the most robust rock garden plants is the evergreen sandflower (Iberis sempervirens). It grows to 15 centimeters high, loves moderately dry, loose soil and blooms from April to May. Cut the subshrubs back afterwards, otherwise it overcomes over time

Video Board: Rock Garden Designs.