The Content Of The Article: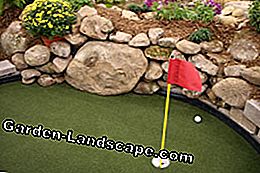 If you have a large garden and a lot of lawn, the following tip is certainly very interesting. How about a game? Mini golf in the own garden? It does not work? Of course that is possible!
Which equipment do you need?
Everyone knows miniature golf. This is the game of golf on tracks - in small just. And that's for the garden. Without lanes, of course. All you need is a little space, clubs, balls and the obstacles the balls have to overcome. And off you go.
Search for a flat surface
Either you build a whole course, or you choose a piece of grass, on which you then simply exchange the obstacles. This is a lot of fun for the whole family. So that the pleasure can be really enjoyed, you should choose a flat surface, a "moguls" is rather unsuitable.
The equipment needed for this can be found at a moderate price of under € 200 on the website myminigolf.com. Miniature golf in your own garden - a dream come true!
Video Board: Turn Your Backyard Into A Mini Golf Course.