The Content Of The Article:
General
If you fancy a water garden, you do not have to count among the landlords. Refreshing ideas can be implemented on a small balcony or on a narrow terrace - from a shallow bowl of floating plants to a splashing trickle of water to colorful flowers in a bucket or wooden barrel.
Plant mini-ponds
When planting one should give up too vigorous candidates. Although the plants are placed in special baskets so that their rhizomes can not escape, but proliferating pond plants such as reeds, calamus, hedgehogs and cattails thrash the small ponds alone by their mass. Ornamental and miniature forms of these plants are more suitable. Thus, dwarf cattails, dwarf bulrush and grass calamus remain much smaller than their conventional relatives. Buntlaubige varieties, for example, the pond corn 'Albescens', are often tame in growth. Compact representatives such as marsh yolk, Bachbunge, pennywort and marsh forget-me-not also make in pots a good figure. In combination with upright plants, such as Japanese marsh iris or arrowhead, interesting contrasts arise.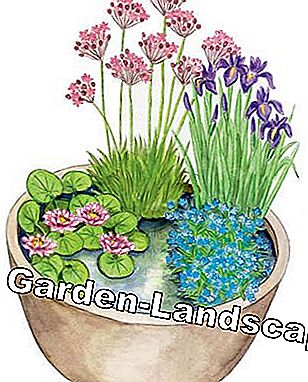 An arrangement of differently planted mini ponds transforms this terrace into a small water garden
Location
The right location for the mini-pond is at least as important as plant selection. Because the vessels are usually not buried in the ground and have only a limited volume of water, they heat up quickly and it comes to algae faster than large garden ponds. Therefore, the tubs, tubs and vats should not stand on the south balcony in the full sun. They are much better off in a partially shaded place.
care Tips
With water lilies, water lilies and frog bites shade the surface of the water. This reduces the formation of algae and evaporation. Underwater plants, for example water feather, horn and millet leaf, serve well as oxygen dispensers. This includes the water plague, which bears its name rightly and should be kept in check on a regular basis. Pond care products, if possible on a natural basis, are another option. Because nutrient inputs promote algae growth, you have to be very careful when fertilizing. For water lilies, for example, long-term fertilizers in conical form, whose nutrients can directly absorb the plant roots, are suitable. Speaking of water lilies: You should buy varieties that are suitable for the small depth of water for your mini-pond. Because only on plants that can develop well, stay healthy and flowering, have large and small pond owners permanently happy.
Mini ponds for every garden style
In the following picture gallery we present you three mini-ponds with suitable planting, which are suitable for the most different garden styles - from the modern designed inner courtyard to the natural garden.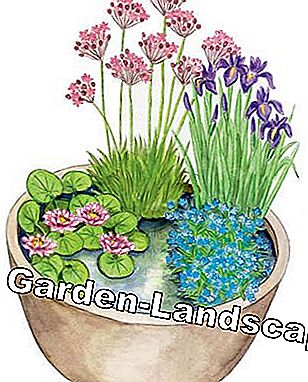 Start photo gallery
Mini ponds design ideas
Romantic mini-pond: The round bowl made of glazed ceramic beautify aquatic plants with muted flower colors. Pink swan flower (Butomus umbellatus) and blue Asian swamp iris (Iris laevigata) form the perfect setting for the pink dwarf lily (Nymphaea) and the light blue swamp forget-me-not (Myosotis palustris)
Modern mini-pond: Even the square vessel made of anthracite-colored plastic, optionally made of metal, ensures a formal effect. The slim, flowerless winter horsetail (Equisetum hyemale var. Robustum) and green swimming fern (Salvinia natans) underline this effect. Bulrushes (Juncus) or pond lemurs (Schoenoplectus) with their structurally strong stalks would also be suitable candidates
Natural mini-pond: The combination of a wooden vat and plants with wild character provides in this example for rural flair. Here grow pink red-blooded (Lythrum salicaria), white cotton grass (Eriophorum angustifolium) and dwarf cattail (Typha minima) with its brown egg-shaped fruit stalks. In between, white-flowered frog bite (Hydrocharis morsus-ranae) swims

Create mini-pond
Mini ponds can be realized with a variety of vessels. Here, step by step, we create a mini-pond in a waterproof, flexible plastic tub. It is planted with fir fronds (Hippuris vulgaris), lizard tail (Houtuynia cordata) and purple loosestrife (Lythrum salicaria).
Place concrete block as a substructure (left) and fill lattice pots with Teicherde (right)
On the bottom of the mini pond, a clean concrete block is placed for each of the three plants in front of you. Later, the plants are not too deep in the water due to this substructure. For the planting we use plastic pots, which we fill with special nutrient-poor ponds. It is optimally adapted to the plant needs and reduces the formation of algae.
Pot the plants provided (left), plant in the baskets and cover with gravel (right)
The repotting of aquatic plants has the advantage that they can develop better in the slotted vessels. Furthermore, their natural propagation urge can be well prevented. The cover with washed ornamental gravel looks good and ensures that the earth does not float. Pots should be potted before insertion to allow the substrate to soak.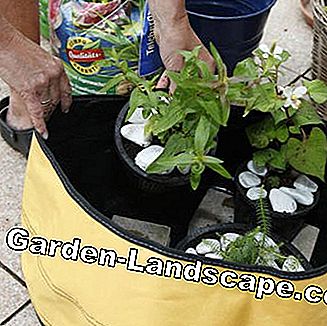 Place the baskets in the mini pond (left) and fill with water (right)
The plants, which include not only pine fronds (Hippuris) here lizard tail (Houttuynia) and blood-Weiderich (Lythrum), place directly on the concrete blocks at the bottom of the pond. The mini-pond is filled with a gentle stream of water by hose or watering can.
Place the mini-pond in a sheltered place
After a few hours the suspended particles settle and the water becomes clear. A sheltered place on the balcony or the terrace with enough light, but without blazing midday sun, is ideal for the mini-pond.
Video Board: The NEW MINI POND is FINISHED!!.