The Content Of The Article:
Advantages of mixed culture
A colorful mixture of vegetables, lettuce, herbs and summer flowers provides a pleasant change in the bed. On the other hand, so-called monocultures, in which kohlrabi, cabbage and lettuce are kept at an accurate distance and strictly separated from one another in the flower beds, are almost boring. The versatile coexistence and juxtaposition has even more positive aspects: With the right partners, all species grow better, as the competition for nutrients is lower. Also, pests and diseases are less likely to spread.
An important criterion for a successful mixed culture is the consideration of the growth forms: Combine thick celeriac with slender leek or underplant the spreading kale with endive, you can plant a little denser and better use the existing area.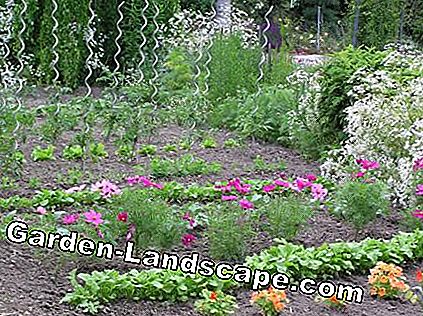 Colorful flowers not only visually loosen up the vegetable garden. They also attract some pollinators and promote the fertility of the soil
Planting partner in a mixed culture
Some types of vegetables like each other, others not. This is meant quite seriously: The metabolites of plants influence the growth of neighboring plants. So it makes a difference whether you grow cucumbers next to cabbage or tomatoes. In the mixed culture, suitable neighboring plants are cultivated side by side in individual rows in order to utilize their growth-promoting influence.
The immediate proximity of vegetables that do not harmonize with each other should be avoided. An example: onions promote the growth of carrots, but are even rather negatively influenced by the carrots. When combining suitable neighboring plants, one occasionally has to puzzle a bit. Finally, the rules of the crop rotation must be taken into account. A cultivation sketch is absolutely recommendable. You will need the plan as a reminder later when the cultures are scheduled for next year.
An elaborate cultivation planning is nevertheless not necessarily required: If you move on with the closely related species - and also with nutrient-hungry vegetables such as potatoes and tomatoes - every year at least one row or even a whole bed, the soil can recover and the soil remains for many years fruitful.
Mixed culture on a small area
Even those who have little space for growing vegetables do not have to do without a rich harvest. Just about 20 square meters of space are enough for a colorful mixed culture. And with a sophisticated cultivation plan, there is enough fresh food from spring to autumn. So that every centimeter can really be used for growing vegetables, you should forego ways. Instead, already at the end of March, pull a seed furrow every 40 centimeters and sow spinach there. The young leaves taste in the salad or as a vegetable.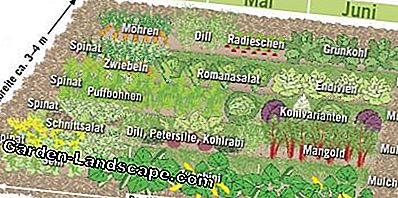 Rich harvest from spring to late summer - a sophisticated cultivation plan and a mixed culture make it possible
At the end of April, you chop off the plants and leave the remains as green manure and walk-through mulch layer in the rows. Later you can supplement the mulch layer with dried grass clippings or shredded garden waste. Mustard also fulfills its purpose as green manure and is ideal as a soil conditioner before zucchini. Sow other early vegetables such as carrots, dill, radishes, onions and cut salad between the spinach rows. They are replaced by kale and various lettuces in early summer. Broad beans are an excellent pre-culture of savoy cabbage, red cabbage or pointed cabbage, which are planted from May at the earliest.
Herbs as a bed partner
Herbs are not only indispensable in the vegetable patch, they are also good bedding partners in a mixed culture: Chives with its purple flowers serve as a pretty bed of strawberries, and the essential oils excreted through leaves and roots prevent gray mold on the fruit. Borage ensures fertilization by reliably luring bees and other pollinators into the garden. However, you should keep a distance between all types of vegetables that belong to the same plant family. This is especially true for plants that occupy the bed over many weeks or months. Cabbage and other cruciferous vegetables are allowed to stand in the same place at least every four years at the earliest to prevent possible infection with the cabbage hernia. Umbelliferae such as parsley, carrots or celery and pea family such as peas and beans take care of too much time and are prone to diseases.
In the following four mixed-culture beds you will find popular vegetables for fresh consumption. The cultivation period is from March to October. The bed width is 1.20 meters, the bed length depends on garden size and needs. Back in the next year with the plan just one more bed.
Mixed culture with fruit vegetables for the summer
Mixed culture with fruit vegetables
From mid-March you order all rows of spinach. On heavy soils, which heat up only slowly, it is better to wait until the beginning of April. The plants are deeply rooted and leave behind a loose, fine crumbly soil. At the end of March you can sow a number of rapidly growing radishes, colorful cut lettuce and garden cress in between. The harvest takes four to six weeks, so before the spinach takes its full capacity. Mid-May is planting time for fruit vegetables. Tear out the remnants of the harvested spinach by hand. The roots are decomposed by the soil organisms and converted into nutrients and humus for the fruit vegetables.
Tomatoes occupy two rows in the middle of the bed, peppers and hot peppers can now also be added to the bed. From mid-September, when temperatures drop below 15 degrees Celsius, tomatoes and peppers are no longer ripe. Use the last autumn weeks for a soil cure with yellow mustard. In winter, the plants freeze and remain as a protective blanket on the bed. Remnants are removed in the spring.
Mixed culture with beans, leafy vegetables and zucchini
Mixed culture with beans, leafy vegetables and zucchini
At the beginning of March sow broad beans in the middle rows. The plants tolerate slight frost, in a prolonged cold period, a fleece cover is recommended. At the beginning of April, in rows 1 and 4, kohlrabi and lettuce are alternately grown. Tip: Harvest the tubers before they reach their full size. So that not too many are at the same time ready for harvest, plant in two to three sentences at intervals of about one week. From mid-May, the broad beans make room for zucchini. These benefit from the nutrient rich soil left by nitrogenous legumes. You can choose yellow, dark green or light green striped varieties and plant them alternately in the middle of the bed (planting distance 1 meter). With three plants, a four-headed family is generously supplied.
Between the end of May and the beginning of June you sow or plant rowdy-colored chard in row 1. Sowed plants root deeper and need less water, but the harvest is delayed by about four weeks. Due to the sentence-wise cultivation, the kohlrabi leave in row 4 a little later their place. Then plant endive and radicchio. Mangold is replaced by Winterpostelein in September. After clearing the zucchini you sow Phacelia as green manure.
Mixed culture with root and tuber vegetables
Mixed culture with root and tuber vegetables
From mid-March you start with typical spring vegetables. Sow cress in row 1 and add arugula to row 4 at will. Mix the carrot seeds with some sand before sowing. This way you prevent too dense sowing and save yourself later the tedious warping to the right distance. As carrots germinate only slowly, a starter seed with radishes marks the course of the rows. From the end of April, you will use row 1 for an intermediate crop with summer onions. As a replacement for arugula you sow now beetroot. Mid to late May, after the carrot harvest, you plant in the middle of the bed early cucumbers. Small-fruited varieties such as mini-cucumber 'Printo' also provide a rich harvest in the field - three to four plants are sufficient for a family of four (planting distance 60 to 70 centimeters).
Tip: Pull the cucumbers on black mulch fleece or on a trellis, so they are safe from dirt. Because dew and rain dry off faster, the risk of fungal infection is much lower. In July the onions are harvested. Two to three centimeters deep sown white summer radishes and round black winter radishes secure the supply for the kitchen until autumn. From mid-August, the planting season for sugarloaf and endives begins. Then you can also harvest the remaining red beets (row 4) and sow lamb's lettuce.
Mixed culture with legumes and winter vegetables
Mixed culture with legumes and winter vegetables
Mid-March is the earliest sowing date for pea and sweet peas (series 2 and 3). The early starters develop more flowers and pods during the short day. Another advantage: they are less affected by the maggots of the pea winder. Piquant Asian salads and red and green leaf cut salad (row 1) are sown in mild spring weather from the end of March. If you do not cut the leaves too deeply, a second harvest is possible. In row 4 sow alternatively turnip instead of Asian salad and plant additionally lettuce for the Maiernte.
In June you plant leek or put kitchen onions for storage. From the end of June, Brussels sprouts are sown (row 2). Instead, you can also put on early seedlings by the end of July. If you cut the shoot tips on some of the plants in early September, the florets will ripen faster and the harvest will start two to three weeks earlier. For the winter harvest brussels sprouts do not cap, the prilling reduces the frost hardiness! With kale (row 3), you can stagger the harvest by selecting a variety. Tuscan cabbage, for example, 'Nero di Toscana', tastes even without frost effect, but tolerates only a few degrees below zero.Robust curly kale varieties such as 'Ostfriesische Palme' develop their aroma only after prolonged exposure to cold and provide throughout the winter over vitamin-rich leaves for the kitchen.
Mix seed
A mixed culture also works underground when you plant deep root crops such as chard together with radishes, radicchio or chervil that cover their water and nutrient needs mainly from the upper soil layers. Even more good partners result from practical considerations: resourceful gardeners, who are tired of separating carrots, do not mix the fine seeds with sand, but with seeds of black cumin and / or Roman chamomile. The coarse seed also prevents the root vegetables from being sown too densely. Not only in terms of labor savings worth the creative seed mixing. After a short time, the sky-blue cumin flowers and white-flowering chamomile interweave beautifully with the light green carrot leaves.
Mixed culture Table
Which vegetables are compatible side by side or one after another, which are not? Useful in the compilation of herbs and vegetables is a mixed culture table as a planning aid.
Mixed culture table: Enter the e-mail address and activate the download
Video Board: Mixed Culture feat. Perfect Giddimani - Ganja [Official Video 2014].