The Content Of The Article:
Mobile chicken coops are becoming increasingly popular. No wonder, because it has several advantages if you can change the location of the chicken coop at will.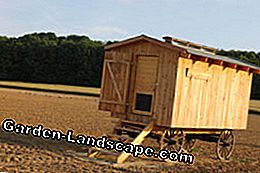 A Sunday breakfast without an egg is only available in the rarest families. Somehow it just belongs to it and it is delicious on top of that - especially if it comes from your own chicken coop, because then you know exactly what you eat there. Not for nothing organic products are becoming increasingly popular. This has also been found in a study by the Federal Ministry of Food, Agriculture and Consumer Protection. In 2012, more than 22 per cent fed on bioproducts, often or exclusively. These are not only purchased organic food. If the situation permits, even animals are kept and vegetables are grown - after all, there are no better organic products.

Of course, under these aspects, it is not surprising that chicken husbandry continues to increase. The animals generally do little work and you can benefit from fresh eggs and later from tasty meat. Anyone who decides to keep the chickens, but must also inevitably worry about a stable. In addition to a purchased or self-built chicken coop you also have the opportunity to set up a mobile chicken coop. This offers significantly more advantages than a standard model. Which of these are exactly, I would like to explain to you here once.
Benefits of mobile chicken coops
Advantage 1: Sward is spared
Chickens like to pick the green from the meadow. The longer and more intense they are on a lawn, the more vulnerable the turf becomes. Because at some point she can not recover. What's left is a bare, fallow surface that no green produces.
With a mobile chicken coop, you have the opportunity to provide a different area at any time and completely stress-free and comfortable. In this so-called principle of change pasture, the lawns used always have time to recover.
Advantage 2: Always green available
If you offer your chickens a mobile chicken coop and regularly change it, you will always have fresh green. According to the experts at raiffeisenmarkt.de, the greenery of the chickens is absolutely necessary to meet their nutritional needs.
You too benefit from it, because high-quality foods increase the quality of the eggs.
Advantage 3: Parasite infestation is minimized
Chickens that enjoy the benefit of free range can be easily attacked by parasites. This is done via the feces of the chickens. They take this in the foraging on. Particularly high is the danger with bald picked lawns.
However, if the stalls change regularly, the soil from the chicken droppings can also recover and the chance of parasite infestation is reduced. Parasites in chickens, according to a report by oekosozial.at have a negative impact on the egg production. In addition, the quality of the eggs and meat suffers.
Advantage 4: Less slush
When the outside enclosure is heavily used by the chickens and the lawn is picked, the area is surrounded by mud. This is not only unpleasant for owners, but also for the animals.
This can not happen with the mobile chicken coop. Provided you move the barn regularly.
Building permit for mobile chicken coops?
For a mobile chicken coop you do not need a building permit unlike normal standard chicken coops. However, you should inform yourself in advance to the responsible building authority (list at aemter.org), to what extent regulations regarding
Limit and maximum values
Minimum distance to neighboring property
Stall size
gives. This is often handled differently in the individual areas. Furthermore, you will find out there, if you have to fulfill further requirements.
Types of mobile chicken spots
Anyone who chooses a mobile chicken coop does not necessarily have to buy one. You also have the option to rebuild a trailer or a shepherd cart. These cost less needed, but otherwise offer the best conditions.
If you want and have talent in handcraft, you can also build a mobile chicken coop yourself. Experts advise, however, to build the construction a little easier and more unstable, see huehnerstaelle.com. This makes it easier to move the chicken coop, so it is easy to relocate. Nevertheless, make sure that the stable is so stable that you can easily transport it back and forth without being afraid that it will fall apart.
Video Board: Ultimate Chicken Egg Shed - Fully Portable With Solar.