The Content Of The Article:
Gardening is more than path-designing and building a fence. In the garden, palisades are set, planters designed, drying rack built and all sorts of smaller and larger gardening carried out. In this guide you will find practical gardening aids that you can use while designing your garden. The greatest treasure in the garden are lushly thriving plants. As wonderful as the dark green foliage and the brightly colored blossoms may be, they can often be enhanced even better by using carefully selected decorative elements.
From the wide range of ornamental objects, plant pots and bowls in an almost unmanageable variety of sizes, shapes and colors and materials for garden design are available. Imaginative planted vessels give the garden or even the terrace a warm southern flair, hide disturbing gaps in the flowerbed and enliven even the shadiest corners with color. Cleverly placed, they become the real highlight and draw admiring glances. Learn at Garden-Landscape.com how many endless possibilities there are.
The gardening and thus the garden design go from early spring to late autumn, at this time perennial and enchanting bulbous plants spray their bright color fireworks. With perennial and mixed borders you can prove your gardening skills effectively and provide color in the garden for most of the year.
Creating a garden has a lot in common with setting up a home. There is no right or wrong way. The only thing that really matters is that you and your family like it and that it can be used according to your wishes. Unlike furniture, however, many parts of the garden can not simply be moved, paths and ponds can not easily go crazy in another corner. And bushes like trees usually do poorly when transplanted. It is worthwhile, then, to plan the garden in peace and to think carefully.
Remove stump - burning out or milling?
If a tree was felled on a property in front of a detached house, the stump must disappear, because it adversely affects most other planting plans on the already not huge land.
Install flower box holder correctly
To properly plant a flower box, to properly bring it to bear, it requires the correct and safe installation of the flower box holder. These are available in different versions, each adapted to the location of the installation.
Lay lawn edging stones correctly and place in concrete
Lawn edging keeps lawns at bay and can thus bring structure into the garden. The choice of stones, as well as the correct way of laying depend on the circumstances and of course on your own taste. If a higher stability is required, it is recommended to place it in concrete.
Patio Covering - Ideas, Variants and Costs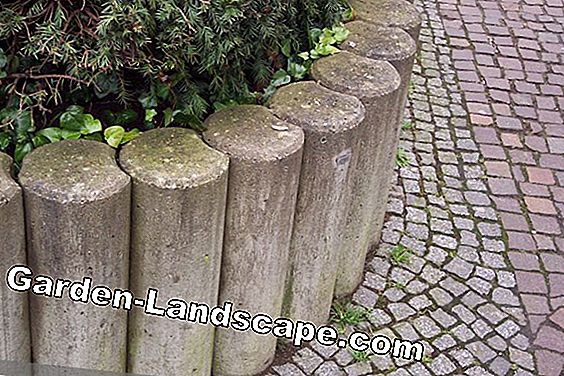 To set concrete palisades is easy in itself and requires neither much experience nor manual skill. The measure is however associated with some effort and is easier with a little practice. The right knowledge is the key to success. The following instructions show how it works and what financial expense is necessary.

Beetumrandung wood build yourself - instructions
Wood plays a very central role in nature-related garden design. What could be more appropriate than to use this original material as a bedding border? There are no limits to the imagination here. To make sure the wooden bed frame looks good and lasts a long time, there are a few rules to follow.

Instructions: Build herbal snail yourself
In a herb snail, a three-dimensional bed is built. This has the advantage that the most diverse site conditions are created in a confined space, in order to meet the requirements of plants from different climatic zones. In a herbal snail, the plants find a concept based on lasting, near-natural and sustainable cycles.
Video Board: Low Maintenance Landscaping Ideas.