The Content Of The Article:
Removing moss, on the terrace or sidewalk, is a job that should be done before the winter. Here are 5 tips on how to do it the easiest way.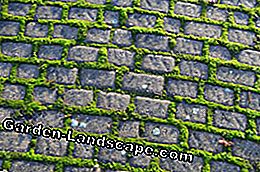 Moss often grows annoyingly between pavement slabs and in the joints on the terrace. This looks unattractive and is not very good for the stones or the decking. Moss should be removed before the winter. Here are four tips for you on how to remove moss or other green on the patio or walkway.
Tip 1 - The Joint Scratch

The Fugenkratzer is a popular tool to remove moss between pavement slabs. Here, however, you need a lot of muscle power, because the steel blade is not easy to move between the plates. However, this also eliminates the root. A little tip: Attach a long handle to the blade, which relieves the back and makes the work easier.
Tip 2 - brush or broom

Even with hard brushes, the moss can be removed and rid the joints of weeds. The wide brushes can be either electrically powered or used as normal with muscle power. This method is a bit tedious, but works.
Tip 3 - The gas burner

Flames are also effective against the weeds. The weeds are first burned by the gas burner and then simply swept away. However, work carefully so that plants that grow nearby do not suffer any damage.

»Popular weed burners and buying tips
Tip 4 - The high pressure cleaner

Another way to remove the moss is the high pressure cleaner. The powerful water jet flushes the moss or weeds out of the joints. Important: Always refill the joints with sand.

»Popular high-pressure cleaners and buying tips
Tip 5 - Algae and green stain remover
If you do not feel like brushing and scrubbing joints, it is best to use highly effective green stain remover. They are usually sold as a concentrate and can be applied at their discretion times a little stronger or less dilute. Big advantage: Modern means such as the following tip keep moss and green coverings partly over years away.

93 reviews
MEM greenery agent concentrate
MEM algae and green cover remover
Professional quality
Content: 5 ltr.
8,99 €

To the shop
Video Board: How To Remove Weeds From Interlocking (Without A Pressure Washer).