The Content Of The Article: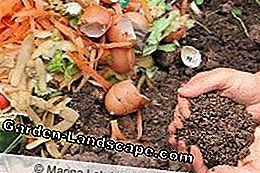 Of course, in every natural garden is also a compost. This can be disposed of kitchen waste, old foliage, grass clippings or chopped woodcut. These give a good fertilizer for the kitchen garden. But just throwing everything together does not make a good compost. Therefore, you should pay attention to the following:

The compost must not be too dry or too wet
A fermentation of waste should be avoided at all costs
This is achieved by a good air circulation
therefore wet waste, such as old leaves, kitchen waste or grass clippings with shredded woodcut layers
Apply compost on a well drained soil
in the case of impermeable soil under the compost, first apply a drainage system, for example of sand
the ideal location for the compost is wind protected and partially shaded
it does not dry out
because dehydration or too much moisture prevents the animals and organisms that are useful for the compost from settling
A compost bin is quickly built from a few slats, ensuring sufficient air supply on the sides
Tip: If you do not want to build a compost yourself, you can get a finished container from a specialist retailer.
garden pond
A beautiful eye-catcher and a paradise for other animals, such as frogs or toads is a pond in a large garden. But fish should be avoided, because then no ecological balance can be established. Mosquitoes are not a problem, they are needed by dragonflies or other larger insects as food. The pond is rounded off with water lilies in the water and various plants in the bank area, such as marsh marigold, troll flower or iris. Who has no space for a garden pond, can also set up a wooden barrel as a miniature pond in a corner.
Tip: If small children live in the family, the use of a garden pond should be avoided for the time being, because in such a case, it could pose a greater danger to the children.
Create niches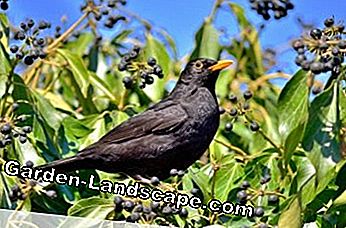 Not only many beautiful flowers are part of an eco-garden, niches should also be created for the animals in the garden. If you have the courage to have a little bit of wilderness in your natural garden, you can create valuable niches for nature using simple means such as stones, deadwood or brushwood:

leave old fruit trees, even if they bear little or no fruit
They are well suited with their tree caves as nesting sites for various species of birds
These include sparrow, nuthatch, tit, redstart or even the star
Insects also like to live in dead wood
decorate a pile of dead wood decoratively in a corner of the eco-garden
Especially toads, shrews or hedgehogs are happy about the insect inhabitants
Wren or robin, on the other hand, like to inhabit a bunch of brushwood
Tip: The good thing about these garden roommates is that they keep the annoying pests away from a kitchen garden. For example, hedgehogs eat the nudibranchs.
Create a dry stone wall
Especially in very sunny places in the ecology garden, the construction of a wall made of natural stones, in which then drought-loving plants are cultivated. Even salamanders or lizards who love warm stones are lured by such a wall. The wall can be constructed as follows:

except sandstones that weather too fast, all natural stones are suitable
Also suitable as a support for a higher bed
choose solid ground
build narrower from bottom to top
pay attention to small joints, possibly insert small stones
Always place stones on gaps so that no vertical joints are created
Already at the construction of niches, in which plants are set
Plant plants like the small soapwort, the blood red cranesbill or the whitefish carnation in the niches
use with a little water and compost
Tip: Even bumblebees or wild bees, who like to hide in the warm holes, are attracted by a drywall
nesting boxes
Nesting boxes are not only useful for many domestic birds, which find a breeding place here. Also useful insects such as bees or bumblebees like to accept such a box as an insect hotel. Therefore, many such nest boxes can be distributed in the natural garden. If insects move in, however, care must be taken that birds do not pass through the offered entry holes. Otherwise the bees or bumblebees will be left behind if a sparrow has already built their nest there.
Conclusion
Who wants to create a natural garden, which makes his garden an ecological paradise for many domestic birds, insects and other small animals, such as hedgehogs, frogs or salamanders. Watching this from the terrace will delight both young and old. Similarly, the variety of flowers that can arise on a natural meadow.Thus, in the city with little effort, the ecological balance can be maintained a little.
Video Board: Natural Looking Flower Pot From Coconut Husk | Eco-friendly & Organic pot DIY Garden //GREEN PLANTS.