The Content Of The Article: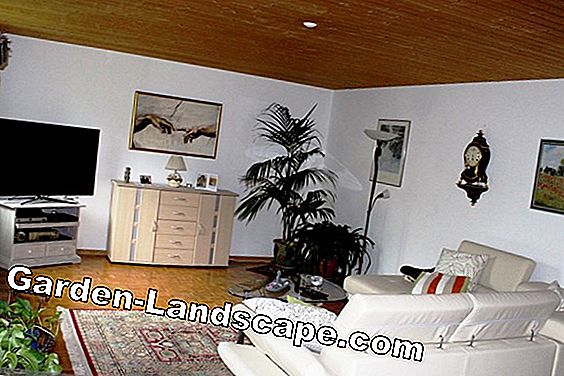 The Wohntrend as wood panels from the 70s and 80s can still be found in countless houses and apartments. They are no longer suitable for modern room design. In many cases, homeowners only see the way of removal. This is not absolutely necessary, because with smart ideas old wooden ceilings can appear in new splendor or be disguised in a timely style.
Renovate panels
Before wooden ceilings are removed and / or given way for a new ceiling cladding, many DIY hobbyists decide to renovate the panels by painting and / or wallpapering. At first glance, painting is the easiest option for a more modern ceiling design.
To brush
In order to be able to paint wooden ceilings, a sanding is indispensable. This is difficult at the edges and in the joints and grooves, which are usually found between the individual panels. Uniform sanding is required because otherwise visible color differences could be seen. If dirt settles in the wood paneling, it must be removed carefully. Above all, nicotine has the property to shine through many a color. A clean preliminary work is essential for this reason and takes a lot of fine work and effort to complete.
TIP: With a glaze color you get the grain and can give the original wood tone a new, fresh color. Wood varnish has a strong covering effect, which does not show the grain.
advantages

Cost-effective method
Can be realized easily
Required material only sandpaper, paint, painter's supplies, ladder
Ceiling color can be selected individually
Can be repainted at any time
Is easy to do yourself, without extensive experience is required
disadvantage
Most delicate little work by small corners and edges
High work and time expenditure
Danger of the blurring of stains / dirt
White wooden ceilings turn yellow quickly
Mostly unpleasant color smell for weeks (especially with paint coatings)
paperhanging
The wallpapering of a wooden panel is less common, but possible. Because of the overhead work, wallpapering a blanket is generally difficult, so exercise is beneficial. Before wallpapering, a smooth surface must be created from the wooden ceiling. This is achieved by filling grooves and furrows. As a rule, then a sanding / grinding is necessary, because any unevenness of the applied putty is especially visible when the light from ceiling lamps shines on it.
Because wood absorbs moisture strongly, a special primer is required so that the wallpaper paste does not penetrate into the wood. The wallpaper would find no support in the sequence and fall off. In any case, a high-performance paste must be used, so that the wallpaper sticks in the long term despite the relatively high weight, especially after painting.
advantages

Countless design options
Can be customized with a painting of changing interior styles (except textile wallpapers)
disadvantage
increased risk of detachment at higher ambient humidity
Not suitable for damp rooms, such as bathrooms
Requires elaborate preparatory work
Not every wallpaper is suitable
Wallpapering experience should be available for ceiling mounting to achieve a clean result
Almost every bump is visible
Dress up the panels
Removing a wooden ceiling is always associated with a lot of dirt and work. A simpler variant is the cladding of wooden ceilings. There are various options for you to choose from.
Styrofoam
With little expenditure of time and money succeeds the disguising of wooden ceilings with Styrofoam plates. These are available in a variety of decors, ranging from smooth surfaces to plaster optics to stucco ornaments. They are simply attached to the wooden ceiling with a polystyrene adhesive. Are edge strips made of styrofoam attached, nothing is visible from the wooden ceiling.
advantages

economical
Easy installation with little effort and time
Clean working
Styrofoam sheets can be easily cut to size
Are spreadable
Additionally heat-insulating
Available in numerous decors
disadvantage
Typical coarse polystyrene structure in which dust settles quickly
Corners break quickly when fitting / cutting
Without painting yellow / darken quickly
Dust settles in the fine bumps
Restoration of the wooden ceiling difficult to impossible due to the adhesive
Rigips
One of the most common cladding methods is done with so-called Rigips. These are plates made of plasterboard. The installation of plasterboards depends on how the wooden panels are fastened.
mounting
Some panels have only groove and springs and are bolted only at the ends.If the panels were mounted directly on the panels, you run the risk that the wood paneling will not hold the weight and everything will come down. If you know that the wooden panels are screwed to a substructure at sufficient intervals, you can safely attach the plasterboard directly to it. Otherwise, you have the options to remove the wood paneling down to the substructure and then unscrew the panels or you put on the wooden ceiling a new battens. This must be screwed into the concrete ceiling. A correspondingly long screw is required.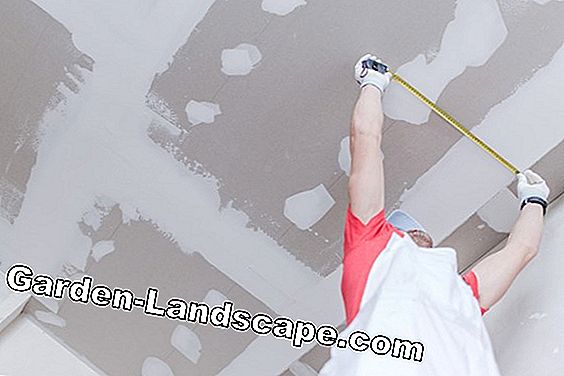 If the plasterboards are installed, the board transitions must be plastered. After drying usually comes a primer on it. Following is papered, plastered or painted.
advantages

Good alternative to normal concrete ceilings
Create a straight ceiling surface
Cut-outs for ceiling lamps are easy and clean to poke out
Years of durability
disadvantage
Assembly requires manual skill
Attachment consuming and time-consuming
Only used as background - has to be painted, plastered or wallpapered
More material costs than painting or styrofoam covering
Suspended ceiling
The most recent trends in the design of wooden ceilings include stretch ceilings. It is a kind of cloth / foil, which is stretched under the wood paneling. Above all, painted ceilings are very popular. They reflect the light, provide a higher brightness in rooms and look very noble. The attachment is simple and they are more robust than the first glance suggests.
mounting
For mounting, special strips with clamping function are attached / screwed to the wall edges. Afterwards, the cloth / film can be clamped piece by piece in the strips and stretched. Some models require a hot-air blower after mounting, which can shrink and smooth the material.
advantages

Installation for everyone possible - does not require any manual experience
Dirt-free installation
tearproof
Opaque - completely conceals wooden ceiling
Easy care
Durable
Noble, modern style
disadvantage
At least one helper required
Touch, clean working and patience when inserting into the terminals necessary
High purchase price
Not every lamp can be installed due to heat development
An overvoltage reduces the service life
laminate trim
If the old wooden paneling just does not look nice, but you do not want to do without wood look, you can make a ceiling paneling with laminate.
mounting
In principle, the attachment is similar to the laying on the ground. However, screws are to be set so that a firm grip is given.
The only important thing is that the wooden ceiling can withstand the weight of the laminate. If the wooden panels are only fastened to the substructure with a groove, springs, tacker clamps or a few screws, the same applies here as with the plasterboard walls: a new one must be put on the wooden ceiling or the entire ceiling must be removed.
advantages

Laminate is available at low cost
Stylish wood look
Easy care
Easy to install
Is the rotation with the juxtaposition of the individual panels out, the assembly is progressing quickly
disadvantage
No insulation ability
Scratches can not be removed
Laminate is not suitable for all ceiling lighting due to heat sensitivity
Have low stability - heavy cables can cause sagging in the space
Remove wooden ceiling
In many cases, homeowners do not bother and prefer to remove old wooden ceilings to make room for new things. This is useful if the wood shows unsightly stains due to, for example, water damage and sprays unpleasant odors. Another aspect is the cleanliness. Over the years, a lot of dust and dirt settle between the panels, which is hard to get across. Allergy sufferers could get problems here. Who wants to eliminate the traces of previous tenants and previous owners can easily remove a wooden ceiling with the proper instructions. The advantage of the wooden ceiling removal is that afterwards every other ceiling design is open to you. The disadvantage, however, are the high dirt development and the high workload.
Release strips and panels
If strips and panels are screwed on, it is recommended to unscrew the screws. Otherwise, damage could be left behind in the masonry and / or the substructure could be damaged / torn out. With nailed strips and panels they are easy to solve with a crowbar.
Remove panels
Old wooden panels were often fixed to the ceiling with special glue. This has the disadvantage that when removing a lot of wall / ceiling plaster comes down with. If they are provided with nails, they are usually on a substructure. Try to find a line by pulling out the nails in turn by bending the panels. A hammer with nail puller head can be beneficial.Depending on how the future ceiling design is, the substructure may possibly remain. In this case, care should be taken that no damage occurs when the panels are loosened.
Remove substructure
If the substructure is not needed, it must be removed. As a rule, it is screwed with dowels in the ceiling. A cordless screwdriver makes work easier and saves a lot of time when unscrewing all screws.
TIP: If screws remain minimally with the head in the dowel and are pulled out with a pair of pliers, the dowel can be removed immediately.

Repair the ceiling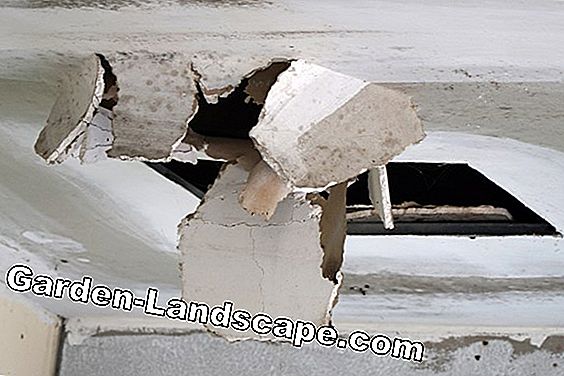 If plaster loosens and holes in the ceiling are drilled through holes / dowels, repairs are required to create a smooth surface and optimum substrate conditions for the new ceiling design. The holes in the old panels can easily be closed with gypsum or putty. Crumbling plaster, remove all loose spots. With the hammer it works fast, but a reworking with a spatula is useful to be able to remove less remnants of plaster.
Then coat the ceiling with deep or primer and then bring cement plaster with a wall trowel on the affected areas. For a smooth surface, stroke the fresh cement with a so-called sponge board. After drying, the ceiling is ready for a new ceiling design.
Video Board: An Easy and Cheap Way to Update Wood Wall Paneling.