The Content Of The Article:
origin
Pak Choi (Brassica rapa spp. Pekinensis), also called bok choi, pak choy, mustard cabbage or Chinese mustard cabbage, is reminiscent of mangold and is closely related to Chinese cabbage. However, the vegetables of the family Brassica (Brassicaceae) are easier to cultivate compared to Chinese cabbage. Originally, Pak Choi comes from China, Taiwan and Japan, where he is grown in large quantities. Although he actually prefers the moist heat, you can grow the cabbage with high vitamin C content, folic acid and mustard oils in our latitudes. The petiole Pak Choi is cultivated mainly in summer and then into autumn. Its delicate leaves taste after a short culture time raw in the salad or cooked as a vegetable dish.
Appearance and growth
Pak Choi forms in contrast to Chinese cabbages not a solid head, but from 40 to 60 centimeters high rosettes. Its long-stemmed leaves shine dark green, are smooth and have wide white ribs - so there is a possibility of confusion with chard.
With its thick petioles, the Pak Choi reminds a bit of chard
Location and ground
Pak Choi prefers a sunny to half shady site in temperate clusters. The soil should be nutrient-rich, loose and calcareous.
Crop rotation and mixed culture
As cruciferous vegetables, the Pak Choi may only be grown on the same bed again after a three-year break. In addition, it should not be planted after other cruciferous vegetables such as mustard or rape and other types of cabbage. Salad, leeks and carrots are good neighbors, whereas other cruciferous vegetables and potatoes are not suitable as bedtime neighbors.
sowing
Pak Choi can be either brought forward or sown directly. The sowing should take place when the hottest days of the year are already over, as Pak Choi otherwise begins to shoot easily. The best time for sowing outdoors is from early July to early August. The sowing depth should be about two centimeters. If you prefer your Pak Choi, sow in two-centimeter pots. At a temperature of 12 degrees Celsius, Pak Choi begins to germinate, but the optimum germination temperature is slightly higher, between 18 and 22 degrees Celsius. If the temperature is lower, the Asian vegetables also tend to fire. The cultivation period is about two to three weeks.
planting
Potted plants in pots can be planted at a distance of 30 x 30 centimeters to the location in the bed when they have reached the size of a salad seedling. In contrast to Chinese cabbage, Pak Choi can also be cultivated in a bucket, for example as a baby leaf salad.
The young plants of Pak Choi should be planted at a distance of 30 x 30 centimeters
maintenance
You should water Pak Choi regularly, but waterlogging should not occur. Occasional mulching loosens the soil. Additional fertilization - as with Chinese cabbage - is not necessary with Pak Choi.
Harvest and recovery
Six to eight weeks after planting, about the end of September, when Pak Choi has reached a height of about ten centimeters, you can harvest the leaves. If you grow Pak Choi as a baby leaf salad (allowing earlier sowing), the small leaves are ready for harvest four weeks after planting. The pressure-sensitive leaves should be carefully harvested and used relatively quickly. You can also use the stem. Pak Choi tastes chopped raw in a salad or steamed as a base for Asian dishes.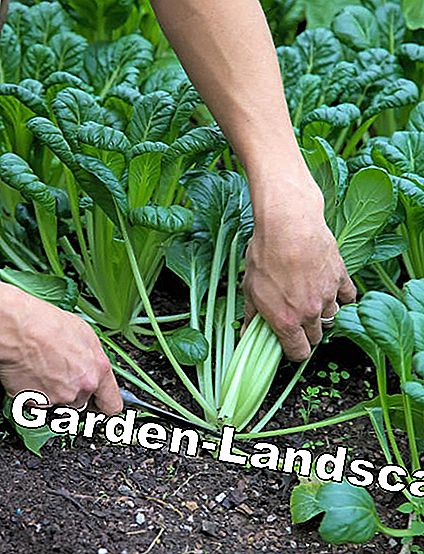 Pak Choi is ready for harvest for eight to ten weeks. Cut the leaves directly above the surface with a sharp knife
sorts
There are many varieties that are still unknown to us. They differ in the leaf color, thickness and in the stature height. Schossfest are for example 'Hypro' and 'Japro'. If you would like to use your Pak Choi for Asian salads, you can order the variety 'Rosetten Pak Choi'. 'White Chinese Type' is slightly larger than the species and has light to dark green leaves, but rather grow the varieties of the 'dwarf type', such as 'Dwarf Pak Choi'.
'Red Choi' is a dark red variety of the Pak Choi
Diseases and pests
Due to the short crop period and the relatively late growing season in the year Pak Choi is relatively insensitive to diseases. In addition to aphids, especially pests appear as pests. As a precautionary measure, you should strictly observe crop rotation and growing crops of cabbage and cruciferous vegetables and regularly loosen the soil. Above all, cultivation under a cultural protection network has proven itself against earth fleas.
Video Board: How To Cook Pak Choi At Home Recipe | Recipes By Chef Ricardo.