The Content Of The Article:
The embankment in front of the terrace is still bare earth and the unobstructed view of the neighboring property does not invite you to linger. Inviting is the garden by a beautiful planting and a little privacy.
Suggestion 1: Terrace in a modern look
The small difference in height from the seat to the lawn is hardly noticeable due to the gently sloping slope. The evergreen planting strips of snow groves (Luzula) and boxwood tapering towards the terrace give the bed a clear structure that is retained even in winter.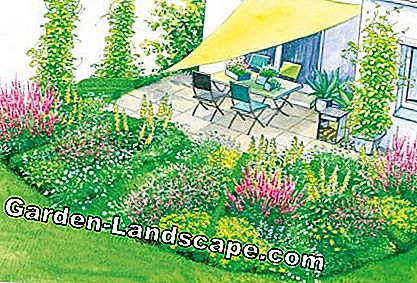 The perennial beds are striped
In the flowerbeds, yellow and pink flowering perennials can be planted in a variety of colors between the straight green lines without appearing messy. Their main flowering period is in June and July. Especially exciting are the different flower shapes: Particularly striking are the upright flower candles of the pink high-branched nettle 'Ayala' and the tall, large-flowered foxglove (Digitalis). In contrast to this, the white spikes of the snow groves and the pink flowers of the magnificent candle 'Siskiyou Pink' (Gaura) float loosely over the filigree plants.
The girl's eye 'Zagreb' (Coreopsis) forms a dense carpet of flowers. The purple bell 'Citronella' (Heuchera) was planted not because of its white flowers, but because of the extraordinary yellow-green leaves. The same applies to the hops 'Aureus' (Humulus), which planted in a pot decorates the white house wall and the decorative obelisks at the garden entrance.
Video Board: Small Contemporary Balcony Design Ideas.