The Content Of The Article:
Rhododendrons need subtly flowering parties at flowering, so that their splendor is not too intrusive. In addition, Staudentuffs from forest anemone (Anemone sylvestris), Whitsun violet (Viola sororia) and foam bloom (Tiarella cordifolia) in subtle white or cream yellow have a mediating effect. They allow even combinations of pink and orange rhododendron flowers, which would not harmonize without the balancing white tone.
Rhododendron and popsails
Of course, the extension of the flowering period also plays a role: Feathers (Astilbe) take over the regiment with their filigree, white, pink or red flower spikes as soon as the rhododendron flowers wither. Autumn anemones set great accents from late summer. Bergenien are with their winter-green foliage to the early companions. Depending on the weather, the first flower clusters often appear at the end of March. The colors range from white to pink to red and go very well with the early violet pink early spring alpine rose (Rhododendron 'Praecox').
Leaf decoration as a planting
Attractive leaf ornamental perennials bring variety into the flower carpet at the feet of evergreen trees. Excellent bedding partners are leaf beauties such as record sheet (Rodgersia), purple bells (Heuchera) and funkies (Hosta). Especially the many varieties of funerals with their different colored leaves set accents in the bed foreground and are an eye-catcher all year round.

A densely overgrown rhododendrons need hardly any companions, but not everyone has so much space in the garden
Varied one-year-old
A surprising component brings short-lived flowering plants into play, which sow themselves independently. For example, forest poppies (Meconopsis cambrica) and lunar ivy (Lunaria annua) can appear in different places in the bed year after year.
Beware place fight
Take care with newly created rhododendron beds! Overly propagated perennials such as comfrey (Symphytum) and some cranesbill species (e.g., Geranium macrorrhizum) can make life difficult even for large, already ingrown rhododendrons with their aggressive impermeable root system.
In our Gallery we show some popular rhododendron companions:
Start photo gallery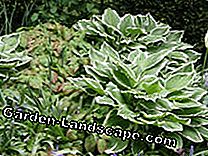 6
Show all
Perennials for the rhododendron garden
Daffodil Leaf Anemone (Anemone narcissifolia)
Japanese showpads 'Europa' (light pink) and 'Red Sentinel' (Astilbe japonica hybrids)
Purple bell 'Palace Purple' (Heuchera micrantha)
Funkia (hosta varieties)
Foam flower (Tiarella cordifolia)
Bleeding heart (Dicentra spectabilis)

Video Board: Plants for a Shaded Garden | At Home With P. Allen Smith.