The Content Of The Article:
Silver Rain, Dichondra argentea - Care & Wintering
It actually seems as if it is raining silver pieces when Dichondra plants let their shoots with the rounded leaves down to two meters in depth. Therefore, they are preferred for balcony planting or cultivation in a traffic light. Find out more about her nursing claims.
Flowering fern - care and propagation
Normal ferns do not bloom. They do not need flowers to multiply. Blooming ferns would be an absolute sensation. However, none have been discovered so far. Of course, such a thing can be sold well. There are so-called flowering ferns. However, this is a fantasy name. In fact, they are garden or outdoor gilinines (Incarvillea delavayi). They have strikingly beautiful flowers that sit on long stems. The perennials are about 40 cm high and have a diameter of 20 to 30 cm. The flowers appear in June and are preserved for a long time. The leaves are divided and consist of up to four pairs of narrow-oval, dark green plumage.
Patagonian verbena, Verbena bonariensis - care instructions
Summer, sun, garden, flowers - here is the Patagonian verbena in its element, in fair-like ease float purple flowers on filigree stems over the flowerbed and also attract all butterflies in the area. Romantic gardeners love the effect of the Verbena bonariensis, every gardener loves the growth force with the least care requirements - the verbena is a herb that brings profit to every garden.
Loquat, crawfish - care and propagation
The snake-fat hen belongs to the thick-leaf plants. It gets its name from its bulging leaves, which serve as a water reservoir. This plant also enjoys great popularity as a houseplant. Due to its long shoots, the Sedum morganianum is ideal as a traffic light plant.

Soapwort, Saponaria officinalis - Plant & Care
Soap herbs are differentiated into the genuine, red and dwarf soapwort. The red soapwort herb is used as an ornamental plant, the dwarf soapwort grows wild in the Austrian Alps. By contrast, the natural soapwort roots have been harvested for a long time to be used for cleaning or as medicine. It grows up to 80 cm tall and blooms in summer with white or pale pink flowers.

Diptam, Dictamnus albus - Care and Propagation
Diptam is very rare in the nature of Central Europe, but is planted. This is because it contains essential oils and some other interesting substances that are used in herbal medicine. However, it can happen that the touch of the bristles leads to burn-like injuries.

Beautiful summer perennials - varieties and care tips
A blooming garden is a splendor that brings joy every day. Who wants to experience permanently and without immense care effort from spring to late autumn colorful flowers or a magnificent variety of leaves, which is well-advised with a perennial garden. The endless variety of summer perennials gives every gardener a rich selection of choices, here the choice can really be tormenting. We will give you helpful tips on how to turn your very own perennial garden into a paradise.

Wild perennials in nature and gardens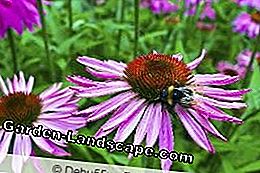 Echinacea purpurea - the red sun hat, which originally originates from North America, is also considered in this country as a popular garden plant. The robust and hardy perennials have a long life, so that the flowerage of the plant from year to year embellished the garden concept again. What should be considered during sowing and care?

Purple coneflower, Echinacea purpurea - care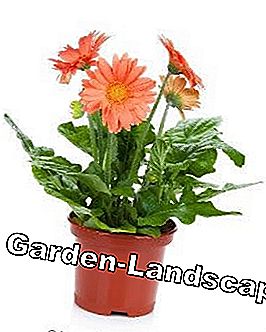 The Topfgerbera prepares a lot of joy, but requires a lot of care. It must be poured daily and fertilized regularly. A lot of light is a must and yet it must not be exposed to excessive heat. But if you handle her properly, then she thanks you with her beautiful flowers.

Lungwort, Pulmonaria officinalis - Care

The real or spotted lungwort fascinates in spring by its two flower colors. It initially forms pink flowers that turn blue to purple over time and also has white spotted leaves. Outside the flowering period, the lungwort is rather inconspicuous, but forms a nice carpet.

Evergreen shrubs for shady and sunny gardens

Evergreen shrubs are a real eye-catcher in every garden. They ensure that the oasis of relaxation shines even in winter in a fresh green. However, the different requirements of the plant should be taken into account when designing the garden.With some tips, you can also turn your garden into an idyllic landscape.

Varieties and species of geraniums and geraniums

Geraniums, correctly called geraniums, are the most popular garden plants in Germany. The diversity of varieties is extensive. So there are hanging, standing, semi-hanging, filled and unfilled and fragrant varieties. We give an overview and summarize the most important care characteristics of the representatives.

The most beautiful magnificent perennials and accompanying perennials for beds

Magnificent perennials set the tone in every perennial flowerbed. You select about two to three Leitstauden per bed and distribute them as groups or individually, depending on which effect is to be erzeilt. The Leitstauden must always remain dominant. Accompanying perennials subordinate, are not dominant.

Lenzrosen - care & cutting the industrious bloomers

The Lenzrose belongs to the plant genus Helleborus or in German hellebore, to which among many other species also the Christmas rose belongs. They are all poisonous but are used in pharmacy because they contain helleborein, which has a positive effect on heart activity. Their German name Nieswurz they got, because the roots of these plants, when they are ground into powder, trigger a sneeze.
Video Board: 6 Of Natures Most Powerful Medicinal Plants worth growing in your garden.