The Content Of The Article:
Very many today have Eastern trees in their garden, but then usually the common varieties such as apple, pear or cherry. Anyone who grows a kaki tree can harvest delicious kaki fruits in October.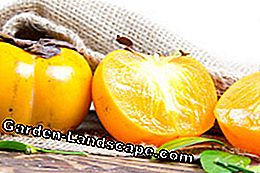 Kaki trees are easy to care for
Meanwhile, you can also find more and more peach and apricot trees in gardens. But these varieties are demanding, not only in terms of the soil, but also in terms of care and temperatures. Who does not have a good hand in the care of such trees, can not go wrong with a kaki tree.
Kaki trees are resilient
The persimmon fruit comes from East Asia and slowly but surely finds its way into our gardens. This fruit has many advantages: It is resistant, grows in almost every soil and needs little care. Even a pruning is without complications. The harvested branches are cut back to about 50 cm in the late autumn to winter. You do not have to do more with the kaki tree. He is also winterized and thus easily withstands temperatures down to -15 degrees.
Cacao fruits are similar to tomatoes
A kaki tree can be compared structurally with that of an apple tree. Kaki trees bloom in late spring until early summer. The fruits of the kaki tree look a bit like a mixture of oranges and tomatoes. In taste you can taste pear, peach and apricot. The kaki will not be harvested until mid-October.
Kaki fruits have to ripen
You can enjoy the persimmon fruit first, like a kiwi, if it is a bit ripened. Only in the course of time does it lose the bitter taste, which is caused by the tannins contained in it.
Video Board: American Persimmon - Harvesting one of the best fruits ever!.