The Content Of The Article: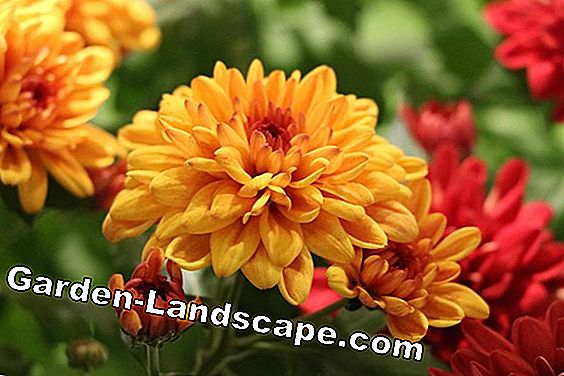 There are plants that have been planted on the balconies for a long time and again and again in the fall for no good reason: They are good for the earth volume in the usual balcony box, they bloom into the winter, are willing to grow and are easy to clean. Autumn planting and decorating can be done in no time, with lasting success:

The traditional autumn beauties
These traditional autumn beauties do not introduce you to the latest trend varieties that are flooding the trade in the fall and are often disposable, as you can see on every corner. For balcony and terrace, there are some classic autumn beauties that give you a rich autumn bloom and you enjoy much longer than the most popular varieties in the shops:
1. Asters: Blue-blooded, in rich variety
decorate well into October:

Cushionaster, Aster dumosus, loose pincushion habit and abundant flowering in blue, red-blue, purple, needs nutritious soil and sun
Smooth leaf aster, Aster novi-belgii, becomes taller than the pilaster, otherwise similar effect and needs
Raublatt asters, Aster novae-angliae, originally acting relatives of the just mentioned, same claims
Wildaster, Aster ageratoides, makes carpets with many small flowers even in partially shaded spots
Blue Woodruff, Aster cordifulius, habit and location like wild-eared, develops large blue star-shaped flowers
White forest raster, Aster divaricatus, see above, adorable white sea of ​​flowers with even clearer star flower
2. Chrysanthemums: Chrysanthemum = the gold blossom, gold flower
Chrysanthemums "illuminate" the balcony and terrace even on foggy days into November with flowers in golden yellow, orange, red, pink and various copper shades. The "Gold Flowers" (translation "Chrysanthemum") are available in different heights for balcony box and tubs, rich variety of flower forms they have to offer, simple, half-filled and filled flowers, large and small flowers, anemone, pompous and spider-like varieties, All this with exemplary frugality that makes caring easy. However, by far not all chrysanthemums are hardy, not even all chrysanthemum indicum hybrids, here are the good and very hardy species selected by the study group Staudensichtung of Weihenstephan-Triesdorf University:

Chrysanthemum indicum, the original autumn or winter chrysanthemum, hardy and perennial with flower colors in all shades of gold
Chrysanthemum 'Anastasia', also 'Anja's Bouquet', abundant, rosaviolet
Chrysanthemum 'Arcadia', dark-pink, large-flowered and flowering
Chrysanthemum 'Bees', small golden yellow flowers with orange-brown center
Chrysanthemum 'Bronze Carpet', brownish red medium sized flowers
Chrysanthemum 'Chamoisrose' flowers salmon pink with a strong color change
Chrysanthemum 'Citronella' flowers lemon yellow
Chrysanthemum 'Corinna' flowers intensely purple-purple
Chrysanthemum 'Hebe', flower in delicate violet pink, very floriferous
Chrysanthemum 'Herbstbrokat', bronze-colored flower, very floriferous
Chrysanthemum 'autumn bronze', small amber flower
Chrysanthemum 'Herbstrubin', large flower in deep ruby ​​red
Chrysanthemum 'Herbstsonate', large bloom and rosaviolet
Chrysanthemum 'raspberry red' with attractive raspberry red, rather isolated appearing flower
Chrysanthemum 'Isabellarosa', flower delicately salmon-colored, large-flowered and floriferous
Chrysanthemum 'Julia', many small flowers in soft pink
Chrysanthemum 'Karminsilver', large thick flowers in claret
Chrysanthemum 'Kleiner Bernstein', apricot-colored, rather large flowers in very rich numbers
Chrysanthemum 'dome', many simple pale yellow flowers that turn pink when blooming
Chrysanthemum 'Lübeck', brown-red flowers with ocher-colored tips
Chrysanthemum 'L'Innocence', delicate violet-pink flowers in very large numbers
Chrysanthemum 'Mary Stocker', pale orange flowers with play of color, abundant
Chrysanthemum 'Mei-kyo' shows small light pink violet flowers in large quantities
Chrysanthemum 'Mistrose' does not bloom very abundantly, but beautifully in soft pink
Chrysanthemum 'Oury', bright burgundy flowers with bright yellow center
Chrysanthemum 'Rehauge', small reddish-brown flowers that turn pink when blooming
Chrysanthemum 'Romantica', many large Tuff-like flowers in light pink
Chrysanthemum 'Rumpelstiltskin', thick brown-red heads with golden center
Chrysanthemum 'Schaffhausen', many lemon yellow flowers, which make really good mood
Chrysanthemum 'Castle tavern', small violet flowers that look a bit 'frilly'
Chrysanthemum 'snowstorm', creamy white, looks pretty posh
Chrysanthemum 'Schweizerland Bronze', bronzerote large flowers in abundance
Chrysanthemum 'Schweizerland', shows many flowers in dark pink violet
Chrysanthemum 'Twinkle', many plushy purple flowers
Chrysanthemum 'Vesuvius', large deep burgundy flowers with sunny yellow inside
Chrysanthemum 'Vreneli', rust-red flowers sitting in the quartet or quintet on the branch
Chrysanthemum 'White Mist Rose' (= gemstone), white flowers with pale yellow interior
Chrysanthemum 'White Giant', white double flower that looks very natural despite its considerable size
Chrysanthemum 'Dome of Light', flowers in light ruby ​​red with a distinctive rich yellow stamp
Chrysanthemum 'White Bouquet', lots of creamy-white tuff with a delicate yellow center
Chrysanthemum 'Yellow Satellite' or 'Spider' would look spider-like with their petals if there were lemon-yellow spiders...
Chrysanthemum 'Zinnenbalken', creamy-white, large-flowered, reichblütig - noble

The Staudensichtung working group rated 41 out of 99 Chrysanthemum varieties as good to excellent hardy - the larger part of the usually sold as hardy chrysanthemums has grown only moderately in winter in the German garden, the winter in the balcony box even less. Furthermore chrysanthemums with the surname "× grandiflorum" or "hortorum" are sold as winter hardy, but they are not always, in these garden chrysanthemums also chrysanthemums from warmer Asian climates were crossed with the C. indicum. This list illustrates very well the importance of purchasing in specialized shops, of precisely described goods, which can be used by knowledgeable sellers. Buy potted and tub plants from a specialist nursery that has Chrysanthemums Rehauge ',' Romantica 'or' Rumpelstiltskin 'instead of any anonymous chrysanthemum that quickly flops on your balcony. Shopping at retailers is almost never more expensive than with for-profit "I-handle-with-all" retailers, on the contrary, when shopping nearby, you save on shipping costs and receive plants that did not suffer from shipping (and taxes are paid by the specialist nursery unlike some "I-handle-with-everything" dealers too).
3. Heather herbs, but the right ones
From our native broom heath, genus Calluna, there is only one species, Calluna vulgaris. It is the formative plant of heathland, where it grows on a fairly acidic soil. But even on a nutrient-poor soil, as long as a substrate is not particularly calcareous, thrives the frugal dwarf shrub in every balcony box. When you buy the right varieties from specialist retailers:

Calluna vulgaris, red, pink or white flower, classic broom heather with long flower spike
Calluna vulgaris 'Skyline', new, like a small cypress upright growing Calluna with white-pink flowers
Calluna vulgaris bicolor, green-red autumn and winter bloomer
Calluna vulgaris tricolor, blooms in green, pink, red, autumn and winter
The Callunas are replaced in the flower by heather herbs of the genus Erica, which are available in about 850 species. Most of them have developed in South Africa and are not so well understood with our winter weather and winter light, only very few Erika feel at home with us, eg. B.:

English heather, Erica x darleyensis, grows broadly upright, blooms white, pink, red from November to May, hardy only in mild climates
Oldenburger heath, Erica x oldenburgensis, good frost-hard heath, several varieties
Snow heath, Erica carnea, flowers in many varieties from December to March
Transylvania heather, Erica spiculifolia, is loved by bees, blooms from May and cut back August / September, so frost hardy that the bucket can freeze through
There are some Eriken that you should keep away from your balcony if you want to plant unproblematic, hardy plants: The currently popular tree heather Erica aborea, the gray heather Erica cinerea, the South African Erica verticillata with the great bright pink flowers, the Cornwall heath 5 Erica vagans and the bell-flower Erica gracilis - all of us not hardy, and the pretty Erica tetralix is ​​a pure moor heather, for extreme locations with pH values ​​below 4.5. The heath herbs like sun and partial shade and are all more than undemanding. When they have flowering, they are cut back.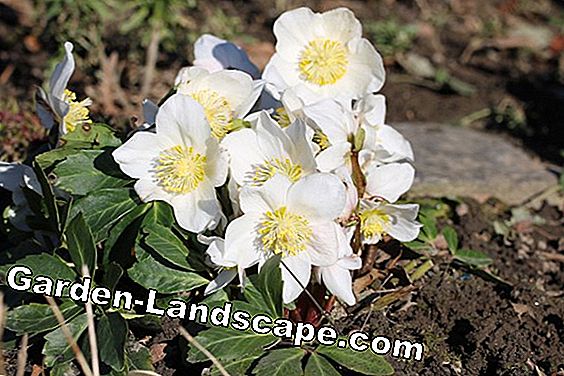 4. The magical Christmas rose
Helleborus niger is one of our few evergreen native plants. The sturdy shrub is unproblematically hardy and exceptionally decorative, a great plant for the autumn decoration. The Christmas rose harmonizes perfectly with heather plants, prefers partial shade, usually grows even in the shade and with good care for a long time every year more beautiful.

Real hellebore, Helleborus niger, around 12 cm high growing, easy to care for frost hardy balcony plant
Variety "Christmas Star", slightly higher than the average Christmas rose, develops larger flowers
'Goldmarie' shows extra large white flowers from the end of October until the winter
'Cinnamon Snow' will develop abundant flowers from white to cinnamon pink starting in November
Christmas roses need pretty deep tub / balcony box, it should be 50 cm.

Decorate the balcony and terrace in the autumn
All of these plants will accompany you for years and are set aside as seedlings so they have room for development. These gaps can be used for autumn decoration, with each balcony box and each bucket to their own small autumn landscape: The ingredients for natural autumn decoration is the next autumn walk for free: autumn colored leaves, cones, small branches with red berries, moss pieces can on small Foam pillows are attached and placed in the gaps of the boxes / tubs, the young plants grow similarly protected as in the forest floor.
Conclusion
Planting your balcony and patio for fall works just as fast as it does with classic autumn flowers. They create a permanent planting that will please you for a long time - there is a reason why heather and Co. have become the most popular autumn plants. That was the basis, more ideas for autumn planting and deco await you in the other articles about autumn, balcony and terrace.
Video Board: MUST WATCH !!! Top 10 Flowers For Balcony Garden.