The Content Of The Article: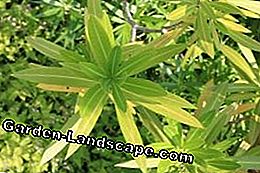 Oleander cut - time and instructions
In addition to olive trees and citrus trees, the oleander (botanical: Nerium oleander) is one of the most popular plants from the Mediterranean region. Since the plants tolerate no frost, it is recommended to keep in pots. However, an oleander in Kübelhaltung must be cut again and again, so that its flowering is stimulated and its growth does not prevail.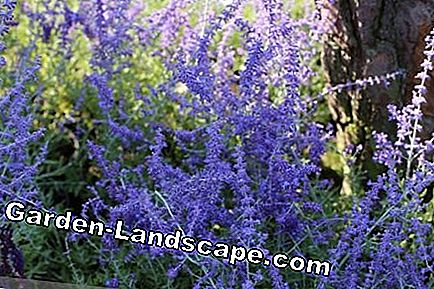 When do you have to cut the blue noise? - Manual
In high and late summer, the blue lurking presents itself in a magnificent, violet blue flower dress. That's not all, it also provides an aromatic fragrance experience in the garden. About the time when the withered inflorescences should be cut, the garden experts agree.
Cut the birch fig - so you rejuvenate Ficus benjamini
The birch fig makes no secret of the fact that she also likes to develop as a container plant to a majestic tree. By cutting back the elegant ornamental wood, you limit the growth to room size. This guide explains in detail how to properly cut and successfully rejuvenate Ficus benjamini.
Cutting blood grass - this is how it is done!
Its spooky name owes Japanese blood grass not the inconspicuous ears bloom. The nimbus as a magnificent ornamental grass results rather from the furious autumn color of the stalks. Proper cutting at the perfect time guaranteed for an annual revival of the color festival. Read here how it works.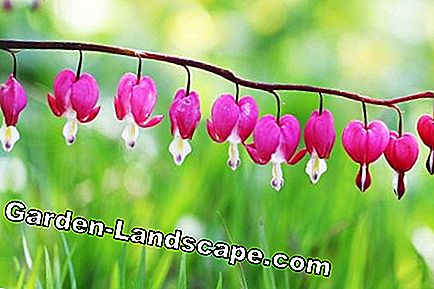 Cutting a bleeding heart - that's how it's done!
Bleeding heart enchants with its romantic-looking flowers in heart shape. Proper care gives him the necessary strength to train many of these delicate flowers year after year. Extensive knowledge and a clear guide around the cut are an important element here.
How to cut a chestnut tree - the right time
The chestnut tree with its stately size is already known to the children. In autumn, they collect the reddish-brown fruits to make males, animals and much more. As a deciduous tree, the chestnut belongs to the woody plants, which do not have to be cut very often. Nevertheless, regular grooming is necessary for the growth of a healthy tree.
How do you have to cut the fat hen? Instructions in 5 steps
Fat hen with withered flowers, overlong shoots and shapeless silhouette is only a shadow of itself. With a pruning you can fix the problem in no time. When and how to properly cut the charismatic garden and houseplant, this guide explains in 5 steps.
How to properly cut the Ficus Benjamini - a guide
Over the years, a Ficus Benjamini leaves no doubt that he thrives in the tropical belt as an imposing tree. Regular cutting keeps growth at acceptable room size. This guide explains when and how to properly cut back a birch fig. There are also tried-and-tested tips on radical cutting and expert handling of the roots.
Quince tree cutting - time and instructions
The quince (Cydonia oblonga) with its bright yellow fruit in the ripe state has been cultivated for thousands of years. The fruit tree is considered easy to care for and needs - in contrast to the apple tree - no regular pruning. However, a Auslichten the crown makes sense.
How to properly cut the camellia - instructions and tips
Camellias grow as evergreen shrubs, some of the varieties can also reach tree-like proportions. For a shapely growth and a lush formation of the flowers, the plant needs a regular, but moderate pruning. Otherwise, the growth of the camellia grows over time and the flowers are gradually sparsely formed.
Tips to cut the fragrant shrub - so it works!
The willow shrub (Cotinus coggygria) is a broad-bushy shrub that can reach tree-like heights of up to six meters in this country. The plant species of the sumac family (Anacardiaceae) is therefore sometimes also called a wig-tree and gets at unhindered growth at a suitable location quite a tree-like, sweeping shape.
What about cutting the ornamental apple? We show it!
Ornamental apple is easier to cut than a sophisticated culture apple. Tricky criteria, such as fruit size or crop yield, are of secondary importance. This guide will explain you when and how to properly trim the flower and fruit tree as a solitary shrub, elegant trunk, opaque hedge and dainty garden bonsai.
When do you have to cut the Dipladenia? Tips and instructions
Dipladenia prove to be a constant flowering with relatively little claim to care.In order to ensure that her flowers do not fade over time, her care needs an annual pruning. Learn when and how cutting back ideally takes place and what requires attention.
Cut butterfly bush properly - the perfect time
The butterfly shrub is extremely popular among hobby gardeners, because its colorful flower splendor provides a visual highlight in the local gardens. With an annual pruning, make sure that the decorative flowers adorn your garden throughout the summer.
How to cut the cherry - How to do it!
With a clear-leaved cherry you can harvest crispy cherries even in small gardens or in tubs, even if the pillar cherry is not typical pillared fruit. In order to maintain their slender and columnar growth, regular cutting measures are indispensable.
Ranunculus shrub cut made easy - that's how it works
The Ranunkelstrauch (Latin Kerria japonica), also known as Golden Rose, has developed in recent years into a popular garden plant. As a hedge or imposing solitary shrub, it already delights its owner in early spring with a sea of ​​sun-yellow flowers.
When do I have to cut the witch hazel? Instructions and tips
The witch hazel is one of the most impressive shrubs found in the garden, with its unique blooms that bloom in winter. Due to their sensitivity to cutting, the right time and the type of cut are crucial to prevent witch hazel from damage.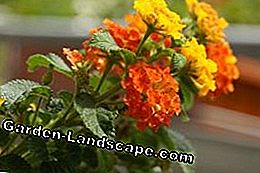 Cutting lanterns - What is really important?
For exotic Lantans, proper wintering and knowledgeable cutting go hand in hand. This guide will highlight in detail when and how to expertly cut back the cold-sensitive ornamental shrub so that the colorful flower festival repeats itself next year. Read here all the important information from the ideal time to skilful editing.
The right time to cut the Kolkwitzie - with instructions
The Kolkwitzie, also known as pearly shrub, is a stunning ornamental shrub, which is popular with many gardeners due to its naturalness and hardiness. It is easy to care for, retains its shape in winter, and does not need to be cut so as to shine in summer.
Lilac cut - instructions and time
The intensively fragrant flower spikes of the lilac invite you to enjoy and are visually a splendor - in the garden and in the vase. The plant does not need much care in order to form it, and a blend is not absolutely necessary. However, it has advantages when done correctly and at the right time.
Cut Guide for the Ball Maple - How to Cut It Correctly
A maple tree does not retain its round, compact crown by itself. Without a pruning at fixed intervals, the decorative shape is lost over the years. The timing is no less important, as the cut. This guide explains in great detail when and how to cut the elegant ornamental tree properly.
Japanese Maple - Instructions for a proper cut
Japanese maple is a special eye-catcher with its beautiful growth and jagged leaves. He brings us one of the most beautiful autumn colors the garden has to offer. It is available in many different varieties, from the upright tree to the shrub. Red Japanese Maple is especially popular. But does Japanese Maple need a cut to stay beautiful and healthy? And if so, when is the right time?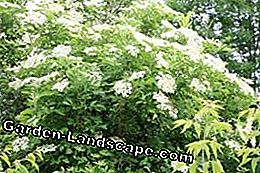 Elder cut - you have to pay attention!
The Holler or Hollerbusch, as the elder is called in some regions, is one of the native shrubs. People used to turn their vitamin-rich fruits into juice, syrup and jelly. If such a wood is in your green area, it is recommended to cut back every year.
Cutting miscanthus - when is the best time?
In the autumn and winter, Miscanthus makes its grand entrance with a sea of ​​billowing stalks and feathery spikes of flowers. Those who reach for the scissors too soon robs themselves of this breathtaking performance. Do not miss this editing guide. When, how and how to cut the majestic sweet grass correctly, read here.
Cutting gooseberries - the perfect time to cut back
Annual pruning of gooseberries guarantees high earning power and large, juicy fruits. Regular cutting also reduces painful scratches during harvesting. After reading this manual, you are fully informed about the right time and the perfect cut. Here you can read all information on the upbringing and conservation cut as shrub, high stem and column fruit.
How to cut climbing roses - in 5 steps to the perfect shape
When cutting climbing roses, there are a few key points to keep in mind. Above all, the timing and procedure play an extremely important role.If you reach too easily and at the wrong time to scissors, then you risk that the rose petals and branches can not grow properly and grow later.
Cutting thyme - tips so it does not rot
Like other shrubs, thyme is one of the plants in the garden that lignifies without the right cut and then calcifies. The regrowth of fresh shoots is now difficult for the thyme and also reduces the yield of the herb. For this reason, a regular pruning must be done.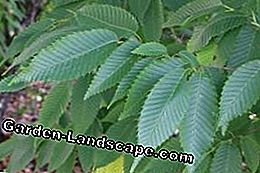 Cutting hornbeam - When is the best time?
The hornbeam (Carpinus betulus) belongs to the birch family (Betulaceae). As a medium-sized tree, but mainly as a hedge family, it occurs in Europe and Western Asia. It has its name from Old High German. "Hag" means "fencing" and gives an indication of its use as a hedge and its cutting ability.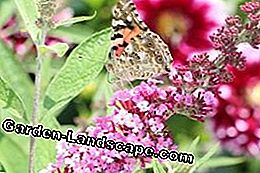 Cutting butterfly lilacs properly - 3 steps to success
The butterfly lilac or summer lilac is a flower-rich splendor that shows its beauty for a long time and thus not only pleases the people in the garden. To keep it that way, the butterfly lilac should be cut properly. We reveal in the step by step instructions how it works.
123›"
Video Board: A Simple Way To Root Plants From Cuttings.