The Content Of The Article:
As you know, giving presents is enjoyable and a gardener's heart beats faster if you can also give dear friends something for your beloved refuge. So recently there was a private occasion for me to give something "green" to the front yard.
Autumn offers plenty of decorative material to nicely pack a plant
I decided after a long search for an Escallonia (Escallonia). This is an evergreen, up to a meter high shrub with broad overhanging growth. From May to August it has pretty carmine-pink flowers. It can be planted either in containers on the balcony or the terrace or on a sheltered place in the garden. The earth should be humus, however. In winter, depending on the region, it is usually necessary to cover the evergreen shrub in time with a fleece so that it does not suffer any frost damage. Who wants the growth a bit more compact, can trim the ornamental shrub after flowering by about a third.
But back to the packaging, that's just part of a nice gift. I used a beautifully printed jute sack for the Escallonie, which I discovered at a flea market. But you can also easily from a jute fabric, as it is sold as a winter protection material, even sew a simple bag or a size-matching bag. With my purchased model, I was lucky: The pot plant fit well into the opening. There was even some space all around, which I filled with some hands full of fresh autumn leaves from the garden in such a way that even after the cover was tied with a matching sisal cord, some autumn leaves looked out cheekily.
Start photo gallery
5
Show all
Pack the plant gift
A jute sack or jute fabric lends itself as gift wrapping
The gap can be well padded with autumn leaves
A sisal cord for tying fits well with the jute sack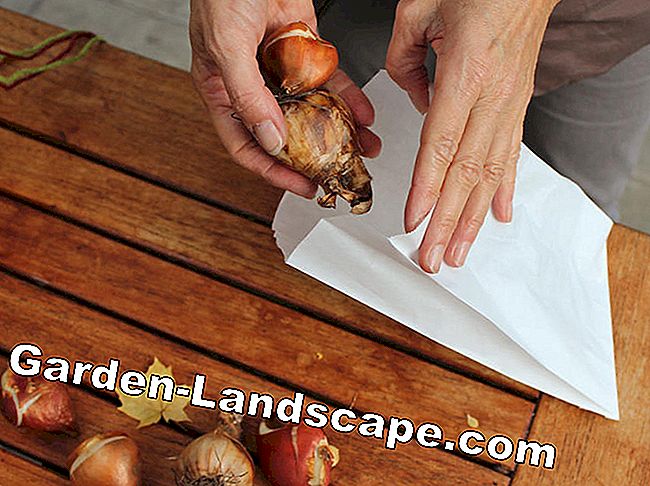 A few tulip and narcissus bulbs provide a little surprise
The bag with the flower bulbs is simply attached to the packaged pot with a sisal cord
As a small encore - and for the surprise effect in the spring - I put a few tulip and narcissus bulbs in a paper bag and tied them with the sisal cord to the packed pot. Spreading the onions loosely in the soil when planting the shrub will give you a nice splash of color in April.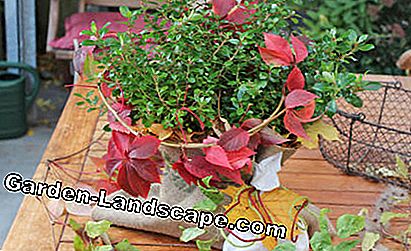 A long shoot with autumnally discolored grape leaves completes my plant gift
Finally, I put a long shoot of wild wine - which shows a fantastic red color now - circular in the branches of Escallonie. Alternatively, of course, you can also use branches of clematis, rose hips or willows. Supplied with a lovely greeting card, my self-packed green gift was then received by the recipient with great joy.
Video Board: Plant Gift Baskets : Packing Plant Gift Basket Soil.