The Content Of The Article: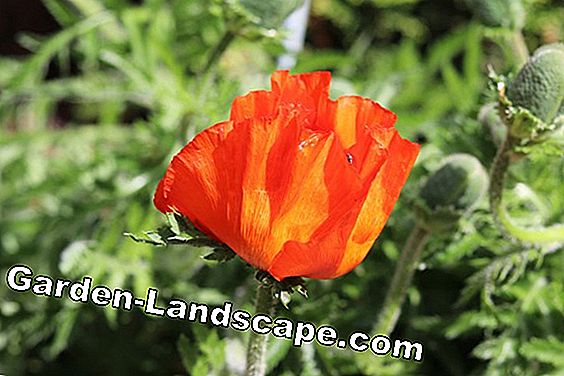 Shortly after the winter, some perennial plants will turn out their white or colorful flowers. Although the flowering usually does not last very long in these plants, they delight the gardener with their first accents in the otherwise drab garden. Already from April first buds show up.

Alpenaster (Aster alpinus): Low growing wild species with plant heights up to 25 cm, pink, purple or white flowers from May
Pasque flower (Pulsatilla vulgaris): lovable wild shrub from native dry grass, purple flowers in April / May, plant height up to 30 cm
Poppy (Papaver): depending on the variety, 30 to 70 cm growth height, often bright red flowers, flowering period from May
Saxifraga (Saxifraga): ground cover upholstery with countless small flowers on upright stems in spring, some species like it a bit shadier and wetter, others love the blazing sun
Cranesbill (Geranium): some varieties such as G. ibericum 'White Zigana', the Balkan beakbill (G. macrorrhizum 'Bevan') and the brown storkbill (G. phaeum) love sunny and dry conditions
2. Summer flowering perennials for full sun dries
From June to July, most of the perennials bloom, so the bed radiates in all its glory. Despite dryness and inhospitable conditions, the plants feel the better, the hotter the days get. Many of these robust plants make flowers in the fall and only need to be watered during long periods of drought.

Balloon flower (Platycodon grandiflorum): very large bell-shaped flower in July / August, lilac-blue flowers, stature height up to 40 cm, drives in the spring only very late
Beard thread (Penstemon): tubular flowers on upright stems in June to August, plant height up to 100 cm
Pale common sunhat (Echinacea pallida): particularly drought-tolerant species, drooping, pink petals reminiscent of shuttlecocks, height up to 120 cm, flowers in June / July
Scented nettle (Agastache): the great biodiversity ranges from low-growing species to bushy perennials, aromatic scent, violet flowering from June to October
Gamander (Teucrium): long branched, up-sprouting flower spikes up to 50 cm in height between June and September, very drought-tolerant, often purplish-purple flowers
Yellow common sunhat (Echinacea paradoxa var. Paradoxa): yellow flowers in June / July, for semi-natural plantings, very persistent species, plant height up to 70 cm
Cloves (Dianthus spiculifolius): from the Carpathian Mountains, up to 15 cm high, up to 15 cm high, wildflowers with green to blue frosted foliage, fine fringed flowers from June to October
Karthäusernelke (Dianthus carthusianorum): native carnation that thrives even in the hottest and dry locations, grass-like foliage, heady inflorescences in rich pink, height 30 cm
Globe Thistle (Echinops ritro 'Veitchs Blue'): noble variety of ball thistle with bright blue ball flowers, very compact species with stature heights up to 60 cm
Evening primrose (Oenothera): many different growth forms, some form carpets, others grow upright, flower colors very intense, partly winter green
Northern Bouquet (Liatris borealis): valuable flowering plant to low prairie grasses, prefers dry, but rather nutritious soil, flowering in June / July, plant height up to 50 cm
Ox-eye (Buphthalmum salicifolium): showy, yellow-flowering wild shrub for dry woody edges and slopes, especially beautiful as extensively planted shrubs, flowering between May and July, height 50 cm
Palmlilie (Yucca filamentosa): for the exotic note in the garden, winter-green plant with stiff rosettes, bell-shaped white inflorescence in July, plant height 50 cm
Prairie sallow, yolk-flower (Callirhoe involucrata var. Tenuissima): short-lived feature (20 cm) for dry locations, bright pink flowers from July to September, feathery foliage
Prairie candle (Gaura lindheimeri) vigorous growing shrub with white or pink flowers, stature height up to 130 cm
Red Sand Thyme (Thymus serpyllus 'Coccineus'): forms flat carpets, winter-green variety with pink flowers in June, ground cover with stature heights up to 8 cm
Red widow's flower (Knautia macedonica): abundant flowerbed in burgundy from June to September, very popular butterfly flower with growth heights up to 70 cm
Sunflowers (Helianthemum hybrid): available in many decorative flower colors, narrow, dark green foliage, full sun locations are mandatory, plant height up to 20 cm, flowering in June / July
Spanish noble thistle (Eryngium bourgatii): light purple flower with star base, works particularly well in combination with low grasses, flowering in July / August, plant height up to 40 cm
Spur-flower (Centranthus ruber var. Coccineus 'Rosenrot'): loves warmth and light, grows well on very barren ground, self-draining, pink flowers in June to August, height 50 cm
Tennessee common sunhat (Echinacea tennesseensis): special sun hat species with standing pink petals, rare wild variety, flowers from June to September, height 70 cm
Dwarf torch lily (Kniphofia triangularis subsp. Triangularis): fine, fibrous-looking leaves, yellow-orange flowers in July / August, stature heights up to 40 cm, winter protection in rough layers necessary
Dwarf-carnation (Dianthus arenarius f. Nanus): fine-leaved and delicately flowering in May to June, wintergreen upholstery, smells wonderful
3. Late flowering perennials for sunny, sandy places in the garden
If the summer flowering plants are already slowly retreating, the late-flowering plants really get going. Until the first frosts the following perennials decorate the prairie or rock garden:

Bergminze (Calamintha nepeta 'Triumphator'): flowers very long (July to October) in white to light blue and exudes a light mint scent, compact late bloomer for the foreground of dry planting areas, plant height 40 cm
Myrtle Aster, Septemberkraut Aster (Aster ericoides subsp. Pansus 'Snowflurry'): low creep (20 cm), numerous small peacock stars and dark green foliage
Dwarf wild aster (Aster sedifolius 'Nanus'): stubby horstig growing wild animals with gray-blue, star-shaped flowers, height 40 cm
4. Succulent plants
In addition to the many perennials, it is also the succulent ground cover that bring a very special flair in dry and full sun beds, masonry crowns or rockeries. They can also green garage or house roofs and require almost no care measures.

Hauswurz (Sempervivum): silvery spun, wintergreen rosettes for very sunny and dry layers, flowering in June, stature heights between 5 and 15 cm (bloom)
Jupiter beard (Jovibarba sobolifera): small, winter-green rosettes, ground-covering creeper with stature heights up to 5 cm
Stonecrop, Fetthenne (Sedum): yellow-blue, purple or green-gray forms, year round attractive groundcover with heights 5 to 30 cm, there is no "too dry" for the plant, flowers in August / September
5. Grasses for dry, sunny beds
Whether as a loosening in the rock garden or gap fillers in the bed, grasses are always a very special eye-catcher. Just when the dew drops catch themselves in the filigree leaves in the early morning, when their foliage turns golden or reddish in the fall, or even in the winter the hoarfrost forms bizarre shapes on the stalks, the otherwise rather unadorned plants become something very special.

Bearskin Fescue (Festuca gautieri): very compact upholstered growth with dark green foliage, plant height 10 cm
Blue winglet (Festuca cenerea): effective grass variety with blue-green foliage, cushion-shaped habit up to 15 cm in height
Borstensegge (Carex eburnea): horstig growing Trockensegge, wintergreen, stature height 10 cm, somewhat competitive, but very durable
Buffalo grass (Buchloe dactyloides): low, summer-green prairie grass, good as a weed-displacer, very robust, likes sandy soil, flowering in July, height 20 cm
Lindheimers dropwort (Muhlenbergia lindheimeri): decorative Horstgras with wintergreen, blue-gray foliage, flower height up to 150 cm, good heat and drought tolerance, in the wine-growing climate also hardy
Mexican feather grass (Stipa tenuissimma): fine, overhanging leaf creatures that weigh in the wind, also very beautiful in winter, green-yellow foliage, stature height 40 cm
Mosquito grass (Bouteloua gracilis): filigree, dry-compatible grass from the short-grass prairie of North America, good for loosening upholstered plants, very long-lived, flowering in August / September, height 30 cm
Purple love grass (Eragrostis spectabilis): low grass with growth heights up to 30 cm, very cultivable on sand, heat loving, olive to purple foliage, flowers in August to November
Transylvanian Perl grass (Melica transsilvanica): Character grass for sunny and meager locations, creamy white inflorescences in May / June, plant height 40 cm
6. Sun-hungry shrubs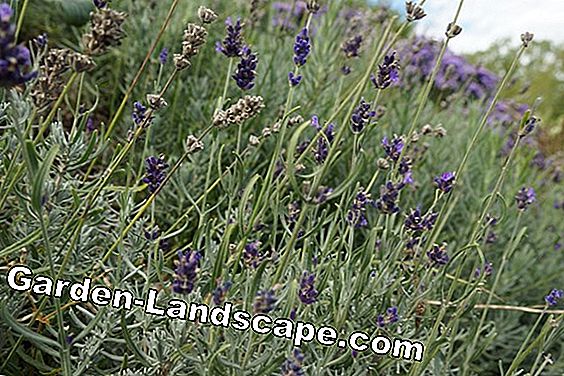 In addition to the perennials, there are also a variety of slightly woody plants, which often originate in Mediterranean areas and therefore like full sun in the summer. Dryness is no problem for them. When choosing, however, a look at the hardiness should be laid, because not all plants tolerate frosts. The following selection usually survives our winter without any problems and only has to be protected against frost with a few leaves or brushwood.

Blue lurkers (Perovskia atriplicifolia): particularly strong blue-violet flowers, compact growth, flowers between July and September, stature heights 60 to 80 cm
Spicy thyme (Thymus vulgaris): whitish to pink flowering subshrub, flowering in June / July, plant heights up to 30 cm
Santas (Santolina serratifolia): noble, fine silver leaves, terminal small ball flowers, can also be pulled as a hedge, requires light winter protection, plant height 50 cm
Catnip (Nepeta grandiflora): bushy compact plant with purple flowers in June / July and silver-gray foliage, stature height between 40 and 80 cm, depending on the species
Lavender (Lavandula angustifolia): compact bushy growing plant with blue-green foliage, smells strong, flowers mostly blue-violet, stature heights between 35 and 70 cm
Rosemary (Rosmarinus officinalis): aromatic fragrant, hard foliage, flower month in April / May, height 50 to 80 cm
Sage (Salvia): small leaves in green or blue-green, compact bushy growing up to 50 cm, often lavender blue flowers in June
Black nettle (Ballota acetabulosa 'Filippi'): semi-shrubby, partly wintergreen plant from the Mediterranean with velvety soft, slightly golden shimmering leaves, height 50 cm
Shrubby evening primrose (Calylophyus serrulatus): tolerates heat and dryness without problems, lemon yellow flowers between June and October, which open during the day, close at night, still largely unknown plant, height 20 cm
Conclusion
Even for beds in the blazing sun, which also have very sandy soil and therefore are quite dry, there is the appropriate planting. Here not only succulent plants feel good, but also a variety of Mediterranean shrubs and perennials. Plants that grow in their natural habitat in prairies or on southern slopes of mountains are perfect for these site conditions. The selection of plants is therefore amazingly large.
Video Board: 10 Drought Tolerant Plants That Will Survive All Summer Long.