The Content Of The Article:
The property has a pond but no space to really enjoy it. In addition, the lawn grows ugly between the border and develops there to high, untidy grass. The book hedge makes the garden area look much narrower than it is.
Suggestion 1: A place to relax
In order to create a cozy place for comfortable sunbeds, from which one can observe the garden pond, a large part of the lawn was removed and a gravel terrace created. Planted with shrubs tall pots create a homely atmosphere and a small fountain revives the water surface. So that the pond border is no longer verwunkraut of grass, now runs along a narrow path along it. It is delimited by a narrow stainless steel edge towards the lawn. For more naturalness, the wintergreen spurge was planted directly in the path.
The already existing apple tree gives the pond shade and reduces the formation of algae
The perennial surface around the new area is dominated by purple, yellow and white flowers in summer. The flower candles of the fragrance nettle are particularly striking. The plant known as insect magnet thrives - as well as the yellow daylily - both in the sun and in the partial shade. The relatively unknown white-flowered Aralien also grow staudig and reach a height of about one meter. Outside their heyday, the specimens set accents with bright yellow-green foliage. In addition to the three plants mentioned, bellflowers, fire-weed, lady's mantle and mountain-flake-flowers now decorate the garden with its flowers.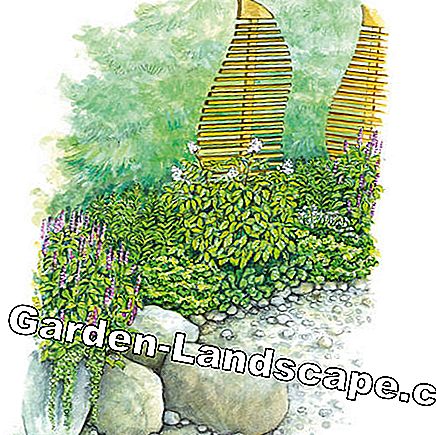 Wooden trellises in leaf shape provide an optical variety in front of the surrounding spruce trees: an aroma nettle flowers in front of the right one, an araly in front of the left one. The leaves adorn the leaves of lungwort and just a blooming lady's mantle. In the high pot also grows a nettle
From August to November, the pink myrtle aster shows in full splendor. Lungwort and Bergenia provide a flowering spring. Since they are leaf perennials, they are allowed to grow on the bed, where they form a decorative foliage carpet throughout the gardening season. The surrounding leaf-shaped trellises work even without planting.
Video Board: Installation Ubbink ready-made pond.