The Content Of The Article:
Creating a pot garden is a good idea if your own garden is not very big. We'll tell you here how to do it.
Small gardens, often belonging to terraced houses and semi-detached houses, can offer the opulence of flowering as well as large gardens by creating a potted garden. The idea of ​​the pot garden is not only easy to implement, but also creatively designed and easy to maintain. Why you can create a pot garden on the roof terrace, a larger balcony and in the front yard.
In a pot garden even exotic plants find their regular place, which is why potted gardens often reap great admiration! So if you want to create such a pot garden, then you should stick to the following instructions.
Creating a potted garden - That's how it's done
Step 1 - Planning and Preparation:
A small garden should first of all always be equipped with a generous lawn area and a comfortable seating area (terrace). Rooftop terraces and balconies usually have only the latter attribute, which should then be the focus of your pot garden planning.
You then have to decide which type of plants you would like to choose. Here, the size of the plants plays a crucial role, because this is reflected in the size of the pots.
Tip:
In principle, you should always arrange the potted plants in size. Large plants should therefore always be in the background and the smaller plants step-like take the front seats.
Furthermore, you can also work with plant shelves, which ensure, among other things, a pretty plant arrangement and can often be used as a flowering screen for terraces and balconies.
Tip:
In small gardens, you can of course also distribute the planters freely on the lawn, which, however, makes the mowing much more difficult. Or you can pave a side edge strip on which you can then drape the tub pretty.
Step 2 - Pot Selection: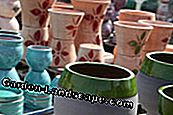 Natural pottery pots made of terracotta are certainly on top of the wish list of many potted garden enthusiasts, especially since they can even promote growth in some plants. However, in the meantime also beautifully glazed clay pots, metal vessels and wickerwork pots are offered in the specialized trade. There are also easy-care plastic containers (beware of waterlogging - greater risk of rot!) And rustic wooden troughs.

Tip:
When choosing the pots, the character of your house or terrace, including its furniture, should play a decisive role. Furthermore, the pots should form a harmonious unit with the later associated plants.
" Important:
Most potted plants do not tolerate any waterlogging, which is why you must always pay attention to an associated water drain when selecting a pot, e.g. in the form of a trivet.
Tip:
In the meantime, even automated irrigation systems for potted plants are being offered in the gardening market, so that the plants can be irrigated automatically, especially in the summer or during a holiday in the pots.
Step 3 - Planting soil and fertilizer:
For potted plants, the right potting soil (potting soil) is always offered in specialist shops. These nutrient-rich mixtures can even be optimally adapted to the needs of your individual plants, for example by buy special rhododendron soil for rhododendron plants, cactus soil for cacti, etc.

But almost all potted plants need during the season and a regular fertilization (depending on the plant variety in different time intervals), which you can administer directly with the irrigation water.

Tip:
Immediately after potting or transplanting the plants into nutrient-rich soil, no fertilizer usually needs to be administered.
Step 4 - Plant Selection: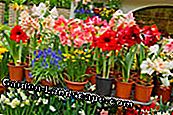 The plant selection for the pot garden is extremely versatile. However, it does not always have to be flowering plant messengers, which, of course, come into their own in a pot garden. Rather, you can expand your arrangement also by herbal pots and fruit plants and vegetables.

So just set up a few pots of chili, cocktail tomatoes, strawberries (even available for hanging staffs), and so on. That looks great and you can also snack a bit.
Important: Wintering of potted plants
Of course, a large part of all winter hardy potted plants must be protected against frostbite in winter. If you can not provide a place for a frost-free placement of the plants, then you must winterize the pots in the field.For this purpose you should simply wrap the containers with styrofoam and then put some garden fleece or jute sacks loosely over the plants. Then tie these easily to the plant stem. (Link tip: hibernate potted plants - That's how it's done!)
However, exotic, not hardy potted plants must always be placed under. So if you can not offer any space for this, you should in principle forego this type of plants in the pot garden.
You might also be interested in:
Sow flower meadow - That's how it's done
»Create a natural garden - That's how it's done
»Create a cottage garden - That's how it's done
Video Board: Spilled Flower Pots That Turn Your Flowers Into Streams Of Paint.