The Content Of The Article:
Potatoes can be planted excellently in their own garden. The diversity of varieties is immense and the yields are considerable. Although 'Agria' and 'Nicola' dominate the market, there are hundreds of varieties of potato and every country has its specialties. If you want to try old varieties such as the delicate 'Rosa Pannenzapfen', the golden yellow 'Linda' or the truffled potato 'Salad Blue' with purple skin and purple meat, you should order the seed in good time. Also outstanding in taste is the Scottish 'Highland Burgundy Red'. The pink marbled potato is particularly suitable for puree and potato gnocchi. In addition to carbohydrates, potatoes generally also supply high-quality vegetable protein, many minerals such as potassium and magnesium as well as vitamin C.
For an early harvest: drive potatoes
If you want to harvest potatoes at an early stage, you can do so from March onwards. Place medium-sized tubers halfway in flat boxes filled with potting soil and place in a 15-degree warm place. Best in the bright greenhouse, so that form short, strong shoots. After about six weeks, the potatoes are carefully planted about ten centimeters deep in the outdoor bed. In addition to the early harvest date from the end of June, pre-germinated potatoes have other advantages: The plants continue to grow in cool weather and ripen before the late blight spreads. The yield is thus about 20 percent higher.
Plant potatoes properly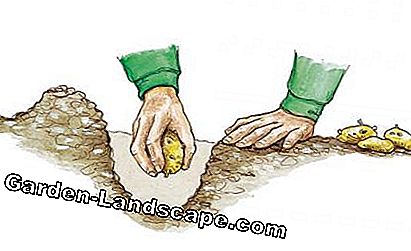 Place pregerminated potatoes in trenches
In warm climatic regions seed potatoes are set early. In rougher areas one waits, until no more night frosts are to be expected. As a guideline, a floor temperature of nine degrees applies. This still gives some time to pre-seed the seed potatoes in a bright place four weeks before planting. Pre-germinated potatoes are less prone to cabbage rot and grow better. Extensively, the potatoes are placed deep in trenches at intervals of 30 to 40 centimeters. In small-sized beds one counts four to five tubers on the square meter. Suitable is any loose, weed-free garden soil. As a star collector, potatoes look forward to a dose of extra compost or a handful of horn meal or horn chips in the planting hole. After two to three weeks, the first green shows up. Now you have to keep the plants moist.
More yield through piled up
Pile potatoes repeatedly during growth
Regularly accumulating during the entire growth period increases the yield. The accumulation is one of the most important care measures, so that potatoes form as many tubers as possible. Pull the soil between the rows with the hoe or the hand-riddled plow on the perennials as soon as the leaves and stems are about 20 centimeters high. Repeat this work every two to three weeks. Important: When piling, regularly remove all weeds.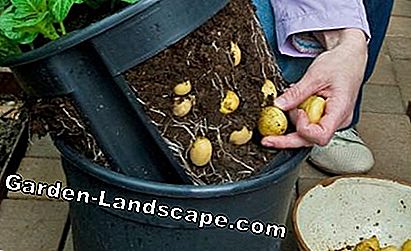 Quick View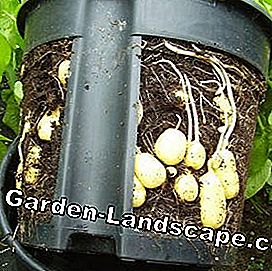 Peküba
PotatoPot®, 1 piece
9,99 €
plus shipping and handling
3 working days delivery time
Buy now
The PotatoPot is ideal for the small potato harvest on the balcony
Harvest potatoes
Traditionally potatoes are harvested when the plants take their natural rest. That's about three months after planting. The cabbage first turns yellow, then browns and withers. If there are signs of infestation by the late blight (Phytophthora), the potatoes must be removed from the soil before the fungus spreads to the tubers.
Wait for a sunny, dry day and dig a shrub to test. If the potato peel is resistant to abrasion and maturity and the tubers are easily removed from the sprouts of the herb, you should not wait any longer. A grave fork is best for the harvest, but also with it, injuries of the tubers can not always be avoided.
Instead of digging out the whole shrubs, you can also carefully expose the roots, remove the largest tubers and pile the rows back with soil. So the remaining potatoes grow even further. This method is especially worthwhile in small gardens or in the culture in plant sacks. Harvested tubers are best kept dark, cool and frost-free in a cellar - so they will remain edible until next spring, depending on the variety. Sort out damaged, too small or stained copies the same. Healthy tubers are left to dry on the bed. The potatoes should dry out within a day so far that the still adhering soil crumbles almost by itself.
Get new potatoes as needed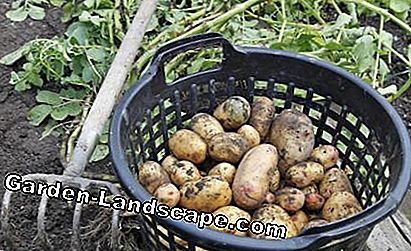 Quick View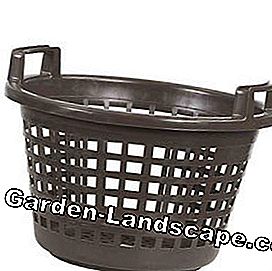 h.g
Potato basket brown for 28 kg, heavy...
21,90 €
plus shipping and handling
3 working days delivery time
Buy now
Quick View
VICTORIA
Potato hoe 4 tines, without handle, 1...
35,95 €
plus shipping and handling
3 working days delivery time
Buy now
New potatoes have a high water content and a low starch content. Therefore, they are not storable, they germinate and shrivel quickly
An early potato harvest requires warm, humus rich soil and the right variety choice. Among the earliest tubers are 'Annabelle', 'Christa' and the red-skinned 'Rosara'. In case of dryness during the main growth phase, you should not forget about casting and in late frost situations lay fleece or perforated foil for covering until the end of May. Between planting and harvest pass 60 to 70 days. More detailed information is a test: Dig one or two tubers carefully by hand. If they are big enough and the shell can not be rubbed off with your thumb, you can start. tip: A cook tasting shows if the potatoes are already tasty.
Special potato varieties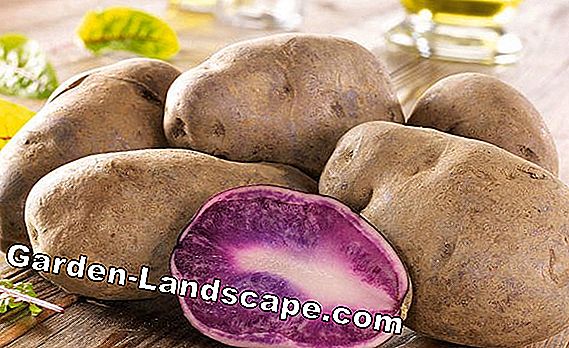 Start photo gallery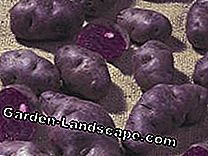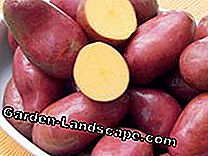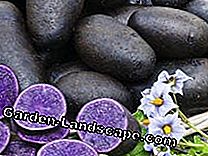 10
Show all
seed potatoes
The variety 'Blue Congo' has a dark purple blue skin and purple-blue flesh. The potato comes from the Nordic countries and is solid to floury. The violet-blue color remains even after cooking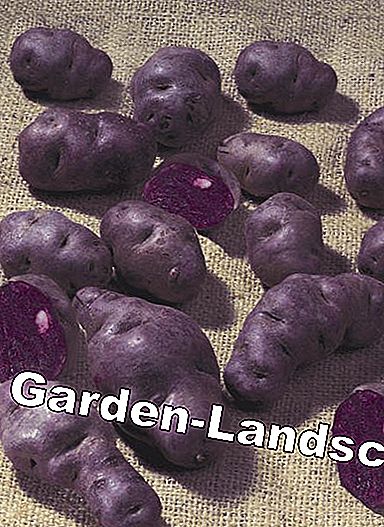 The mid-early potato variety 'Vitelotte®' is very good in taste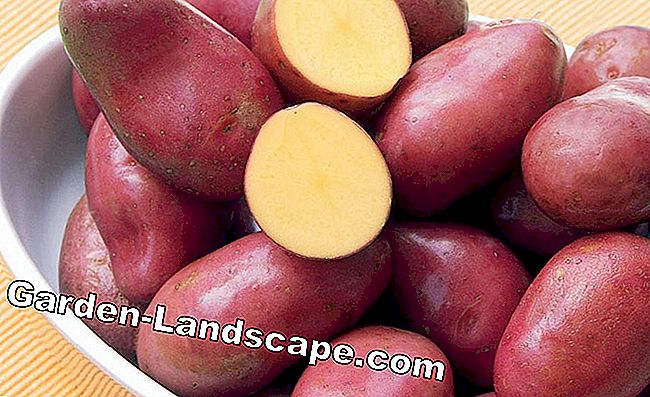 The deep yellow meat of the red-skinned variety 'Valery' turns a potato salad into a culinary experience. Even as a roast potato or red jacket potato, it is a pleasure even after prolonged storage
The 'Blue St. Galler' has its origins in a Swiss home garden - there, a gardener crossed blue traditional varieties for ten years to preserve the blue-violet color also when cooking or frying. The variety is mid-early and mainly festkochend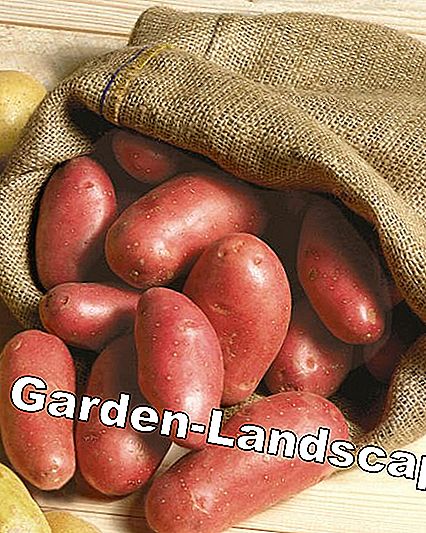 'Laura' is a pink variety with yellow flesh color. The mid-early variety is productive and predominantly solid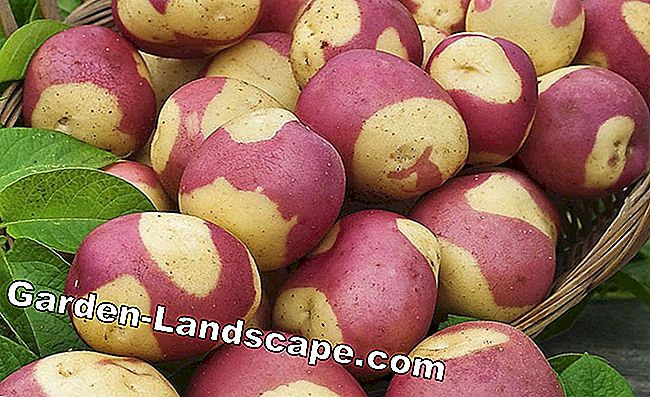 Even with the Incas, the Phureja potato was the best in taste. Now we can grow this gourmet potato with us. The golden yellow meat of the variety 'Mr. Blush 'has a unique aroma: a combination of spicy potato flavor with a fine, marzipan sweetness
'Desiree' is the right variety for lovers of light floury potatoes and also good as a baked potato. The mid-early variety is predominantly solid and has good dry resistance. Buy seed potatoes 'Desiree' in the MEIN shop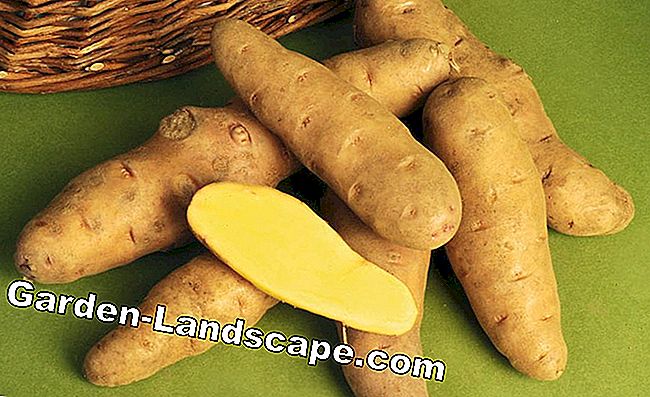 'Bamberger Hörnchen' are resistant to diseases, of fine taste and very productive. They can be planted on light to medium soils and on sandy soils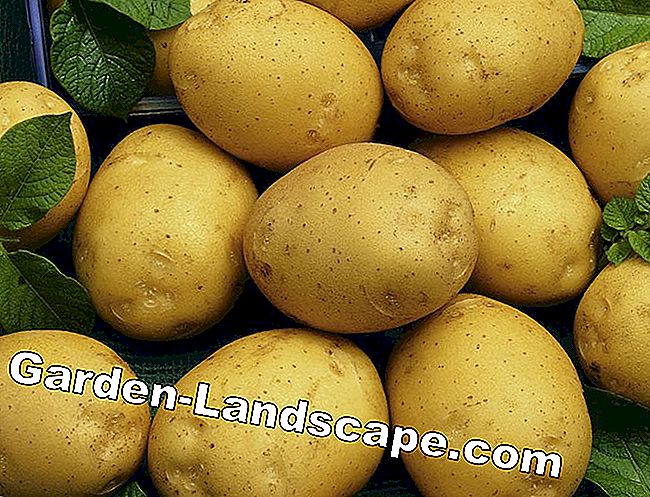 'Adretta' is an early to mid-early table potato, which is very popular especially in northern and eastern Germany. It is excellent in flavor, has good shelf life and grows quickly and vigorously
'Quarta' has a strong taste and is resistant to cabbage rot, nematodes and other diseases. The fleshy red eyes are striking and unmistakable on this yellow-fleshed variety







Store potatoes properly
Whether harvested or bought: When storing, make sure that only externally flawless tubers are stored without discoloration or noticeably sunken areas. Visibly diseased tubers should be sorted out consistently. So that the potatoes do not form green areas with health-damaging solanine, keep the tubers as dark as possible. The optimum storage temperature is four to six degrees. A warmer storage accelerates the degradation of vitamin C and promotes germination. At temperatures below zero degrees, the contained starch converts to sugar and the taste becomes unpleasant sweet. Even under optimal conditions it often happens that tubers rot. Sort them out as soon as possible.
Tip: Several boxes instead of a high potato hanger facilitate the control. Well suited are airy crates in appropriate basement or storerooms. By contrast, storage in plastic containers or in tight containers promotes the formation of mold. Covering the tubers in the warehouse with newspaper helps to prevent the potatoes from shrinking due to the loss of moisture.
Video Board: HOW TO GROW POTATOES. Planting. Growing. Harvest. Storage..