The Content Of The Article:
If you do not like monotonous flowerpot monotony, you can make your pots with color and napkin technique colorful and varied. Important: Be sure to use clay or terracotta pots as the plastic and plastic surfaces will adhere poorly to the paint and adhesive. In addition, simple plastic pots become brittle with sunlight over the years and get cracked - the effort to decorate them with napkin technics, so worth only partially.
Material and tools
For the pots decorated with decoupage you need the following accessories:
Simple clay pots
Paper napkins with colorful decorations
Acrylic paints in different shades
transparent special paint (available in craft supplies from different manufacturers)
a soft brush
a small, pointed pair of scissors
Preparation: Prime the pot
First, the clay pot is primed with a light acrylic paint. So that the color becomes intense enough, cover the pot twice if possible. Then allow to dry well. How to decorate it afterwards with the napkin motives is shown in the following picture gallery.
Start photo gallery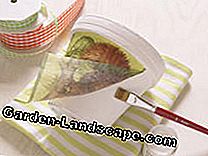 4
Show all
napkins techniques
The first step is to create a template. To do this, draw the adherend on paper and cut it out. The template will serve as a measure in the next step
Next, cut the desired motifs from the napkin using the template you just made. Then carefully remove the top layer from the napkin. When the paper layers stick together, light rubbing between thumb and forefinger helps
Then apply a thin layer of the special adhesive to the pot and attach the motif. With the brush, you can distribute the adhesive evenly before placing it again
Finally, the very thin motifs are glued to the edge and then smoothed out with a brush or by hand. You should be very careful, as the paper layers are easily torn. Finally, paint all motifs again with the special adhesive (stroke from the middle of the motif to the edge). Let the pot dry - ready!

Once you have individually embellished a pot of clay with napkin technique, you should use it only as a planter. If it is in direct contact with the potbell of the plant, it diffuses water from inside to outside through the pot wall and may cause the primer and napkin motif to flake off over time. If you want to plant the flowerpots directly, also paint the pots from the inside. So the material can not be soaked with water.
Video Board: Ceramic flower Pots Tutorial with Decoupage over Twine.