The Content Of The Article:
A trip to the prairie landscapes in the Midwestern United States sparked off Lianne Pot. What she offered was a huge, colorful carpet of flowers as far as the eye could reach. "Such a variety of ornamental grasses and flowering plants - I was overwhelmed!" The garden designer runs a special nursery for ornamental grasses in De Wilp in the Netherlands, a few kilometers south of Groningen. She is particularly fascinated by the prairie, that it is a long-lived plant community that offers attractive colors and shapes all year round and hardly needs any care.
Prairie Garden - everything is possible
The golden leek shines out of every planting
After the trip, it was clear to Lianne Pot: I would like to create my own garden, which shows prairie plantings in all possible variants. In 2008, on the grounds of her nursery, a 3,500 square meter prairie garden was created with various planting examples. Some areas are - according to the natural model - a wild mix of many different species. Other beds show a clear design line with large uniform groups from a plant species.
Beautiful flower beds with little care
Blauraute, Prachtscharte and Waldschmiele give themselves a rendezvous
The robustness of prairie bushes is appreciated by Lianne Pot. In North America, the plants are used to harsh contrasts between warm summers and cold winters and can cope with very different rain conditions. They also do not place any high demands on the soil - they thrive on sandy soil as well as on humus-rich clay. Indispensable, however, is a good water permeability - wet feet in winter can not tolerate the prairie beauties. Lianne Pot also recommends a bright location with at least four hours of direct sunlight per day.
Planting plans for a prairie garden
1 Flower Dost 'Rosenkuppel' (Origanum laevigatum, 6x), 2 Girl's Eye 'Moonbeam' (Coreopsis verticillata, 9x), 3 Fine Lamprey Grass (Pennisetum orientale, 3x)
In the plant selection, the ornamental grass specialist can not deny their preference: The proportion of grasses is in their beds at a stately 30 to 50 percent. But she admits that there is no perfect mix. It is a matter of taste. "I love grasses very much, but also appreciate the colors and shapes of the flowering plants and the possible combinations that result from them." Perennials with flat flower plates such as yarrow and fat hen bring horizontal structures into their beds. The vertical is emphasized by perennials such as blue lits and Indian armchairs as well as ornamental grasses. In addition, it complements the prairie set with onion flowers such as wild tulips and garlic, which guarantee an early flowering.
1 Sage 'Blue Hill' (Salvia nemorosa, 6x), 2 Girl's Eye 'Moonbeam' (9x), 3 Small Prairie's Grass (Schizachyrium, 3x), 4 Blue Eyes 'Blue Spire' (Perovskia, 3x), 5 Sun's Eye 'Asahi' (Heliopsis scabra, 2x)
The care effort is kept to a minimum with carefully designed prairie beds. Of course you have to water the young plants in the first year, maybe even in the second year in extreme drought, explains Lianne Pot. A well-grown bed comes but without water for several weeks. Weeding is also an issue only in the first two or three years, until the highly competitive perennials and ornamental grasses are fused into a dense carpet. Lianne Pot completely abstains from fertilizing in her prairie bed. Among the few maintenance work is the near-ground pruning of old inflorescences. It takes place only in early spring shortly before the new shoot, so that the entire winter over attractive plant silhouettes remain.
In our Gallery we present suitable prairie garden plants for your bedding plant.
Start photo gallery
12
Show all
Plants for the prairie garden
The ball leek (Allium sphaerocephalon) is a robust, winter hardy bulbous plant. Its flowers show up in July, they form a cone-shaped umbel. Ideal is a sunny location and permeable, calcareous soil
The flowering spikes of the platted grass (Chasmanthium latifolium) hanging from the arched overhanging stalks are particularly striking. When they bloom, they are first tinged with pink and then transformed into a warm copper tone. The overhanging, bamboo-like foliage is fresh green and turns golden yellow in the fall. The Plattährengras (8 to 100 centimeters high) comes from the eastern North America. Ideal is a loose-humorous, relatively nutrient-rich soil. It thrives best in both partial shade and in the sun
The fragrance nettle (Agastache rugosa) is an ideal filling plant for the prairie garden in the early stages. It needs a sunny spot and well drained soil.Their blue-lilac flowers are combined in thick sham. The perennial is characterized by a long flowering period (July to September) and has a beautiful winter silhouette. The nettle is also an important bee pasture and an attraction for granivorous birds
The purple coneflower (Echinacea purpurea) native of America has been native to Europe's gardens for decades. The sturdy, durable prairie tree will be 60 to 120 centimeters high. Their large, white or pink flower baskets show up from July to August, make varieties such as 'Pica Bella' bloom a second time until the frost. The purple sun hat loves a place in the full sun and needs normal to moist but well-drained soil
The cockade flower (Gaillardia) is widespread in America. It already blooms in early summer and can also be used well as a cut flower. It grows best on sandy soils, on other soils it is only short-lived. The Kokardenblume is particularly suitable in the initial stage of a prairie garden as a filling plant
The very undemanding Acacia glory (Liatris spicata) is native to northeastern North America. It reaches a height of 60 to 100 (140) centimeters. It blooms in July and Ausgust. Their inflorescences start unusually blooming above. The perennial can tolerate full sun and partial shade and requires dry to normal, moisture-retaining soil. The Ährige Prachtscharte is one of the aspect plants
Many species of the extensive genus Monarda (Indian armchair) are originally native to America. They thrive in full sun to partial shade and in dry or normal to moist soil. The decorative inflorescences remain on the plant until the end of the winter and give off an attractive picture in the prairie garden. The wild bergamot or mint-leafed Indian nettle depicted here (Monarda fistulosa spp. Menthifolia) is less susceptible to powdery mildew than its relatives. Their leaves have a sharp, herb-aromatic, oregano-like taste and are ideal for seasoning food or tea
The mosquito grass (Bouteloua gracilis) is native to Mexico and adjacent parts of southwestern North America. It gets high between 20 and 50 centimeters. The ears stand horizontally like little flags on their stems. They first appear with a red glow and later turn straw yellow. The mosquito grass is a scaffold plant in the low-grass prairie
The large-leaved phlox (Phlox amplifolia) is a so-called Cool-Season-prairie, originally from the East of America. This species is much more robust and significantly drought and disease resistant than the much-used summer phlox (Phlox paniculata). The perennial prefers a sunny site with normal to moist, calcareous soil
The magnificent candle or prairie candle (Gaura lindheimeri) is a tireless perennial. Already in 1850 she found her way from the North American prairie to Europe. The graceful plant adorns itself with elegant overhanging, loose flower clusters. The prairie candle is suitable for warm, full sun, dry garden areas with permeable, sandy or gravelly, not too nutritious soil. Although the species and its varieties are quite short-lived, they are usually obtained by self-sowing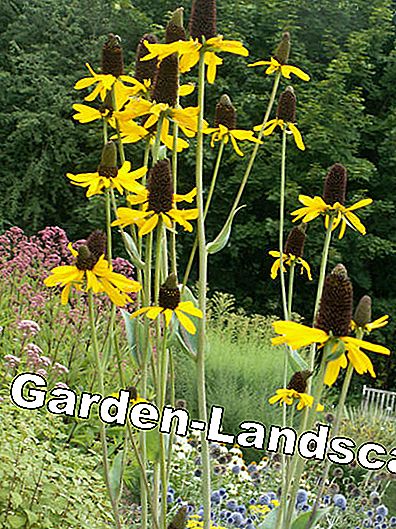 The giant sun hat (Rudbeckia maxima) can be an impressive 180 centimeters high. On the upright stems are bright yellow flowers with an elongating brownish-black flower soil. The perennial is suitable for sunny places and open, free standing in relatively nutrient-rich soil
The prairie sage (Salvia azurea var. Grandiflora) also belongs to the late bloomers (August to October). It forms vigorous blue to sky-blue flower spikes which stand at the flexible, overhanging, upwardly branched stems. The prairie sage loves lime-rich, lean locations in full sun
Video Board: Prairie Yard & Garden: A Garden Mosaic.