The Content Of The Article:
A hedge gives the garden structure even in winter, making it easier to mow. The dwarf yew 'Renkes kleiner Grüner' serves as a boxwood substitute. From left to right are the three Edelrosen 'Elbflorenz', 'La Perla' and 'Souvenir de Baden-Baden' in the bed. All three bear the coveted ADR seal, 'Elbflorenz' and 'Souvenir de Baden-Baden' also smell.
With the first rose petals, the mountain knapweed 'Purple Prose' opens its feathery flowers. The gypsophila 'Compacta Plena' follows in June. The low species enchants with white flower clouds throughout the summer. Both grow together with the cushion aster in the bed foreground. From the latter, only the leaves can be seen in the summer, it provides in September and October with dark pink flowers for a colorful end to the season. Between the roses looks the prairie salmon 'Elsie Heugh'. Further back in the bed is from July, the summer marguerite 'ice star', according to their name with pure white ray flowers. The lamp cleaning grass 'Hameln' completes the planting. In late summer, it carries brown sprouts, which look beautiful even in winter.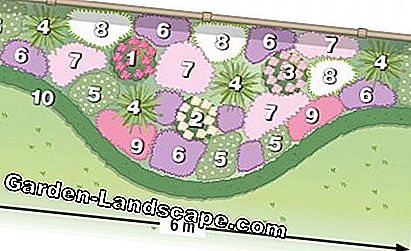 The planting plan for our design idea
Planting plan and shopping list
1) Edelrose 'Elbflorenz', densely filled dark pink flowers, strong scent, 70 cm high, ADR-predicate, 1 piece, 10 €
2) Edelrose 'La Perla', densely filled creamy-white flowers, light scent, 80 cm high, ADR-predicate, 1 piece, 10 €
3) Edelrose 'Souvenir de Baden-Baden', densely filled pink flowers, medium strong fragrance, 100 cm high, ADR-predicate, 1 piece, 10 €
4) Lamprey grass 'Hameln' (Pennisetum alopecuroides), brownish flowers from August-October, 80 cm high, 4 pieces, 15 €
5) Gypsophila panicle (Gypsophila paniculata), filled white flowers from June-August, 30 cm high, 15 pieces, 40 €
6) Mountain Knapweed 'Purple Prose' (Centaurea montana), dark pink flowers from May to July, 45 cm high, 14 pieces, 50 €
7) 'Elsie Heugh' prairie vase (Sidalcea malviflora), light pink flowers from July to September, 90 cm high, 12 pieces, 45 €
8) Summer marguerite 'Ice Star' (Leucanthemum maximum hybrid), white flowers in July & August. August, 80 cm high, 9 pieces, 30 €
9) Cushion-Aster 'Heinz Richard' (Aster dumosus), pink flowers in September and October, 40 cm high, 8 pieces, 25 €
10) Dwarf yew 'Renke's kleine Grüner' (Taxus baccata), edging hedge, 20 cm high, 40 pieces, 150 €
(All prices are average prices, which may vary depending on the provider)
Prairie Mallow 'Elsie Heugh' (Sidalcea malviflora)
Prairie Mallow: Natural charm in the perennial border
The prairie salmon 'Elsie Heugh' (Sidalcea malviflora) has preserved the character of a wild shrub and gives every bed a natural appearance. For a good effect you should put them in groups of at least three plants in the bed. The perennial grows to a meter high and blooms from July to September. After that, it should be completely cut back. A sunny place is ideal, waterlogging does not tolerate the prairie volley.
Video Board: MY AMAZING PLANT GURU: KEITH McKEAN.