The Content Of The Article:
Wood is not the same as wood. You can tell that, if you are looking for a terrace for an appealing and durable surface. Many garden owners want to do without tropical wood on conviction, but local woods weather - much faster, at least in the untreated state. Various novel methods are used to tackle this problem. WPCs (wood-plastic composites), a composite of plant fibers and plastics, are also in increasing demand. The material looks deceptively similar to wood, but hardly weathers and needs little care.
Durability has its price
Tropical woods such as teak or bangkirai are the classics in terrace construction. They resist rot and insect infestation over many years and are very popular because of their mostly dark color. In order not to encourage depletion of the rainforests, one should pay attention to certified products from sustainable forestry when purchasing (for example, FSC seals). Considerably cheaper than tropical wood are domestic woods. Planks made of spruce or pine are pressure-impregnated for outdoor use, larch and Douglas fir, however, withstand wind and weather untreated.
Their durability, however, does not match that of tropical woods. However, this durability is only achieved if native woods such as ash or pine are impregnated with wax (perm wood) or soaked in a special process (kebony) with bio-alcohol and then dried. The alcohol cures to polymers that make the wood durable. Another way to improve durability is the heat treatment (thermowood). However, the complex procedures are also reflected in the price.
Coverings for wooden terraces
Start photo gallery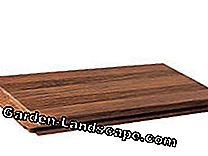 5
Show all
Coverings for wooden terraces
The measure of all things in appearance and durability are still tropical woods like teak (photo) or bangkirai
Douglas fir (photo) and larch are among the native woods the most robust for wooden terraces and decks
By treatment with heat (thermowood) boards like this thermal ash are preserved and take on a dark color
An alternative to wood is for example bamboo...
... and composite boards like WPC Timbertech
WPC: Wood Plastic Composites
As an alternative to wood, more and more WPC (wood-plastic composites) is being used as flooring. The material is also advertised as a "barefoot hallway" because it does not splinter. Can be processed like wood, but has a lower strength than this. High-quality WPCs that are priced in the range of tropical wood, are very durable, some manufacturers grant up to 25 years warranty. In general, wood is a natural substance that changes over time under the influence of weather. Wooden decks turn gray when you can refresh the color again and again. This also applies to modified woods such as thermowood and - to a lesser extent - WPCs.
Easy to lay tiles are put together without tools (left). They are made of WPC and wood. WPC planks (right) are available in different shades, which can also be combined
Questions to the expert
Dirk Holhfeld is a project engineer at the Institute of Wood Technology in Dresden
Which decking is currently in high demand?
"In recent years, the demand for WPCs, ie boards made of a natural fiber-plastic mixture, has risen sharply." Many gardeners want a low-maintenance terrace, unlike wood, boards made of WPC do not have to be abraded and oiled Not material. "
So are WPCs the ideal rubber?
"It's important to remember that WPCs also contain natural fibers, which swell and fade when exposed to sunlight, so it's always a pain when a new patio becomes spotty after a few months because shaded areas under furniture are less bleached WPCs are also a matter of taste, but many do not come up with them questioned, because they are not just pure wood, but contain plastics. "
Which durable alternatives to tropical wood are there still?
"Thermo wood, for example, is very durable, but it does not grow as quickly as it does and is not as stable as non-modified wood, which you have to take into account in the substructure of the terrace." Bamboo planks have also proved to be durable. "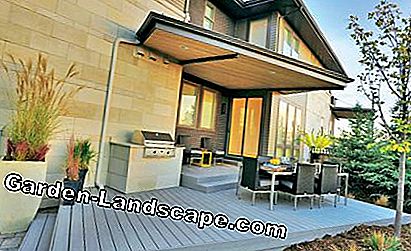 The planks of this terrace are made of recycled material such as wood waste, plastic and sawdust
Slipping on wet floorboards
When wet, wooden decks quickly become a slide. This is especially true for areas that dry slowly after rain and on which algae and mosses grow.The most important countermeasure begins with the construction of the terrace: a slight angle ensures that water runs off. Good ventilation also of the substructure accelerates drying and increases the durability of the wood. The greasy surface on a slippery wooden deck is best removed with a strong brush. High-pressure cleaners when cleaning wooden decks should only be used with special attachments and hard woods.
Video Board: How To Build & Lay Timber Decking.