The Content Of The Article:
Rockeries can also be planted on slopes, difficult to reach and dry places in the garden. At these locations, wildflowers and succulents are ideal rock garden plants, as they are usually hardy, very adaptable and easy to care for. Plain or easily accessible rockeries can be planted a little more elaborate. But even here, the plants must be perfectly adapted to their location, because in a rock garden usually rule in very dry and full sun conditions. Not all plants are equally suitable, but there is a surprisingly large number of shrubs, perennials and grasses to choose from.
plant selection
In the rock garden, the motto is: less is more. The planting should not be too dense. It is better to set accents with a loose planting. Instead of many different plants, larger groups of the same plants look better visually. For the selection of the individual rock garden plants the size of the rock garden is crucial as well as its location. As mainly rock hard garden plants should be used for the rock garden design, especially all cultivated varieties of rock garden plants from the mountainous regions of Germany, Italy, Austria, Switzerland and France are recommended.
Softwoods and evergreen trees
For larger rockeries woody plants serve as an eye-catcher. Especially easy to care for are coniferous trees, which do not lose their shine and color even in winter. Depending on the size of the rock garden, upright growing, higher forms up to heights of growth of about 2.5 meters or bushy shrubs are suitable.
Dwarf coniferous trees
Low growing conifers also fit in small rock gardens or in the front area of ​​large areas. Some crawl almost over the ground and naturally do not get very high, so no cutting is needed.

Dwarf spruces, for example the Blue Igel spruce (Picea glauca 'Echiniformis')
medium-sized hemlocks (Tsuga canadensis), special forms have 'Glauca', 'Nana' or 'Jeddeloh'
Dwarf Pines: Dwarf Pine Pine like Pinus mugo 'Alpine Dwarf' or 'Pug'
Dwarf firs: Dwarf balsam fir (Abies balsamea 'Nana') or Dwarf columban (Abies concolor 'Compacta')
Pygmy Juniper: Creeping Juniper (Juniperus procumbens 'Nana')
Dwarf cypresses: Hinoki cypress (Chamaecyparis obtusa 'Nana Gracilis'), Sawara cypress (Chamaecyparis pisifera 'Nana') or the flat-bottomed minizypress (Chamaecyparis pisifera 'Sungold')
Conifers up to 2.5 meters in height
Particularly slender, columnar conifers turn out to be very good as background plants in a rock garden. They form a harmonious transition to house walls, walls or high fences or appear as green sculptures that attract the eye of the beholder. And not just in summer, but all year round.

Blue-bellied Cedar (Cedrus libani 'Glauca Pendula')
Mediterranean cypress (Cupressus sempervirens 'Stricta')
Column Juniper (Juniperus communis 'Sentinel')
Rocket Juniper (Juniperus scopulorum 'Blue Arrow') also called Green Arrow
Dwarf cypress (Chamaecyparis obtusa nana "Gracilis")
Low growing bushes, shrubs and woody plants
If the soil in the rock garden is a bit more humusous, you can also use evergreen rhododendrons, azaleas or even different types of maple. The rock garden plants need a more humusous soil, so that very sandy garden soil is best worked up with compost before planting.

Azaleas: Greenwood or North Tisbury hybrids
Blue ruffles (Perovskia abrotanoides): growth height 50 to 100 cm
Boxwood (Buxus): for example, microphyllo 'Faulkner', in moderately moist areas or partially shaded
Fan maple (Acer palmatum): only deciduous
Rock silk bast (Daphne petrae): flowering ground cover shrub, height about 10 cm
Japanese maple (Acer japonicum): deciduous
Lavender (Lavandula): stature heights 30 to 80 cm (depending on the variety)
Laurel medlar (Photinia) as the Photinia fraseri 'Red Robin' (Crimson medlar)
Rhododendron: hybrids like 'Patty Bee' and 'Too Bee'
perennials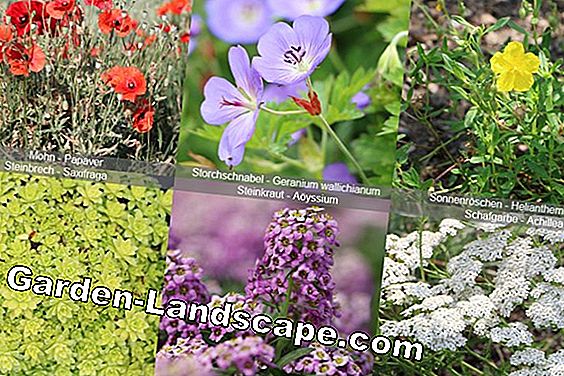 Instead of planting one-year-old rock garden plants, perennial shrubs are associated with significantly less care. There is something for every taste.
Spring flowering
These perennials usually bloom from about the end of April to June.

Alpenastern (Aster alpinus): Growth height up to 20 cm
Bergenia (Bergenia): height 30-40 cm, winter-green leaves, partial shade
Globe flowers (Globularia): wintergreen, plant height 20-40 cm
Poppy (Papaver): depending on the variety 30-70 cm stature height
Cranesbill (Geranium): horstiges growth up to 40 cm in height
Sonnenröschen (Helianthemum): horstbildend, wintergreen, stature height up to 15 cm
Saxifrage (Saxifraga species): wintergreen creeping plant
Red cabbage (Alyssum saxatile, Aurinia saxatilis): a small plant ideal for narrow crevices
Beachgrass (Armeria maritima): dark foliage, looks good on bright stones
summer flowering bulbs
Summer flowering plants and shrubs form first flowers already in June. Some species decorate the rock garden until August with their flowers.

Alpine edelweiss (Leontopodium alpinum): 15-20 cm height, calcareous soil
Gold droplets (Chiastophyllum oppositifolium): evergreen perennial, height up to 20 cm, likes shadier spots, yellow flowers
Yarrow (Achillea millefolium): various breeding forms, up to 70 cm height
Silver thistle (Carlina acaulis): perennial, herbaceous plant with stature heights up to 50 cm
Thyme (Thymus): blooms persistently in white to purple, growth height up to 30 cm
Late flowering perennials
The rock garden also needs a few highlights for late summer and autumn. Set late accents with these rock garden plants:

Beard thread (Penstemon barbatus): height up to 100 cm, wintergreen
Rock fat leaf (Sedum cauticola 'Ruby Glow'): red flower, stature height up to 40 cm
Golden marguerite (Buphthalmum salicifolium): yellow flowers, up to 40 cm tall
Autumn Saxifrage (Saxifraga cortusifolia var.fortunei 'Rokujo'): creeping growth habit
Autumn gentian (Gentiana sino ornata 'White Mountain'): low growing upholstery plant
Steady flower
Of course, the easiest way is to use those shrubs that bloom permanently from spring to autumn. The following varieties flower from the beginning of June until September at the latest:

Bluebells (Campanula carpatica, Carpathian Bellflower): persistent and undemanding, plant height about 30 cm
Catnip (Nepeta): aromatic plant, growth height up to 30 cm
Wallflower (Cymbalaria, Cymbalaria muralis): also ground cover, plant height up to 15 cm, white or light purple flowers
Midday flower (Delosperma): cushioning plant, low-growing, very colorful flowers
Cloves (Dianthus alpinum or freynii): Cushion-forming perennials in many colors, fragrant
Soapwort (Saponaria): permanently blooming, horstbildende perennial, plant heights up to 40 cm
Ground cover perennials
Upholstered perennials or ground cover will spread well in all directions over time. This is how the rock garden looks very natural. Therefore, they must not be missing in a rock garden.

Common bitterwort (Lewisia cotyledon): rosette-like plant with flowers in May to June, succulent, evergreen
Hauswurz (Sempervivum): rosette-shaped, succulent ground cover, well drought-resistant
Blue cushions (Aubrieta forms): blue-violet flowers
Dachwurz (Sempervivum hybrids): thick-leaved Rosettenstaude with blooms in June / July, 10-15 cm stature height
Hornwort (Cerastium tomentosum var. Columnae): silvery white foliage, white flowers in May to June
Felt hornwort: silvery-white, small leaves, does not bloom, but sets wonderful color accents
Cat's paw (Antennaria dioica): velvety hairy, silvery foliage, flowering in May / June
Man sign (Androsace): Biennial plant, flowering in April to June
Stonecrop (fat leaf, sedum): slightly succulent groundcover, flowering from June to August
Circling flower (Iberis): evergreen upholstery, flowering in April to May
Stone balm (Alpine balm, Erinus alpinus): Cushion-forming Alpine herb, long flowering (April to July)
wildflowers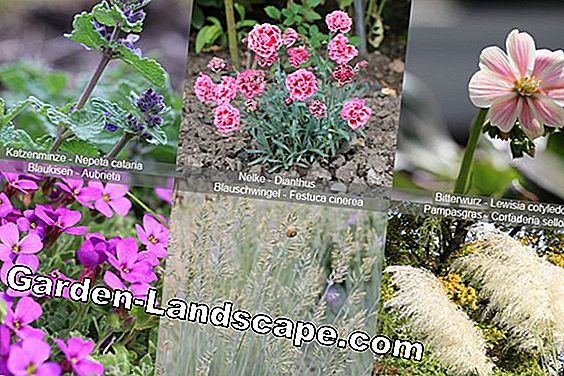 On hillsides or in rock formations, wildflowers have proven their worth, especially those that originate from regions with similar climates. They are not only easy to care for, but also give the debris a very natural look. Wildflower seeds for sunny areas are everywhere in the trade. The seeds are best spread in the autumn.

Cornflowers (Cyanus segetum)
Daisies (Leucanthemum), especially Magerwiesenmargeriten
Poppies (Papaver)
Feverfew (Tanacetum parthenium)
Black-eyed Susanne (Thunbergia alata), annual climber
Sunflower (Helianthemum)
ornamental grasses
In the rock garden, ornamental grasses provide structure and give it a flowing, soft ambience. Many of these ornamental grasses grow very bushy and have long flowering spikes. Others are captivating with their extravagant foliage color. Even in autumn, grasses with their orange-red, yellow or purple stalks provide accents. Although grasses in principle belong to the perennials, they deserve a separate mention. For grasses, there are also wintergreen species that set highlights all year round.

Bear grass (Xerophyllum tenax): in the botanical sense, no grass, but a Germergewächs, makes beautiful, white flowers, stature height to about 1.2 m
Bearskin grass (Festuca scoparia): green-bluish foliage, wintergreen and very hardy, for particularly dry rock garden areas
Blue-green Schillergras (Koeleria glauca): evergreen ornamental grass, hardy
Blue wings (Festua glauca): spherical, upholstery-like growth with stature heights between 20 and 40 cm, very robust and frost hardy, blue-green leaves, wintergreen
Bronze Schmiele (Deschampsia cespitosa 'bronze veil'): only summergreen, winterfest
Lamprey grass (Pennisetum alopecuroides 'Compressum'): evergreen, hardy ornamental grass
Pampas grass (Cortaderia selloana): Growth heights up to 2 m, huge flower fronds, hardy
Golden bearded grass: blue to gray foliage, in autumn orange to violet color, stature height
Conclusion
A rock garden may still be planned so well, he gets his very special charm only by the right planting. Shrubs or conifers make a particularly good impression for the background. Flowering perennials and groundcover provide color accents and work well in combinations with grasses. A not inconsiderable number of plants are best suited for the rather inhospitable conditions in the rock garden.
Tips for quick readers
- evergreen trees as an eye-catcher for the background
- flat-growing conifers for transition or small plants
- Flowering shrubs or colorful shrubs provide contrasts and variety
- better plant groups of fewer species instead of many individual plants
- always plant very loosely
- especially attractive are perennials and flowering groundcover
- Perennials that bloom in the fall initiate winter
- Integrate grasses to loosen up
- Wintergreen grasses provide color in the dreary season
- For walls and joints are small shrubs and wildflowers
- Also for shadier areas there are suitable rock garden plants
Video Board: Layer Up: Choosing Landscaping Plants That Speak to You—And Your Yard.