The Content Of The Article:
origin
The rock pear is undoubtedly one of the most important garden shrubs. It is a very undemanding shrub of the rose family (Rosaceae). The approximately 25 species are predominantly native to North America, in Europe, only the approximately two -meter-high ordinary rock pear (Amelanchier ovalis) before. It grows wild on rather dry, mostly calcareous soils on rocky slopes up to 2,000 meters in height. The most important garden plant in the assortment is the copper rock pear (Amelanchier lamarckii). It grows up to six meters tall, grows mostly multi-stemmed and forms a beautiful, umbrella-like crown.
Appearance and growth
The leaves of the rock pears are alternate, elliptical and three to seven inches long. They show a copper-red coloration in some species during sprouting - hence the name Kupfer-Felsenbirne - and turn bright orange-red in the autumn before they are completely thrown off. The shoots are remarkably thin and have an olive gray bark. All species initially grow loosely upright, becoming increasingly broader in age and form a spreading crown with overhanging branches. All clusters are characterized in the spring by their numerous white, star-shaped shell flowers. They appear in April in grape-like inflorescences at the ends of the short side shoots.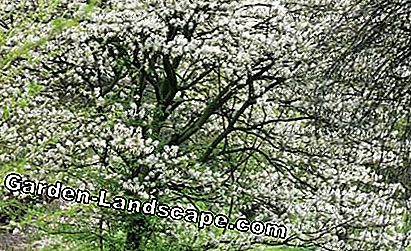 Quick View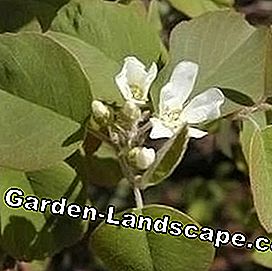 Rock pear, loquat, Amelanchier...
9,90 €
plus shipping and handling
10 working days delivery time
Buy now
The pear (Amelanchier) opens its white, star-shaped flowers in late April / early May. Even then, the large shrub is due to its harmonious growth form a gain for the garden
In the North American species, which are preferred because of their greater jewelry value, the leaf exodus is associated with the flowering: The copper-pear bulb shows coppery red foliage, the somewhat later in flowering hanging pear (Amelanchier laevis) drives bronze-colored leaves. This contrast really makes the flowers shine. Gärtner discovered that the effect can be increased even further in the Netherlands and in the 1970s selected a hybrid with particularly large single flowers, which they sold under the name 'Ballerina'.
In autumn, pear trees impress with their striking leaf color
The fruits of the flowering shrub ripen at the end of June. Many gardeners are not aware that the fruits are even edible. In the past, pear pears were even cultivated as pure fruit trees. The fruits are a bit reminiscent of blueberries in their appearance and taste. They are rich in vitamins, minerals and tannic acid. The berry-like apple fruits are about pea-sized and discolored in the ripe state of cherry red to blue-black. They were formerly used as a substitute for currants, which is why the rock pear in northern Germany is also called currant tree. Cropped fruits recognize their dark color and the fact that they soften a little. You can pick them directly from the shrub and eat or process them into jam, juice or liqueur. The fruits of the copper-pear pear can even be dried, which has given the shrub the nickname "raisin tree". They only have to be faster when harvesting than the birds, where the sweet fruits are also very popular.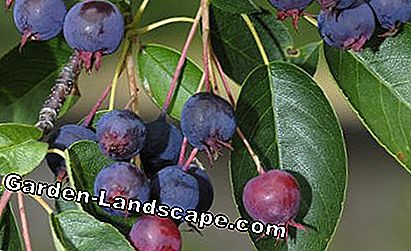 White flower magic in April, blue-black, tasty berries in early summer and a brilliant autumn color - the rock pear (Amelanchier) is a real natural wonder
Location and ground
The native of North America rock pear is completely hardy and sticks out even severe frosts easily. As a location, we recommend a sunny to partially shaded place with slightly sandy, well-drained, weakly acidic soil, where rock pear altogether are very tolerant of their location and soil.
planting
The best season for pear trees is in spring and autumn. If you have a very nutrient-poor soil in the garden, you should work some compost or whole fertilizer into the soil before planting. For heavy soils, some sand provides better drainage.
care Tips
As far as care is concerned, rock pears are very straightforward: apart from fertilizing in the spring with complete fertilizer or compost, there is nothing to do.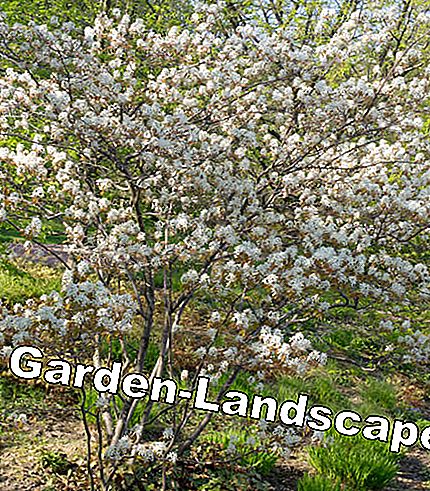 Rock pears grow without much help to picturesque shrubs
To cut
Avoid cutting off the branches at a height (so-called "janitorial cut") and do not radically cut back on older plants - they are very reluctant to drive out of the old wood again and the crown looks disfigured for years. Due to their natural habitus, clusters of bulbs give a form of umbrella which becomes more pronounced with age.Normally, the multi-stemmed shrub needs no rejuvenation or Auslichtungsschnitt. Rock pears naturally form picturesque crowns and the pruning does not promote the flower bud. If the wood still appears too dense, you can lighten individual shoots in the late winter with the pruning shears. Cut the shoots close to the ground. Even dead wood is removed.
use
In the garden, rock pears can be used in many ways. In the design you appreciate the pretty autumn dyers because of their outstanding qualities in leaf decoration and shape. A big advantage is the umbrella-like growth: Under the loose crown there is plenty of space for planting. As heart planters, pear trees with their roots go deeper into the depth than in the width and do not compete with their accompanying floras. Due to their small size, they also fit well in small gardens or front gardens. Here are especially the columnar readouts. Rock pears are ideal for individual stand-up, with their white flowers in the spring, blue onion flowers such as grape hyacinth (Muscari) or blue star (Scilla) harmonize particularly well. In autumn, the pear trees decorate the garden again: their leaves then wear bright yellow, orange or red.
Autumn leaves of the rock pear
With their picturesque crown shape, the abundant flowering and the bright red autumn coloration, rock pears are classic "multi-season woody plants" - they have a high ornamental value almost all year round and are thus predestined for the individual position. Thanks to their robust nature, they can also be easily integrated into groups of trees and free-growing hedges. Even for natural gardens, they are a good occupation as important bee and bird food. Anyone who manages to prey on the birds can harvest the sweet, tasty wild fruit and process it into compote. In particular, the compact ordinary pear and their garden forms are well suited for the container planting. In principle, however, all types and varieties are suitable for pots and pots, as long as the vessel is in proportion to the size of the plant.
Important species and varieties
In our gardens are mainly the four to six meter high-growing copper-pear, the slightly lower hanging pear, the only about two -meter-high Eärige rock pear (Amelanchier spicata) and the refined variety 'Ballerina'. The latter has large flowers in bright white. The upright shrub or small tree will be three to six feet tall and just as wide. The autumn color is less intense than the species. The top variety tolerates at times dryness. There is also a native species: the common rock pear, which is between one and three feet high and fits perfectly into naturally growing hedges. Among the newer varieties is 'Snowflake' (Amelanchier laevis) with up to 12 centimeters long flower clusters to the most beautiful of its kind. It makes her large flowers shine in May. In old age, it can grow four to six meters high and three to four meters wide. The foliage is bluish green after bronze sprouting, the autumn color is magnificent. There are high strains of all kinds and varieties. They offer themselves as a house tree and are in great shape in the formal garden design. When buying a high-trunk, however, you should be careful to get root-perfect plants and not grafted on rowanberries, because these grafted trunks grow much stronger and root shoots.
Whether as a high stem or in shrub form: Especially popular is the rock pear 'Robin Hill' (Amelanchier arborea). It is six to eight feet high and half as wide. 'Robin Hill' shows in April a special spectacle of the flowers: they are pink in the buds, open pale pink and then turn white. With an annual increase of 20 to 50 centimeters, the magnificent autumn dyer belongs to the strongest growing varieties.
'Robin Hill' (Amelanchier arborea) is currently one of the most popular types of rock pear
'Helvetia' (Amelanchier rotundifolia), the dwarf rock pear, is a weak growing form. Since it only man-high and one to two meters wide, it is particularly well suited for small gardens. Because it forms foothills, they also take them to slope attachment. The leaf shoot is reddish. After flowering in April, the berries, which are so popular with birds, ripen. The autumn color is yellow-red. 'Obelisk' (Amelanchier alnifolia) is characterized by its slender growth. The pillar pear can grow three to five meters in height, but only 1 to 1.75 meters in width. Their tight, upright shape makes them just as good in individual positions as in groups of trees or wild-fruit hedges. The planting distance is then at least one meter. It flowers in April / May and turns beautiful in the fall.
In addition, there are specially selected fruit varieties, such as 'Prince William' (Amelanchier canadensis) or 'Smokey' (Amelanchier alnifolia). They carry slightly larger, especially tasty fruits.
proliferation
The wild species of the rock pear are usually propagated by sowing, varieties like the popular 'Ballerina' also by refinement.You can also use rowan berry seedlings as a finishing medium - the varieties then usually grow upright and become larger than seedlings of their own kind.
Diseases and pests
Rock pears are very robust overall. The leaves are more frequently attacked by powdery mildew, but it hardly affects the vitality of the plants.
Video Board: Amelanchier lamarckii.