The Content Of The Article:
For a romantic garden you do not need a large plot. Small gardens in particular can be transformed into a paradise with a bewitched atmosphere. Accessories such as stone figures and ornate trellis, which are already offered with stylish patina, provide a charming atmosphere. But above all, it is the plants that make up the character of the romantic garden.
Indispensable are roses
Whether on the trellis, as a container plant or shrub rose in the bed: opulent rose petals appear romantic in almost every combination
No matter if climbing roses, which conquer an elbow and in the bed of an obelisk, or roses that decorate the terrace in a decorative pot - roses can not be missing in a romantic garden! Especially varieties with densely filled flowers and delicate colors are the favorites. In addition to the popular Old and English Roses breeders offer each year new robust varieties with a romantic flair.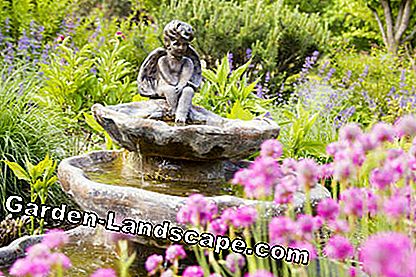 Fountains or figures are eye-catching
The combination of violet and white flowers of cranesbill, lupine and bearded iris combined with the silver-gray foliage of Woll-Ziest or Edelraute (Artemisia) has a noble effect. To make it really lush, one specimen always places several specimens side by side. With box hedges or noble edging of terracotta or wrought iron you can give the plant splendor the perfect setting.
Arbours and sitting areas
Gazebos made of wood or metal offer private retreat areas
A pavilion, covered in clematis or fragrant honeysuckle (Lonicera), also provides security. In small gardens models made of filigree wrought iron are just right. If you have plenty of space, you can set up a spacious wooden pavilion, which also offers space for a larger coffee round. And with a fixed roof over your head, you can enjoy your green realm even on cooler days or in rainy weather. Surround the pavilion with a flower dress made of various climbing plants, so that it fits harmoniously into the garden.
Aromatic plants such as lilac stimulate the senses and invite you to dream
Lead a narrow path through the abundance of flowers, for example to a small hidden seat. Hidden behind lush shrub roses or fragrant lilac and pipe shrub (Philadelphus), you can observe birds taking bath in a large stone bowl.
Video Board: THE BEST ROMANTIC PROPOSAL OF ALL TIMES ( YOU WILL CRY ) | VALE LOREN.