The Content Of The Article:
Rosemary is not only a popular kitchen herb, but also looks great as a flowering shrub or hedge in the ornamental garden. The water-blue flowers often appear in mild winters at the end of February and sometimes last until the beginning of June in cooler regions. Ideal for rosemary is the culture in the large pot on the terrace. So you can get him in upcoming permafrost just briefly in the house. For the field, one should fall back to relatively frost-resistant varieties such as 'Arp', but these also need a sheltered location with sandy, very well-drained soil, which must not be wetted in winter under any circumstances. To be on the safe side, the root area of ​​the shrubs should be thickly covered with bark mulch in autumn (remove in spring!) And wrap the crown in a winter fleece.
It is important that the shrub is cut back every year after flowering, because otherwise it is easily eroded and disintegrated. But stay with the scissors in the area of ​​the leafy shoots, the old wood regenerates the shrub very badly. The pruning date is also a good time to teach the rosemary through cuttings. For that you can simply use the clippings. In the following picture series we show you how it's done.
Step by step: multiply rosemary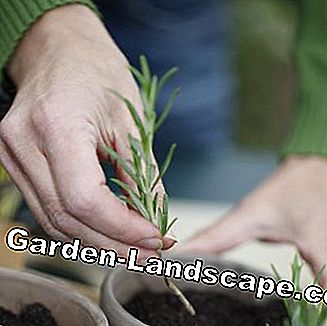 Cut off several ten-inch long shoot tips, which are already slightly woody in the lower part (left). Streak the lower leaves of the stem and put the shoots about five centimeters deep in pots with potting soil (right). Tip: Mix some rooting powder from seaweed extract (eg Neudofix root activator) under the substrate or sprinkle it into the planting holes prepared with a Pikierholz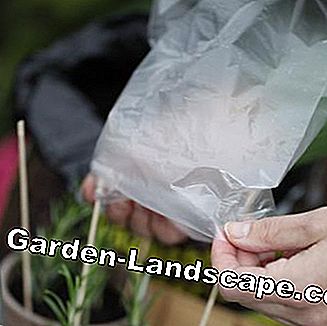 Moisten the soil carefully and insert two to three thin wooden sticks (eg shashlik skewers) into the soil as spacers. Cover it with a transparent foil pouch so that the cuttings do not dry out (left). The pots (right) ready with the cuttings put in a bright but not too sunny, warm place in the garden or in the greenhouse. As soon as they have formed strong roots and new leaves appear at the shoot tip, the young rosemary is put into individual pots. Important: Only plant vigorous, two to three year old shrubs in the field in spring
Video Board: How to grow ROSEMARY from CUTTINGS!.