The Content Of The Article:
Rosemary (Rosmarinus officinalis) is one of the most important spices of Mediterranean cuisine. Its intense tart-bitter, resinous taste goes well with meat and poultry, vegetables and even desserts. Of course, the spicy herb must not be missing in the Provence herbal mixture. Before the rosemary found its way into the kitchen, it was used for religious cults: In ancient times, rosemary was used instead of expensive frankincense for cleansing incense. The ancient Egyptians put rosemary sprigs in their hands to help their souls make their way to the hereafter. Rosemary was dedicated to the goddess Aphrodite and symbolized love and beauty.
In the first century AD, monks finally brought the rosemary to Central Europe. There he was in the monasteries as an important medicinal plant. Rosemary was recommended for rheumatic complaints and digestive problems, as well as to increase potency. In the 16th century, a distillate of rosemary blossoms, the "Hungarian Queen's Spirit", made a name for itself. Allegedly, the rheumatic and paralyzed Isabella of Hungary became healthy. Today, the internal use of rosemary in digestive disorders is scientifically recognized. Applied externally, rosemary is used for the supportive treatment of rheumatic diseases and circulatory disorders.
Rosemary (Rosmarinus officinalis) is a Lippenblütengewächs. In the western and central Mediterranean, the aromatic fragrant plant grows wild. Here it can grow one to two meters high and reach the age of forty to fifty years. As its shoot base melts over the years, one counts rosemary to the so-called half-bushes. The needle-like leathery leaves contain 2.5 percent of essential oil, as well as tannins, bitter substances, flavonoids and resins. The pale blue flowers of rosemary appear from March to June, occasionally even in late summer.
Location and care
Rosemary prefers warm, sunny places and a sandy, well drained soil. Since it is quite sensitive to frost, it is best placed in a pot or bucket. Waterlogging should be avoided at all costs, so use a very lean and well drained soil and do not forget the drainage layer so that excess water can run off well. Announces the first frost, bring the rosemary into the house and overwinter it in a cool bright room at five to ten degrees Celsius. During this time, you should pour only a little, but the root ball must never dry out completely. From mid-May, the rosemary may be released again. But there are also some relatively hardy varieties for example 'Arp'. Once the plants have grown, they can withstand temperatures down to minus 20 degrees Celsius. Important: protect from winter sun. Dead stalks and overlong shoots are removed in spring. To promote the bushy growth, cut back the subshrubs after flowering. Tip: The older your rosemary is, the less you should repot it. It is best to plant it in a sufficiently large container, then it can grow well there for several years.
Multiply rosemary
In the summer after flowering, cuttings can be cut from rosemary
Rosemary is best propagated over cuttings, even if their growing time is several months: In the summer cut about ten centimeters long side shoots with some old wood at the base. The lower leaves and the shoot tip are removed. Stick cuttings in sandy-humus-rich substrate and cover the pots with a transparent foil. Rosemary can also be propagated by seeds. The sowing takes place from the middle of March and the seed shells should stand brightly at a temperature of 20 degrees to 22 degrees Celsius. The germination time is 21 to 35 days and the seeds germinate relatively irregularly. From mid-May the young plants may be planted outdoors.
Rosemary for the kitchen
Start photo gallery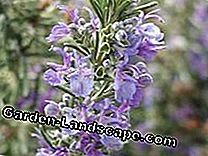 7
Show all
Rosemary for the kitchen (7)
Rosmarinus officinalis 'Majorcan Pink' is a rather delicate variety, which is therefore suitable for use in the tub. It has delicate pink flowers, light green needles and a curved habit. 'Majorcan Pink' is 20 to 50 inches high. Important: Frost free and bright overwinter.
Rosmarinus officinalis 'Arp' is a gray-leaved, exceptionally hardy variety. 'Art' blooms light blue, grows rather bushy and is 30 to 100 inches high. Once the plants have grown, they can withstand temperatures down to minus 20 degrees Celsius. In the first year, however, you should overwinter the plant frost-free and plant out only next spring.
Rosmarinus officinalis 'Weihenstephan' is a separate selection of the perennial garden Gaissmayer. The light blue flowering variety is very robust and yet very aromatic. The plants are hardy to about minus ten degrees Celsius.In sheltered places, they can also spend the winter outside.
Rosmarinus officinalis 'Blue Tip' grows compact (up to 50 cm high) and produces dark blue flowers from April to June. The variety is sensitive to frost and is therefore better for the planter. Overwinter the plant brightly and humidly at zero to no more than ten degrees Celsius.
Rosmarinus officinalis 'Boule' has a very unusual growth character. As a young plant, this variety first grows up, but then the shoots bend down, giving it a squat spherical appearance. 'Boule' is also particularly aromatic and rich in flowering. Ideal are large planters and traffic lights from five liters of earth volume. Be absolutely bright and frost-free at 0 to 10° C.
The English rosemary variety 'Severn Sea', named after the bay off Bristol, grows semi-upright, half-lying. Its dark blue flowers have a very intense fragrance, the needles are strikingly dark green. The plants can either overwinter in the house or very well protected even outdoors.
Rosmarinus officinalis 'Bolzano' produces light blue flowers in spring. He grows upright bushy and is conditionally hardy. In rough conditions, the plants should be wintered better frost-free.
Video Board: Wonderful Rosemary: Care Tips, Uses & What You Need To Know / Joy Us Garden.