The Content Of The Article: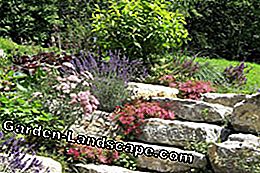 For years the Sandbox in the garden served as a playground for the children. But children become people and thus someday the sandpit becomes superfluous. But what to do with it? The easiest way is to dissolve it and make a lawn out of it. But not the most imaginative. Why not the alternative Turn sandbox into rock garden?
The sandy soil is ideal for planting plants that love sandy soil and dryness. And what could be more suitable than a rock garden?
That's how it works:
The wooden border is simply removed, the sand runs out slowly and offers a natural shape.
Now the area is filled with stones and plants and in no time the kids' sandpit has become a rock garden.
Anyone who adds humus-rich earth to the sand, by the way, has the right support for a vegetable patch.
You see that there are some ways to create new things with little effort, without the old having to give way.
Video Board: [ASMR] 1 Hour Sleep ZEN GARDEN (Sand, Crinkle, Brushing, Tapping, Cup Sounds) - NO TALKING.